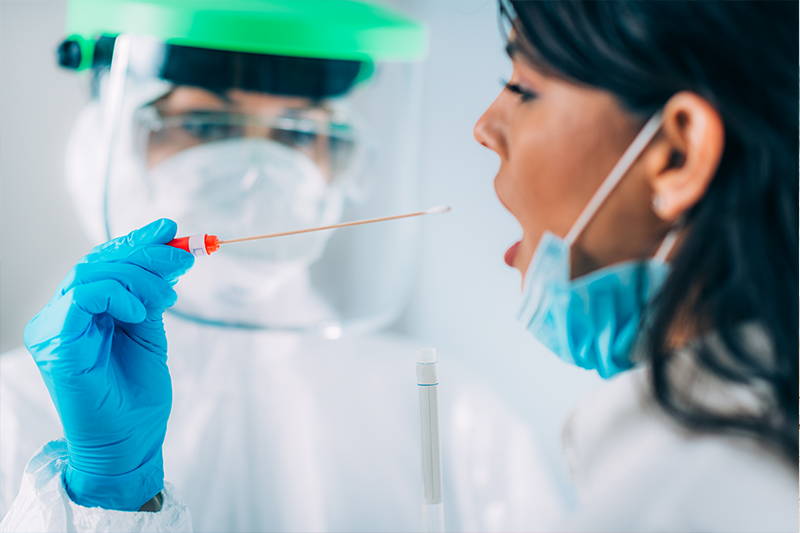 COVID-19
COVID-19 is a disease caused by a respiratory virus that is highly contagious and has resulted in thousands of infections, causing illness and in some cases death. Cases have spread to countries throughout the world, with more cases reported daily.
For COVID-19 vaccination information in Maryland, please click here.
For Delaware COVID-19 vaccine information, click here.
If you are concerned you have been exposed:
STAY HOME.
If you have flu like symptoms (fever, cough, runny nose), call your primary care provider who can determine whether you need to be tested.
If you have SEVERE respiratory symptoms, seek care immediately.
---
Helpful Information
Treatment: TidalHealth offers monoclonal antibody treatment for people who test positive for COVID-19 and are at high risk for complications, by physician referral. Please speak with your doctor if you feel you may qualify. Learn more about monoclonal antibody treatment.
Maryland Residents: If you have questions, please call 211; Wicomico County residents and physicians can call the Wicomico County Health Department at 410-341-4600 Monday through Friday from 8:00 a.m to 5:00 p.m. Online, visit health.maryland.gov/coronavirus and www.cdc.gov for up-to-date information and resources, including the latest information on COVID-19.
Delaware Residents: Delawareans with questions about COVID-19 or their exposure risk can call the Division of Public Health's Coronavirus Call Center at 1-866-408-1899, or 711 for individuals who are hearing impaired, from 8:30 a.m. to 8 p.m. Monday through Friday, and 10 a.m. to 4 p.m. Saturday and Sunday, or email [email protected]. The DPH Call Center does not have test results. Individuals awaiting test results should wait to hear back from their medical provider. For the latest on Delaware's response, go to de.gov/coronavirus.
I want to get tested - what should I do?
If you have worrisome symptoms and think you have been exposed, talk to your family doctor first. If you are severely ill, then please do seek treatment quickly.
What's the difference between social distancing, quarantine and isolation?
Social distancing is what we all should be practicing. Quarantine is for people who were exposed or may have the virus and should not leave their residence/yard. Isolation separates known sick people from all others to the greatest extent possible.
---
What You Need to Know About Our Facilities and COVID-19
Masks, not gaiters or bandanas, are required. We will provide you with one if you do not have one.
Please click here to view our most recent visitation policies.
TidalHealth Alice B. Tawes Nursing & Rehabilitation & TidalHealth Chesapeake Cove Assisted Living: Masks required by visitors. Visiting hours are 10 am to 8 pm. 
Vendors: For now, we are only permitting vendors whose assistance with critical procedures is required -- unless that vendor has flu-like symptoms, in which case they will not be permitted to enter. Non-essential vendors, please refrain from visiting our facilities until further notice.
Outpatient Services: TidalHealth Family Medicine, specialty practices, labs and immediate care centers remain open for patient appointments. However, due to COVID-19 concerns and to better ensure the protection of our patients and staff, waiting rooms are restricted, and you may be asked to call upon arrival and wait in your vehicle for entry.
---
COVID-19 Vaccine
TidalHealth is closely following recommendations by the Centers for Disease Control and Prevention when it comes to COVID-19 vaccination and guidelines. To learn all about the developing COVID-19 vaccines, visit the CDC site.
COVID-19 Donations
TidalHealth is very grateful to everyone who has reached out to offer many different types of donations as we work through the COVID-19 crisis.
To donate food, commercial supplies or services, contact the TidalHealth Foundation at 410-543-7140, or fill out our online donation form here.
Facemask Making
Many members of our community have reached out and asked if they can help us by making facemasks. We believe cloth facemasks can play a role in infection prevention if used correctly.
For the safety of all:
Avoid making facemasks if you are sick or think you might be getting sick.
Avoid making facemasks if you have been told you have a multi-drug resistant organism like MRSA or C. diff., or if you have any open or draining wounds.
Keep all facemask materials away from household pets.
Be sure the area in which you are working is clean (sanitize all surfaces with a disinfectant) before making facemasks.
Be sure to perform hand hygiene before touching facemask materials. 
If you would like to help make facemasks for us please contact Volunteer Services: at TidalHealth Peninsula Regional, call 410-543-7202, or for TidalHealth Nanticoke, call 302-629-6611, ext. 4955.
Instructions for making facemasks:
Printable Instructions and Info 
Facemask with Elastic 
Facemask with Ties
---
Possible COVID-19 Exposures
I think I might have been exposed to coronavirus. What should I do?
Call your healthcare provider, who might be able to determine whether you're really exhibiting symptoms and/or are at risk. You can get tested at a local pharmacy. Minimize your exposure to others and wear a mask.
What are the symptoms of COVID-19?
• Fever
• Coughing
• Shortness of breath
• In more severe cases, pneumonia (infection in the lungs)

Not everyone with these symptoms has COVID-19.

Treatment for non-hospital cases is mainly supportive care with:
• Fluids
• Medication to lower fever such as Tylenol
• Oxygen if needed
• Get vaccinated for your best shot at staying out of the hospital.
How can I find out what's happening with COVID-19?