Posted In TidalHealth Peninsula Regional Stories on April 07, 2020
Image: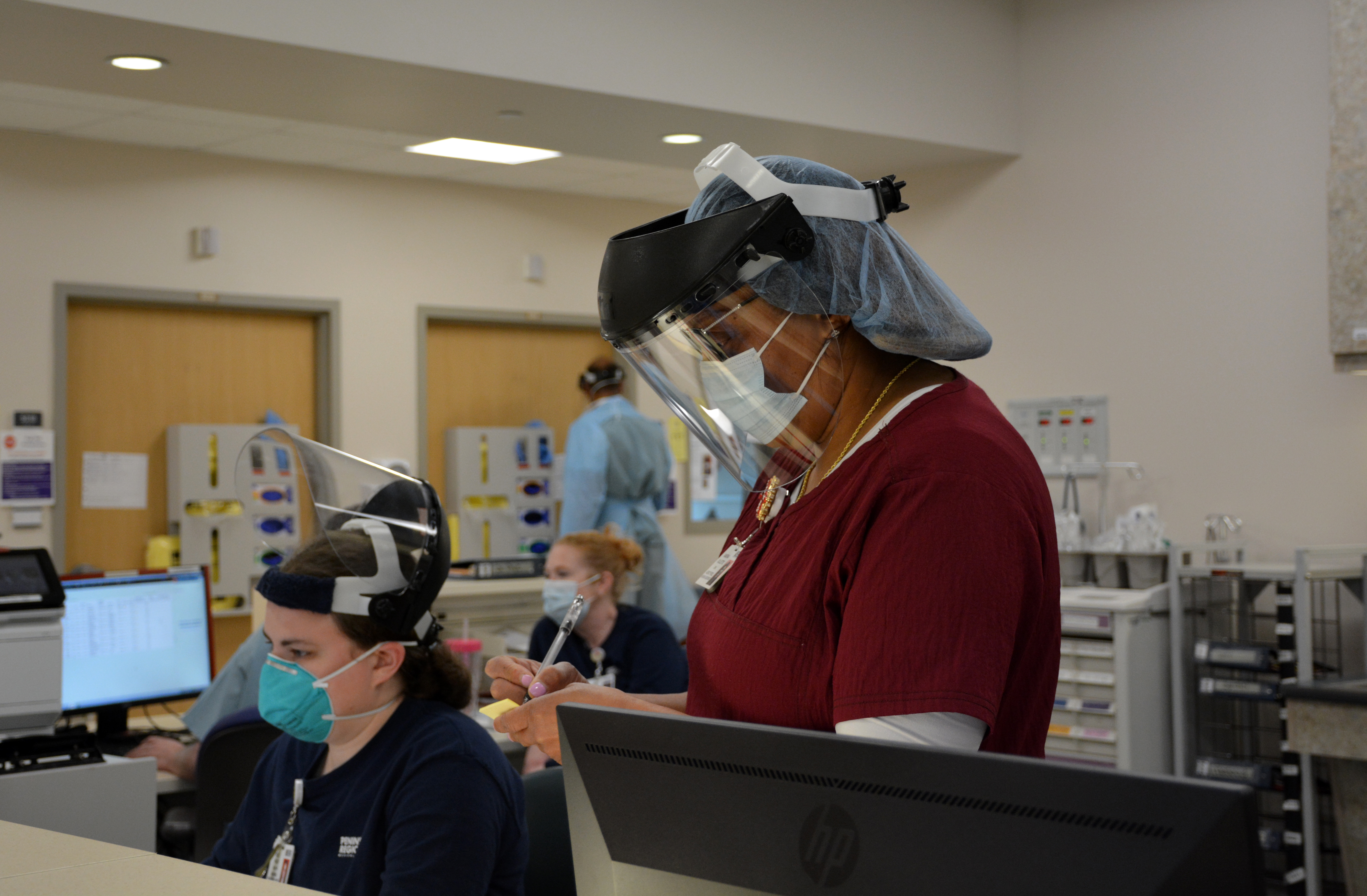 Florence Nightingale, the pioneer of modern nursing, revolutionized care at the bedside through her devotion to smart clinical care at the bedside of soldiers in the Crimean War. Nightingale taught that "wise and humane management of the patient is the best safeguard against infection." Two hundred years after her birth, the wise and humane nursing team of Peninsula Regional Medical Center's 5 Layfield unit are putting those principles to work closer to home in the fight against COVID-19.
The 5 Layfield unit is the medical care area for COVID-19 patients, who come to them either straight from the Emergency Department after being identified as a possible COVID-19 patient, or after they have been cared for in the COVID-19 intensive care unit and now are on the road to recovery and require medical management.
The unit typically cares for neurological or orthopedic patients, such as those recovering from spinal surgery. When the unit was chosen as the COVID-19 medical unit, those patients were sent to the floors and the nursing team began to train and prepare for COVID-19 patients – no simple process.
"On a 'normal' 5 Layfield day our patient population is confused, combative, strokes, spines, brain surgeries, etc., so it takes a very special nurse to do what we do on a neuro floor to begin with," said Jacqueline WIlliams, clinical supervisor. "One day, our entire world as we knew it turned upside down. But instead of using fear to disable us - we have used it to empower us. We have asked so many questions, things no one thought about yet. Ways and ideas to improve processes. Ways to keep everyone safe. We are doing a type of nursing that we never thought would exist. Processes are improving every day. Every time we have a "first," we are able to carefully critique and improve the way we do things."
Nurse educators and infection prevention nurses worked closely with the team, ensuring they are completely familiar with the safety processes for CDC-recommended personal protective equipment they have to wear all the time, including face shields, N95 masks, gloves and gowns. "As a team we have had to re-examine every detail of our work, from the smallest to the largest," said Bridgette Devaney, clinical manager of the floor.
"We're protecting our team, ourselves and our patients," Devaney said. "It's a slow, meticulous process. Every step of our care is carefully thought through for how we can do it safely, and we're also very cautious about waste."
The 5 Layfield team even chose to take on environmental services duties. "Instead of exposing our beloved EVS staff to the harm of COVID directly, our nursing staff is cleaning our patient rooms, we asked them for a mop, we're taking out our trash... on top of caring for the ever growing, COVID19 population," Williams said.
And while the COVID-19 ICU drew from a volunteer pool, the 5 Layfield team – including nurses, nursing assistants, clinical quality specialists, care coordinators and secretaries – was already in place. "We were not given a choice to be the COVID-19 floor, but everyone accepted it with the same determination we are known for," said flex nurse Dana Elliott.
None chose to leave the unit, apart from pregnant staff members, who by hospital policy are not caring for COVID-19 patients.
"We all chose health care because we have a calling to serve and to care," Devaney said. "That is what we are here for. They didn't volunteer, but they didn't complain – they have pulled together and they have been so engaged."
Kelsy Haugh, a nurse on the unit, said she is glad proud to be part of this team that has stepped up to the challenge without missing a step.
"5 Layfield encompasses all of the best parts of a family, and all of the best parts of PRMC. We took the news of the transition of our unit humbly, we face the daily challenges gracefully, and we press forward confidently. We work vigorously to improve ourselves individually, but never once take the focus off our unit as a whole, as a team. We are a family, a family full of warriors, and I am so proud to be a part."
Their hard work is gratefully acknowledged by colleagues – especially those in the COVID-19 ICU. Dr. Yashvir Sangwan, interventional pulmonologist, said, "They are the ones that hold down this fort and are in the field keeping us safe."
Medical experts say the COVID-19 crisis hasn't yet hit its peak, and that has given this team time to perfect its care in preparation for what may be still to come.
"As the number of COVID patients grows, we may discover that this is the hardest work any of us has ever had to do," Devaney said. "There are surely difficult days ahead, but I am confident that our team will make it through.  We will be there for our patients, our community, and for each other."
And WIlliams reminds the community: "If you are sick enough to become hospitalized during the COVID-19 pandemic, chances are you will see our smiling eyes behind our masks, shields and gowns. We will be with you during the scariest wait of your life - reassuring you, caring for you and about you. We will fight for you, advocate for you and teach you how to keep yourself and your families safe when you leave us. Please continue to wash your hands, social distance, STAY HOME! And do it for yourselves, your families - and us!"