Posted In Awards and Recognition on March 14, 2023
Image: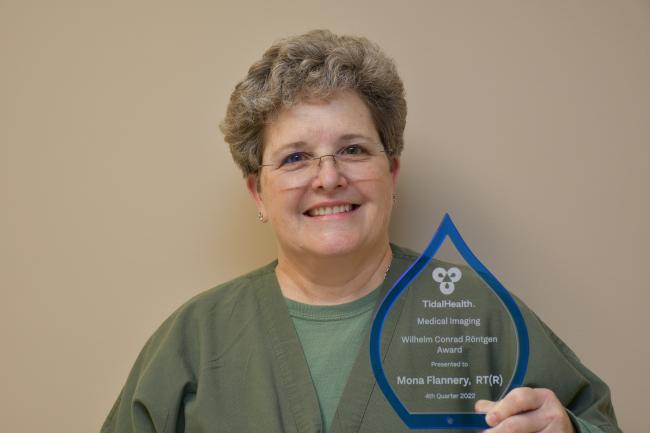 TidalHealth is pleased to announce that Mona Flannery, RT(R)(M), is TidalHealth Peninsula Regional's 4th Quarter 2022 Wilhelm Conrad Röntgen Award recipient. This award is given to TidalHealth Medical Imaging professionals and is named after Wilhelm Conrad Röntgen, a German physicist and mechanical engineer who discovered X-rays in 1895.
Mona was nominated not once, but twice for this award and is an incredible asset to the Radiology team at TidalHealth Peninsula Regional.
Mona is honest, hardworking, and brings a great attitude to work each day. She is a team player and is a joy to work with. She is always willing to help and works efficiently and effectively to execute her job duties in a timely manner. She also is very professional in communicating with staff and patients.
Mona can always be counted on to provide exceptional patient care. She ensures her patient's care and safety are at the forefront from the moment she steps into their room until her tasks are complete. She remembers her patients and treats them with respect and compassion, ensuring they receive the best possible care while in her hands. She also ensures that the proper exams and tests are ordered the first time to decrease unnecessary stress on patients by having to undergo several X-rays.
In life, we don't meet many extraordinary people who go above and beyond not because they were asked, but out of the true kindness of their character. Thank you, Mona, for being someone we can count on.
Please join us in congratulating Mona on this outstanding achievement.