Posted In Awards and Recognition on June 01, 2023
Image: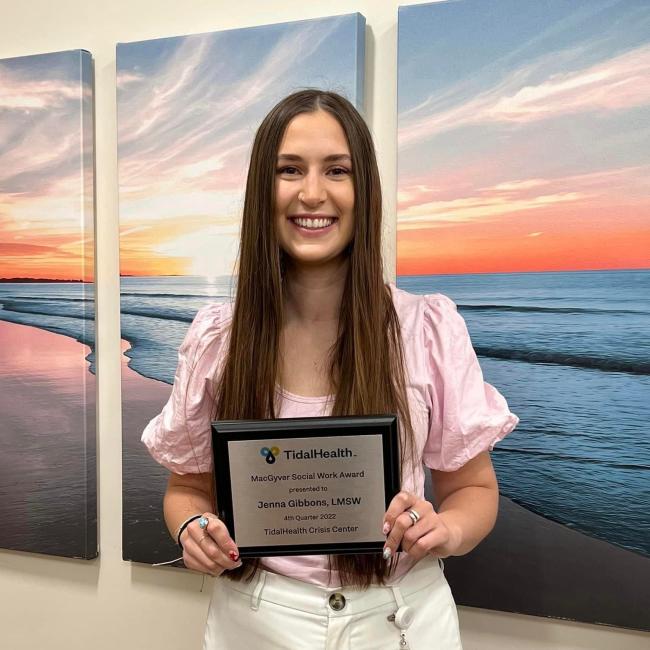 We are pleased to announce that Jenna Gibbons, LMSW, of the TidalHealth Crisis Center has been named our 4th Quarter 2022 MacGyver Award recipient. This award recognizes TidalHealth social workers and licensed professional counselors who contribute a positive image to their profession.
Gibbons comes to work each day with a positive professional attitude and is known for thinking outside of the box. She is very knowledgeable about community resources and referral processes to link patients with the most appropriate care.
Gibbons is a strong advocate for her patients and goes above and beyond to help meet their needs. She was recently recognized by the parent of a patient for her exceptional service: "Jenna Gibbons has been a lifeline for my son and for myself, helping us enroll in needed therapy which is now leading to enrolling in a substance abuse program. The level of trauma my son endured in the past year required an immediate response. Gibbons reached out on multiple occasions to offer assistance with contacts of agencies, appointments and plans on how to navigate the rocky terrain of financial distress on top of the mental health crisis we had going on."
Gibbons is a true asset not just to the TidalHealth Crisis Center, but to the organization as a whole. She promotes TidalHealth's mission through the exceptional care she provides to our patients and we are thankful to have her on our team.
Please join us in congratulating Gibbons on this outstanding achievement.