Posted In Health Tips on November 17, 2022
Image: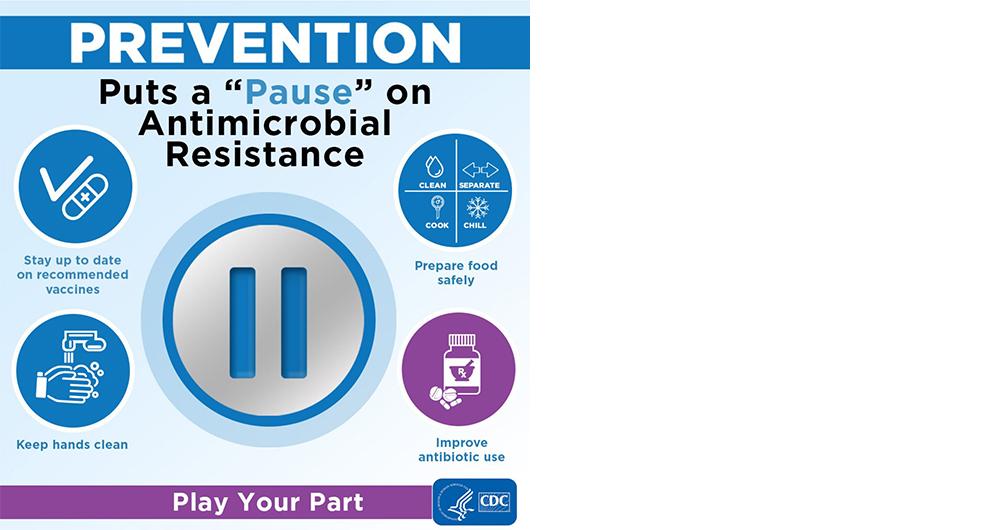 Nov. 18 to 24, 2022, is Antibiotic Awareness Week. Antibiotics and antifungals are one of our most powerful tools for fighting life-threatening infections. Their discovery has transformed human and animal health. Unfortunately, we now live in an era when people are dying from antimicrobial-resistant infections.
Antimicrobial resistance (AR) occurs when germs like bacteria and fungi develop the ability to defeat the drugs designed to kill them. Resistant infections can lead to higher medical costs, extended hospital stays, and preventable deaths. In the U.S. alone, more than 2.8 million antimicrobial-resistant infections occur yearly, with more than 35,000 deaths resulting from these infections. In 2020, the COVID-19 pandemic resulted in more resistant infections, increased antibiotic use, less data and fewer prevention actions.
You can help combat antimicrobial resistance every day. Using infection prevention best practices makes a difference. Take steps to protect yourself and your family by reducing your risk of infection:
Keep your hands clean by washing or using hand sanitizer to help stop germs from spreading.
Stay up to date on recommended vaccines to help prevent infections, slow resistance, and reduce antibiotic and antifungal use.
Ask your healthcare provider or veterinarian about the best treatment when you, your family, or an animal is sick. Antibiotics and antifungals aren't always the answer.
Prepare food safely to avoid foodborne infections. Clean your hands, utensils, and surfaces. Separate raw meat from other foods. Cook foods to safe temperatures. Chill foods promptly.