Posted on June 09, 2021
Image: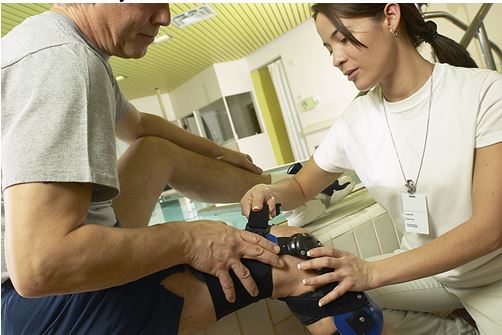 Arthritis is the leading cause of disability in America. More than 50 million adults and 300,000 children are suffering with any of the more than 100 different forms of arthritis and related diseases. While some forms of arthritis cause joint pain, inflammation, reduced motion, swelling, and stiffness, there are other types of arthritis that can cause damage to the heart and other organs. It's important to know which type of arthritis you have, because treatment varies among them and getting early treatment can be the key to preventing permanent joint and organ damage.
Here are just a few of the more common types of arthritis:
Osteoarthritis is the result of wear and tear to joints. It develops when the cartilage that protects and cushions the ends of the bones wears down or disappears. Most osteoarthritis occurs from overuse and the natural degeneration of the cartilage due to aging, but it can also occur as a result of an injury.
Rheumatoid arthritis is an autoimmune disease that can affect people of any age, and can severely affect day-to-day activities.  It causes swelling of the joint lining, and can affect joint cartilage, bone, muscles, and connecting tissue. 
Septic Arthritis occurs when a joint becomes infected from bacteria entering the bloodstream which causes warmness, tenderness, and redness of the affected joint.
Gout (gouty arthritis) occurs when urate crystals accumulate in the joint and causes painful inflammation, especially in the elbow, knee, ankle, and big toe.
While each type of arthritis varies, common symptoms and side effects include pain and stiffness. But not all joint pain is arthritis.  Several other conditions can cause joint pain such as tendonitis and bursitis, as well as injuries.  When pain doesn't subside on its own after a day or two, interferes with everyday activities or steadily gets worse, it is time to consult a healthcare provider for diagnosis and treatment. Early interventions can drastically reduce the rate at which the pain progresses. Treatment plans are tailored to a patient's personal circumstances. So in addition to your symptoms, be sure to mention any family history of arthritis and describe any past joint injuries. 
Currently, there is no cure for arthritis, but there are treatment approaches to help address and manage the side effects of arthritis.  For example, physical therapy, lifestyle changes and medications/injections can often help minimize symptoms. In some cases, they can even slow the progression of joint damage.. Sometimes joint replacement surgery is needed to significantly improve movement and flexibility, and to relieve pain.
While there is no specific treatment protocol for all forms of joint pain, some lifestyle interventions can help slow the progression of some types of arthritis, such as avoiding joint overuse or strain, quitting smoking, maintaining a healthy weight, balancing activity with rest, eating a diet rich in nutrients, getting enough sleep, and staying physically active. Developing an exercise program with your doctor or physical therapist can help to provide better day-to-day functioning by improving range of motion, strengthening muscles around joints, and helping to maintain a healthy weight.
There are also some foods that can help fight arthritis symptoms:
Tart cherries have anti-inflammatory and antioxidant benefits that can provide joint pain relief, and can lower the risk of gout flare ups.
Colorful vegetables (sweet potatoes, carrots, red or green peppers, squash) are rich in vitamins that can help protect bones and cartilage.
Seafood (salmon, tuna, sardines, mackerel) help decrease inflammation and protect the heart.
Walnuts are rich in an anti-inflammatory omega-3 fatty acid that can help lower cholesterol, relax blood vessels, and reduce blood pressure.
Garlic helps fight pain, inflammation, and cartilage damage.
While different types of arthritis can happen to anyone at any time, there are several risk factors that increase an individual's likelihood of developing the condition: 
Age: the older you are, the higher the risk. 
Gender: women are more likely to develop arthritis. 
Obesity: people who are obese are at a higher risk of arthritis. 
Smoking: smokers increase their risk of rheumatoid arthritis or can worsen the condition by smoking. 
Infection: bacteria, viruses, and other microbial agents are known to trigger certain types of arthritis. Even Lyme disease, caused by a tick bite, if left untreated, can lead to chronic arthritis.
Joint injury: trauma to a joint (from a sports injury, for example) or wear and tear over time significantly increases the risk of arthritis. Athletes involved in repetitive sports are more susceptible to osteoarthritis of the hip, knee, and spine. Protecting the joints during sports or other physical activity can help reduce the risk of developing arthritis in later life.
Occupation: individuals with a job that requires repetitive squatting or knee-bending are more prone to developing osteoarthritis. 
Genetics: persons with a family history of the human leukocyte antigen gene (HLA) can be predisposed to developing arthritis or having worsening arthritis symptoms. Rheumatoid arthritis and systemic lupus are both associated with HLA.