Posted In TidalHealth Peninsula Regional Stories on April 26, 2022
Image: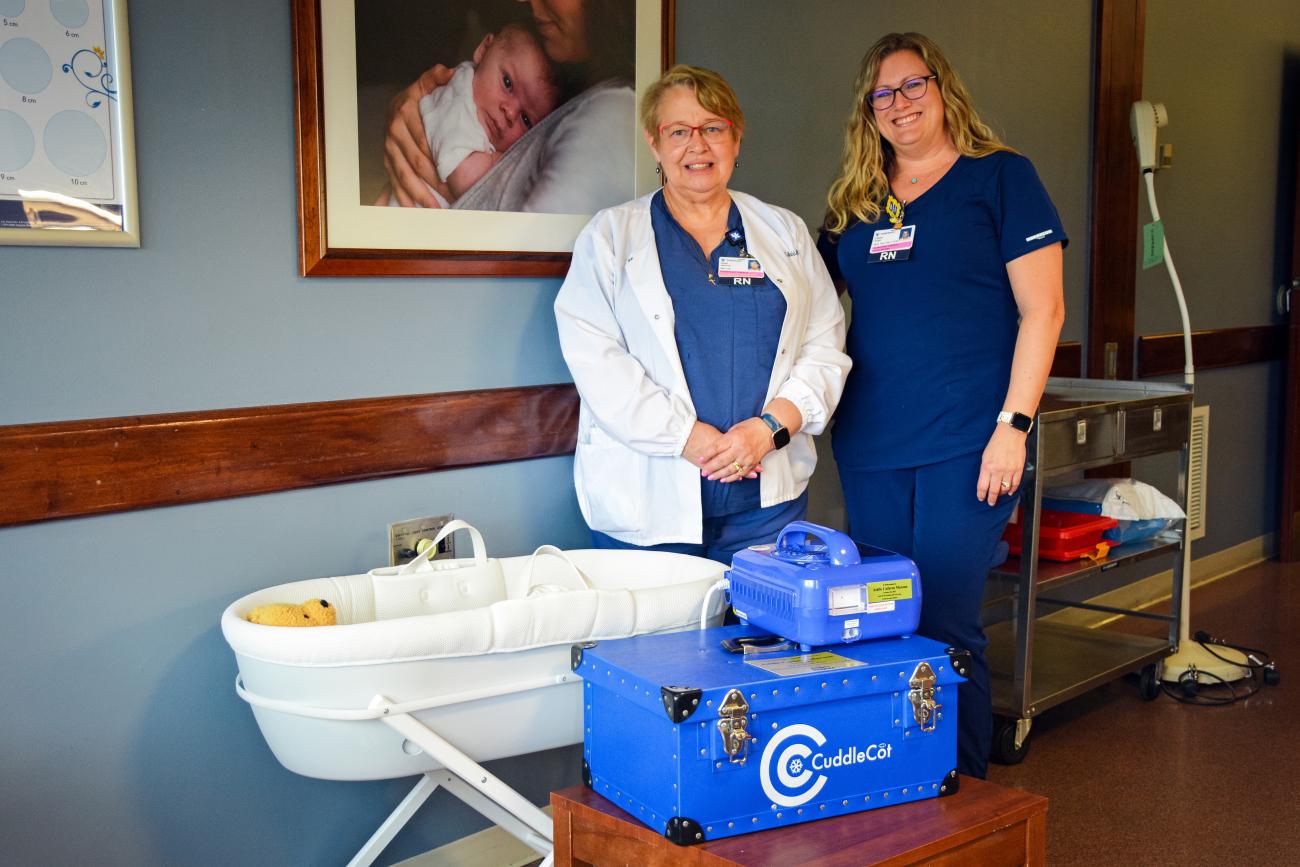 The Special Treasures Are Remembered (STAR) program at TidalHealth Peninsula Regional recently received a Cuddle Cot donated by Ashlie's Embrace, a non-profit organization formed by Erin and Tony Maroon in Ohio that provides Cuddle Cots to medical facilities across the United States to help support families experiencing stillbirth or infant loss.
A Cuddle Cot is a cooling pad designed to slow down the natural and inevitable changes in a baby's body after death. The pad cools the baby's body to an ideal temperature without being too cold for the parents, and can be used in any type of baby bed or bassinet. The Cuddle Cot at TidalHealth Peninsula Regional bears a plaque in loving memory of the Maroon's daughter, Ashlie Cathren Maroon.
Whether it's a stillbirth or neonatal death, the Cuddle Cot provides grieving parents with more choices and time for what they can do with their baby in the hospital. They can choose to hold and spend time with their baby, have special photographs taken, and preserve tiny hand and footprints. These fleeting moments are important because they're often the only memories these parents will have of their child.
"We are grateful for this generous donation from Ashlie's Embrace," said Gale Jeblonski, RNC-OB, C-EFM, Perinatal/Infant Bereavement Coordinator and STAR Program Coordinator. "For grieving parents, minutes and hours become a lifetime of memories with their baby, and the Cuddle Cot will provide them with the precious gift of time."
The STAR program at TidalHealth Peninsula Regional supports parents and families who have suffered the loss of a baby through miscarriage, stillbirth or infant death. To learn more, call 410-543-7039.