Posted In Awards and Recognition on June 01, 2023
Photo credit to Bonnie Bosies of Sussex County EMS.
Each year, Sussex County Emergency Medical Services (SCEMS) nominates nurses and physicians for their support and honors them at its annual Awards Banquet. We are pleased to announce that three of our TidalHealth Nanticoke Emergency Department (ED) team members were recognized at this year's banquet:
Image: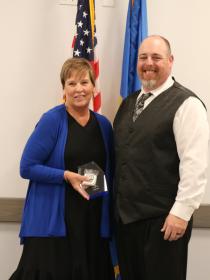 Dawn Ryan was named the Sussex County Volunteer Ambulance Association (SCVAA) Nurse of the Year.
For years, Dawn has been the nurse who checks in on the firefighters/EMTs and drivers when there's a bothersome call/event. She makes sure that they have cold drinks and plenty of treats during EMS Week.
Image:
Kerbey Green was named the SCEMS Nurse of the Year.
Kerbey started as a tech in the ED and worked all the way through nursing school. She has progressed through each role (RN, triage, preceptor, charge) and is currently a Supervisor. She treats our EMS community with the dignity and respect they deserve, considers their time and efforts valuable and does everything she can to make sure they have what they need to get back out on the road to be available for their next call.
Image: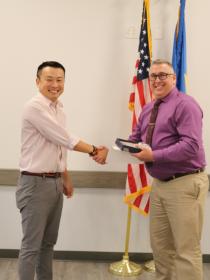 Dr. Martin Yang was named the SCEMS Emergency Physician of the Year.
Dr. Yang, better known as "Marty," is one of the Med control physicians and has developed a great collaborative relationship with EMS. He values the clinical information presented when EMTs and medics arrive and gives a report of their first interactions and the medical care provided.
Please join us in congratulating these team members on this outstanding recognition of service and dedication.