Posted In Heart and Vascular Care on September 15, 2023
Image: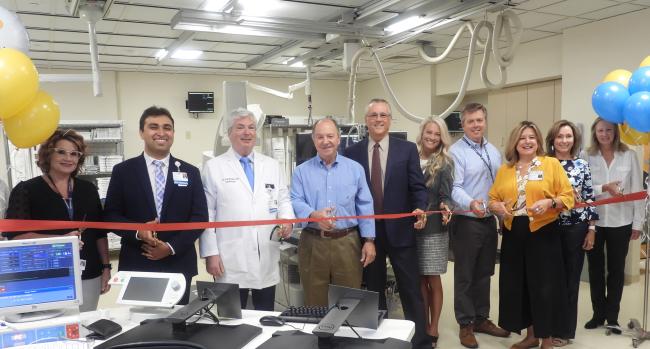 For several years, residents of Seaford, Del., and surrounding communities in western Sussex County have had to travel to Salisbury to receive a TidalHealth electrophysiology (EP) study.
An EP study is a procedure to treat abnormal heart rhythms or arrhythmias when the normal electrical conduction pattern or the heart becomes irregular. These tests are often the first step in diagnosing and then treating heart arrhythmia. 
With a ribbon cutting on Sept. 15 at the new Electrophysiology (EP) Lab located within the Cardiac Cath Lab at TidalHealth Nanticoke, the need to travel changed. New equipment and technology are in place to do electrophysiology studies and procedures, making those services available in western Sussex County at the Seaford hospital thanks to a significant financial contribution from Barbara and Chick Allen of Seaford.
Mr. and Mrs. Allen are longtime supporters of TidalHealth Nanticoke and are the namesake of the Allen Cancer Center. "We are very pleased to continue our support for the TidalHealth Nanticoke as they continue to expand and refine critical services for our community," said Chick Allen.

During an EP study, a thin tube called a catheter is inserted into a blood vessel that leads to the heart. Specialized electrodes are placed in the heart to send electrical signals that measure electrical activity.
Using the information, doctors can determine where the abnormal heart rhythm is coming from and how well certain medicines are working to control it. Physicians can also determine from an EP study if they can eliminate the channel that is causing the abnormal signal, which is called an ablation, decide if a pacemaker or defibrillator will help heart pacing and even tell if patients are at risk for other heart-related problems like fainting or cardiac arrest.
"This is a new and impactful chapter for TidalHealth Nanticoke and the residents of western Sussex County," said Jessica Hales, President of the TidalHealth Foundation. "The Allen family has long been committed to helping their friends, neighbors and community receive much-needed care close to home. We are grateful for their commitment to TidalHealth Nanticoke and the communities it serves." 
The studies are performed by electrophysiologists Dr. Akhil Parashar and Dr. Scott Kaufman of TidalHealth Cardiology in Seaford and Salisbury. An electrophysiologist is a specially-trained doctor who studies electrical patterns and abnormalities of the heart.
"Barbara and Chick Allen's philanthropy and support for our medical community has truly been amazing," said Dr. Richard Simons of TidalHealth Cardiology in Seaford. "They have been instrumental in helping us expand our cardiology services at TidalHealth Nanticoke, including interventional procedures and now electrophysiology procedures. We are most grateful and appreciative." 
Jeanne Ruff, Senior Executive Director of the Guerrieri Heart & Vascular Institute, noted the importance of expanding these services. "Expanding electrophysiology services to TidalHealth Nanticoke is an example of our health system's commitment to meeting the needs of the community. Heart arrhythmia treatment is a growing specialty within the field of cardiology, and we are thankful for the opportunity to provide this service in western Sussex County." 
If you have heart arrhythmia, ask your physician to refer you to TidalHealth Cardiology for a complete work up and possible referral to the new EP Lab. To learn more about overall heart and vascular services provided by TidalHealth, including cardiothoracic (open heart) surgery and robotic lung procedures, please visit tidalhealth.org/heart. 
TidalHealth Nanticoke cut the ribbon Sept. 15 to introduce electrophysiology (EP) services at the Seaford hospital. Joining in the celebration, from the left, were Lisa Gullett, Cath Lab Supervisor; Akhil Parashar, MD; Scott Kaufman, DO; Chick Allen; Richard Simons, DO, FACC; Jessica Hales, TidalHealth Foundation President; Steve Leonard, Ph.D., MBA, FACHE, President/CEO TidalHealth; Penny Short, TidalHealth Nanticoke President; Maria Lehman, TidalHealth Nanticoke Board of Directors and Tammy Paxton, TidalHealth Nanticoke Board of Directors. Missing from the photo is Barbara Allen, who was unable to attend the ribbon cutting.