Posted In Health News & Studies on October 05, 2021
Image: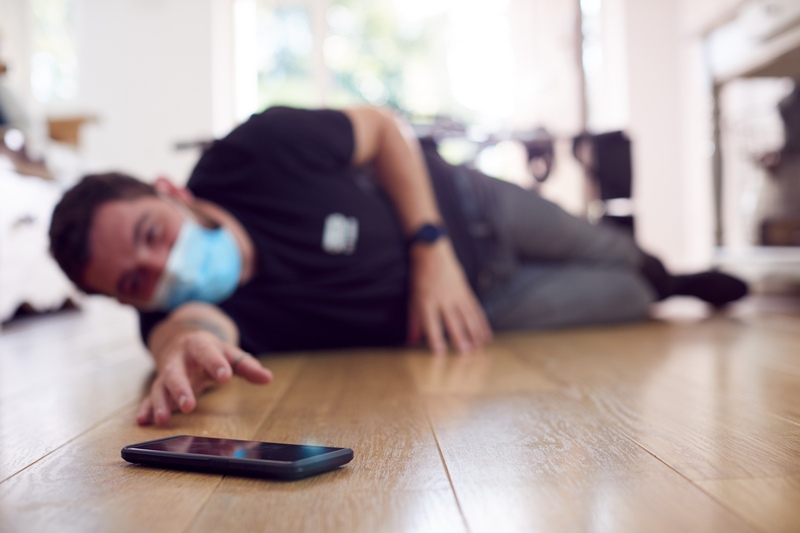 Over 800,000 people a year are hospitalized because of a fall injury. One out of five falls cause a serious injury such as broken bones or a head injury.  
The chances of becoming seriously injured increase greatly with a person's age. Older persons tend to be less active, which may result in their becoming weaker and more prone to falling and being injured. These injuries can make it hard for them to get around, do everyday activities, or even live on their own.
But anyone can be susceptible to falling and being injured. Consider these conditions that can contribute to falling:
Lower body weakness
Difficulties with walking and balance
Medicines, such as tranquilizers, sedatives, or antidepressants, or some over-the-counter medicines that can affect balance and how steady you are on your feet.
Vision problems
Foot pain or poor footwear
Baggy clothing that can become caught on objects
Loose scatter rugs or floor boards
Clutter or pets that can be tripped over
Wet or icy floors, steps, or ramps
Slippery tubs or showers
Poor lighting on stairs
Here are some tips to minimize some of these falling risks:
Wear properly fitting shoes with non-skid soles. Avoid walking in stockings, floppy slippers, high heels, or bare feet.
Avoid sudden movements when walking or making changes in position, especially around small pets.
If you get dizzy when walking or standing up, go slowly and hold on to something or someone stable. Use a cane or a walker to improve your balance.
Keep active to reduce the risk of falls by improving strength, balance, coordination, and flexibility.
Do exercises that make your legs stronger and improve your balance. Tai Chi is a good example of this kind of exercise.
Get regular vision checkups and use glasses if prescribed. Persons with vision problems are twice as likely to fall.
Talk with your doctor about your medications, especially if they make you dizzy, sleepy, or affect your balance.
Over half of all falls take place at home. Consider these tips for removing home hazards:
Keep walkways and stairways free of clutter and electrical cords.
Securely fasten carpets, throw rugs, ad runners to the floor.
Repair loose floorboards and uneven flooring, especially in doorways.
Install grab bars in the tub/shower and near the toilet.
Use non-slip mats in the tub/shower, or use a shower chair and hand-held shower.
Store clothing, dishes, food and other necessities within easy reach. Avoid standing on step ladders or chairs to reach things.
Install hand rails on both sides of stairways. Install no-slip treads on bare-wood steps.
Turn on the lights before going up or down stairs.
Place night lights in bedrooms, bathrooms, and hallways.
Store flashlights in easy-to-find places for power outages.
Falls happen unexpectedly whether you are home, at work or school, or just out-and-about. So regardless of where you are, try to be more aware of your surroundings, and to move more cautiously. Keep a cordless or cell phone with you in case you fall, are alone, and need to call for help. If you're worried you might be at risk of falling, especially if you live alone, consider TidalHealth's Lifeline service. Learn more here.