Posted In Awards and Recognition on November 06, 2023
Image: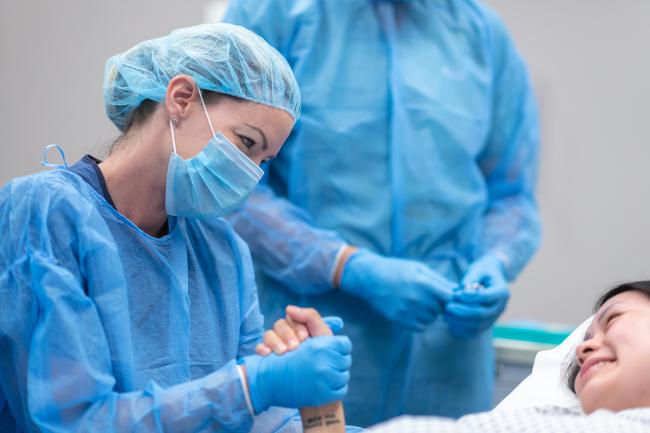 TidalHealth Peninsula Regional has again earned an "A" Hospital Safety Grade from The Leapfrog Group, a national nonprofit watchdog that sets standards for excellence in patient care. 
The designation recognizes the Salisbury hospital's efforts in protecting patients from preventable harm and errors and providing safer healthcare. TidalHealth was one of just thirteen Maryland hospitals to earn an 'A' in the fall 2023 report, a designation it has held for the past two reporting periods (spring and fall 2023).
Leapfrog assigns an "A," "B," "C," "D" or "F" grade to general hospitals across the country based on over 30 national performance measures reflecting errors, accidents, injuries and infections, as well as the systems hospitals have in place to prevent harm.
"Safety is foremost for all healthcare providers. Not only achieving but also maintaining an 'A' rating only happens because a team is dedicated to a multidisciplinary approach involving both clinical and non-clinical partners focused on improving processes to enhance exceptional care and safety," said Steve Leonard, Ph.D., MBA, FACHE, President/CEO of TidalHealth. "In addition to our providers and nurses, there are always key contributors like the pharmacy staff who provided input and leadership into reducing infections and our information technology team that is always crucial to our successes."
The Leapfrog Hospital Safety Grade is the only hospital ratings program exclusively based on hospital prevention of medical errors, infections and injuries that kill more than 500 patients a day nationally. The Leapfrog Hospital Safety Grade is peer-reviewed, fully transparent and free to the public. Grades are updated twice annually in the fall and spring.
"Earning an 'A' Grade means TidalHealth Peninsula Regional made a true commitment to put patients first," said Leah Binder, President and CEO of The Leapfrog Group. "We congratulate the leadership, Board, clinicians, staff and volunteers that all had a role to play in this achievement."
Additionally, in its 2024 Star Report, Healthgrades announced TidalHealth Peninsula Regional as One of America's 100 BEST Hospitals for Spine Surgery, placing it among the Top 10% in the Nation.  In the same report, the Salisbury hospital was again named One of America's 50 Best Hospitals for Vascular Surgery. This is the tenth consecutive year earning that recognition (2015-2024).
TidalHealth Peninsula Regional was also the only hospital in the state of Maryland to earn the 50 BEST Hospitals for Vascular Surgery designation, and the only Maryland hospital 5-Star rated by Healthgrades in both the Treatment of Abdominal Aorta and Peripheral Vascular Bypass.
To see TidalHealth Peninsula Regional's full grade details and to access patient tips for staying safe in the hospital, visit HospitalSafetyGrade.org.