Posted on February 24, 2021
Image: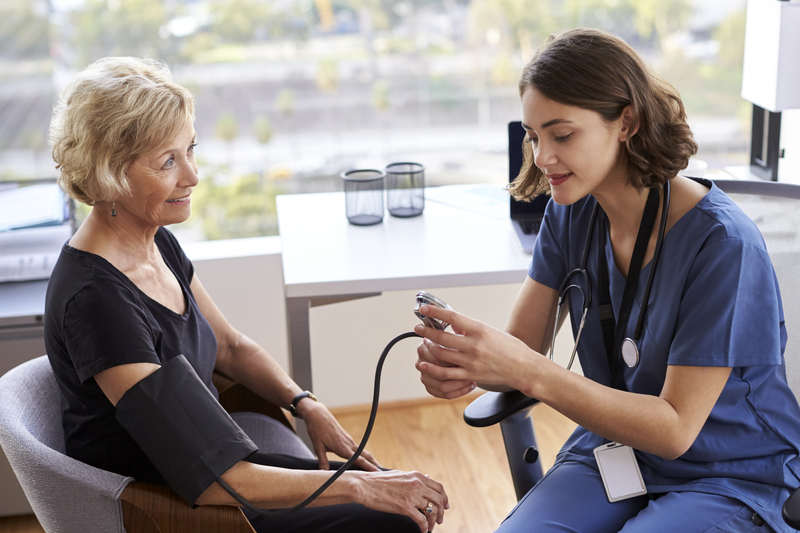 An annual wellness visit sounds like an annual physical, but this type of appointment is different. This unique visit can be a valuable tool for you and your healthcare providers. This yearly appointment is a free benefit from Medicare that is designed to create a complete personal and family health history.
What happens during this type of visit?
You and your primary care provider can talk about your health history, any existing health problems, the medications you take and the immunizations you've taken or may need. Existing health concerns are also discussed, as well as conditions that may cause problems for you in the future. You and your healthcare provider will then talk about ways to address these problems.
What does your doctor look for during this visit?
This visit will include a discussion of your health history, medications, healthcare providers, and immunizations. Your provider will also talk about:
Health risk assessment – Your weight, height, and blood pressure will be recorded. Your provider will ask you detailed questions about your life and habits to determine if you're at risk for developing future medical conditions. You'll also be asked whether you've had any issues with memory or depression. Based on this information, your provider may recommend that screenings be performed in a separate visit that may or may not be with a different provider.
Wellness schedule – Your provider is required to give you a wellness schedule that will list all the screenings that are recommended for you throughout the next 5 to 10 years.
Advance directives – You can talk with your provider about your wishes concerning the measures that should be taken in particular healthcare situations. This living will can help ensure that your loved ones and healthcare providers know your wishes.
Personal health record – After you and your provider complete the other parts of your annual wellness visit, the information gathered will be compiled to create a personal health record. You can receive a copy, and it will help other health care providers have a great deal of information when you arrive for treatment.
Why are annual wellness visits important?
These visits can provide the following benefits:
Making sure your provider has current and complete information
Reducing the risk of future problems and hospitalizations by getting the care you need
Scheduling any needed screenings
Preparing a healthcare document with information other providers will need
Making your wishes concerning future care known
Discussing any current needs and concerns
How can you prepare for this annual visit?
Being well prepared can help ensure that you remember to discuss health-related concerns you may have and to make sure your provider has up-to-date and complete information when it comes to your health. You can help by bringing the following:
A completed wellness questionnaire packet that will be supplied to you by your provider's office prior to your visit.
A list of all the medications you take, including vitamins, supplements, and over-the-counter medicines
The names of your healthcare providers, including home health care agencies, pharmacists, and therapists
So what are you waiting for? If you haven't had a wellness visit in the past 12 months, you can schedule your annual wellness visit by:
TidalHealth Internal Medicine and Primary Care offices
TidalHealth Internal Medicine ⦁ 1330 Middleford Road, Seaford, DE ⦁ 302-536-7740
TidalHealth Primary Care ⦁ 9111 Antique Alley, Unit 1, Bridgeville, DE ⦁ 302-337-9320
TidalHealth Primary Care ⦁ 201 Hall Highway, Crisfield, MD ⦁ 410-968-1801
TidalHealth Primary Care ⦁ 38552 Sussex Hwy, Unit 101, Delmar, DE ⦁ 302-990-3322
TidalHealth Primary Care ⦁ 3304 Hayman Drive, Federalsburg, MD ⦁ 410-754-2440
TidalHealth Primary Care ⦁ 503 W. Market St., Georgetown, DE ⦁ 302-856-7099
TidalHealth Primary Care ⦁ 30668 Sussex Highway, Laurel, DE ⦁ 302-875-6550
TidalHealth Primary Care ⦁ 30549 Sussex Highway Laurel DE ⦁ 302-875-2127
TidalHealth Primary Care ⦁ 30265 Commerce Dr., Suite 206, Millsboro, DE ⦁ 302-732-8400
TidalHealth Primary Care ⦁ 11101 Cathage Road, Ste 102, Ocean Pines, MD ⦁ 410-912-6104
TidalHealth Primary Care ⦁ 305 10th Street, Suite 101, Pocomoke, MD ⦁ 410-912-6167
TidalHealth Primary Care ⦁ 100 Rawlins Drive, Seaford, DE ⦁ 302-990-3300
TidalHealth Primary Care ⦁ 428 West Market Street, Snow Hill, MD ⦁ 410-912-4950