Posted on November 22, 2021
Image: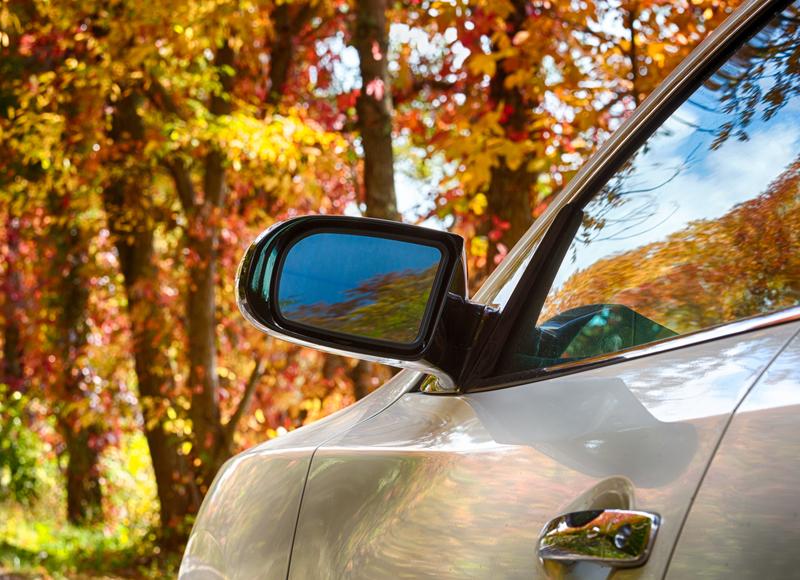 Fall brings its own set of driving hazards that can result in vehicle damage or personal injury. Here are some safety tips for Fall driving.
Fallen Leaves
Slow down and use extra caution on leaf-covered roadways, especially around curves.
Wet leaves can be as slippery as ice causing loss of traction affecting steering and braking.
Keep a greater distance from the vehicle ahead of you. Stopping distances can more than double on wet leaves.
Don't drive on worn or improperly inflated tires, as these will reduce traction and affect your steering and stopping ability.
Fallen leaves may conceal road hazards such as potholes, crosswalks, lane lines, traffic markings, and unexpected road hazards.
Fallen leaves may block road drainage and cause ponding, which can cause your vehicle to hydroplane and lose control.
Don't park over a pile of dry leaves to avoid a fire from the exhaust system.
Fog
Fog can develop unexpectedly. Foggy conditions are the number one cause of large multi-car pile ups.
Drive with lights on LOW beam.
Use wipers and defroster to keep windshield clear.
Watch out for vehicles without lights.
Open your window and listen for other traffic, especially at intersections..
Use highway reflectors and lane lines to help navigate, especially around curves.
Slow down. Don't use cruise control so you can respond quickly to the unexpected in reduced visibility.
If the temperature is near freezing, the fog can create black ice on the road, bridges, and overpasses.
School buses
More children are hurt or killed by motorists illegally passing a stopped school bus.
Yellow flashing lights on a school bus mean the bus is preparing to stop to pick up or drop off children. Drivers should slow down and prepare to stop. 
Red flashing lights and an extended stop-arm signal indicate the bus has stopped and children are getting on or off the bus.  On undivided roads, cars traveling in both directions – those driving behind the school bus, and those driving toward the bus on the other side – must stop, and stay stopped, until the bus proceeds.
Holiday travel
More traffic will be on the roads this year, and some people's driving skills may be lessened due to infrequent driving during COVID-19.
Know the weather and road conditions before you start out, especially if traveling away from home. Be prepared for unexpected snow storms and icy roads. 
Slow down, especially in inclement weather, construction areas, and in heavy traffic. 
Don't drive when impaired by alcohol, drugs, or if over-tired. Don't drive distracted, especially by cell phones or other occupants in the vehicle.
Be patient and drive defensively. Stay out of the way of drivers who may appear to be in a rush, may appear to be distracted, or may appear to be driving aggressively.
Deer
There are millions of collisions between vehicles and large animals every year, which can cause vehicle damage and/or personal injury.
In the fall, deer are most active during sunset and sunrise. Slow down and be especially attentive near woods, fields, and deer crossing signs.
If you see a deer cross the road, proceed very slowly as they often travel in groups.
Try not to swerve when avoiding an animal in the road, as this could result in loss of control, striking an oncoming vehicle, or leaving the road and striking a tree.
If you do hit a deer, pull over and put your hazard lights on. Be careful as a wounded animal could harm you.  Call for animal control or 911 if you are injured.