Posted In Health News & Studies on March 10, 2021
Image: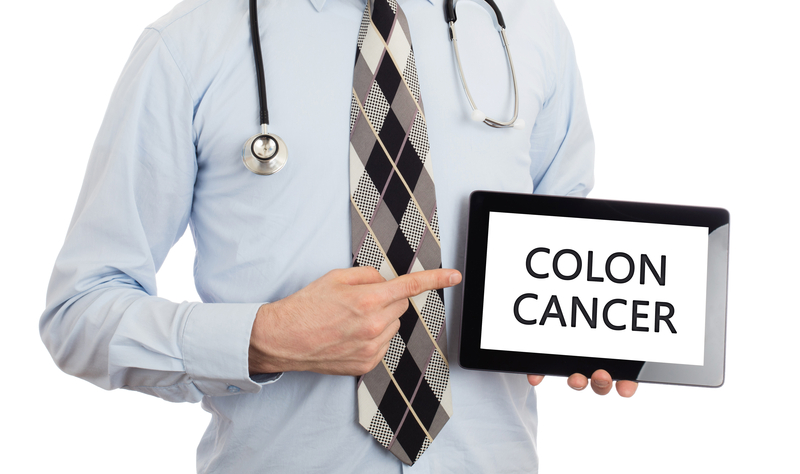 Colorectal cancer is the second leading cause of cancer-related deaths in the U.S. Colon cancer affects men and women equally. While 90% of new cases occur in people over 50, it is on the rise in people under 50.
Colorectal cancer starts in the colon or the rectum.  The colon and rectum make up the large intestine, which is part of the digestive system. Colon cancer and rectal cancer are often grouped together because they have many common features. Most colorectal cancers start as a growth on the inner lining of the colon or rectum. These growths are called polyps. Some types of polyps can change into cancer over time (usually many years), but not all polyps become cancer.  If cancer forms in a polyp, it can grow into the wall of the colon or rectum over time. When cancer cells are in the wall, they can then grow into blood vessels or lymph vessels, and can then travel to other parts of the body. The stage (extent of spread) of a colorectal cancer depends on how deeply it grows into the wall and if it has spread outside the colon or rectum. 
Sometimes there are no symptoms in the early stages of colorectal cancer. But the following may be symptoms of later stages, but these can also be symptomatic of other health issues:
rectal bleeding or blood in your stools
change in bowel habits
persistent abdominal discomfort
nausea or vomiting
unexplained weight loss
chronic fatigue
Some people are at a higher risk for colorectal cancer because of circumstances beyond their control, such as:
being older (over 50)
having a history of colorectal polyps, especially large ones or if there were many
having a history of inflammatory bowel disease, including ulcerative colitis or Crohn's disease
having a family history of colorectal cancer
being part of certain ethnic groups such as African Americans, Native Americans, Alaskan natives, and Latinos; or being a Jew of Eastern European descent
The links between diet, weight, and exercise and colorectal cancer risk are some of the strongest for any type of cancer.  There's no sure way to prevent colorectal cancer, but there are things you can do that might help lower your risk, such as
staying at a healthy weight
increasing physical activity
limiting red meats and processed meats (like hot dogs and some luncheon meats)
eating more fruits, vegetables, & whole grains
avoiding excess alcohol
not smoking
getting colorectal cancer screening
Screening is the process of looking for cancer or pre-cancer in people who have no symptoms of the disease. Regular colorectal cancer screening is one of the most powerful tools for preventing colorectal cancer. With regular screening, most polyps can be found and removed before they have the chance to turn into cancer. Screening can also find colorectal cancer early, when it's small and easier to treat. A perfect example of this is the Baltimore Orioles Trey Mancini who was diagnosed with Stage 3 colon cancer early last season at only age 27. No symptoms, just feeling a little more tired than usual. A routine blood test during a spring training physical showed a low iron level. Colorectal screening showed a malignant tumor in his colon. After recovering from surgery and treatment, he returned to the team this year for spring training. His dad had had Stage 2 colon cancer in 2011 when he was 58, Learning your family's health history is important to better know your risks  You could say  baseball saved Trey's life because it helped him catch his cancer early. Regular colorectal screening saves lives, too.