Posted on May 26, 2021
Image: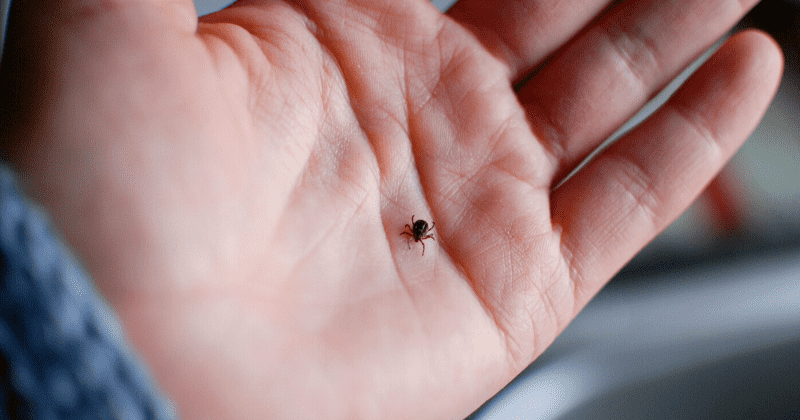 Lyme disease is the most common disease spread by ticks in the Northern Hemisphere. Tiny blacklegged ticks, also known as deer ticks, are the species of tick that carry Lyme disease. It has been reported in all 50 states. The CDC estimates that nearly 500,000 people will contract Lyme disease this year from just a single tick bite. 
Ticks are transitioning from their winter dormancy to their active feeding period as the weather warms up. Deer ticks are around the size of a pinhead as juveniles, but become more visible as adults and after feeding on blood. Ticks can be found in grassy, brushy, or wooded areas, in leaf debris, or even on animals. Spending time outside, even in your own yard or neighborhood, doing something as routine as walking your dog, gardening, camping, hiking, fishing, or hunting could bring you in close contact with ticks. Even if you avoid tick-prone areas, you could still be exposed to ticks by having them brought into your home on your pets or on someone else's clothes, backpacks, or gear. 
One tick bite is all it takes to potentially make you seriously ill. You may not even know you were bitten nor how long a tick was attached. Early signs and symptoms can appear 3 to 30 days after a tick bite and can include fever, chills, headache, fatigue, neck stiffness, muscle and joint pain, brain fog, swollen lymph nodes and a bulls-eye rash (only about 50% of the time). As the disease progresses without treatment, the symptoms continue, become more debilitating, and may affect the brain, heart and other organs. Later symptoms may occur months after a tick bite and may include rashes on other parts of the body; severe headaches; facial paralysis; irregular heart beat; episodes of dizziness or shortness of breath; arthritis with severe joint pain and swelling; or shooting pains, numbness, or tingling in the hands or feet. 
Seek medical attention if you observe any of these symptoms and have had a tick bite, live in an area known for Lyme disease, or have recently traveled to an area where Lyme disease occurs.  Lyme disease can be treated much more easily if found in its early stages. Antibiotics are typically prescribed for 2 to 3 weeks when Lyme disease is diagnosed or if taken within 36 hours of a tick bite.
If you find an attached tick, try to remove it as soon as possible.
Try not to touch the tick directly. Wear disposable gloves if possible because the bacteria that causes Lyme disease can move through small cuts or wounds in your skin. 
Use fine-tipped tweezers to grasp the tick as close to the skin's surface as possible.
Pull upward with steady, even pressure. Don't twist or jerk the tick; this can cause the mouth-parts to break off and remain in the skin. If this happens, remove the mouth-parts with tweezers. If you are unable to remove the mouth easily with clean tweezers, leave it alone and let the skin heal.
After removing the tick, thoroughly clean the bite area and your hands with rubbing alcohol or soap and water.
Never crush a tick with your fingers. Dispose of a live tick by putting it in alcohol, placing it in a sealed bag/container, wrapping it tightly in tape, or flushing it down the toilet. You can also save the tick in a container with alcohol in case it needs to be tested by a doctor.
Avoid folklore remedies such as "painting" the tick with nail polish or petroleum jelly, or using heat to make the tick detach from the skin, or waiting for it to detach on its own.
Mark the date you were bitten; if you have flu-like symptoms in following weeks, or a rash, mention the bite to your doctor along with the date it occurred.
Being proactive is your best protection. By adequately protecting yourself, you can eliminate Lyme disease before it begins:
Cover up exposed skin
Wear light-colored clothing to make it easier to see ticks. Wear hat, long sleeves, long pants, and closed-toe shoes or boots. Tuck pants into socks and shirt into pants to prevent ticks from crawling onto your skin.
Use insect repellant
On your skin use (EPA)-registered insect repellents containing 20-30% DEET.  Never use more than 30% DEET on children. .Treat clothing, boots, and gear with products containing 0.5% permethrin, which will remains protective through several washings. Be sure pets have tick protection.
Routinely check your body, clothes, your children, and your pets for ticks
Body areas to check include under the arms; in and around the ears, neck, scalp and hair; inside belly button; back of the knees; in and around the groin; between fingers and toes; around the waist.
Shower soon after coming indoors to help wash away unattached ticks and to check your body for attached ticks. Continue to check for ticks up to 3 days after outdoor activity.
Treat clothes after outdoor activity
Tumble dry clothes on high heat for 10 minutes to kill ticks on dry clothing. Wash clothes in hot water. Warm or cold water will not kill ticks. Then tumble dry on high heat for 60 minutes, or 90 minutes on low heat.
Maintain a well-manicured yard
Clear tall grasses and brush around the house and at the edge of lawns.  Mow the lawn frequently and keep leaves raked. Plant deer resistant gardens and shrubs.