Posted In TidalHealth Peninsula Regional Stories on April 24, 2020
Image: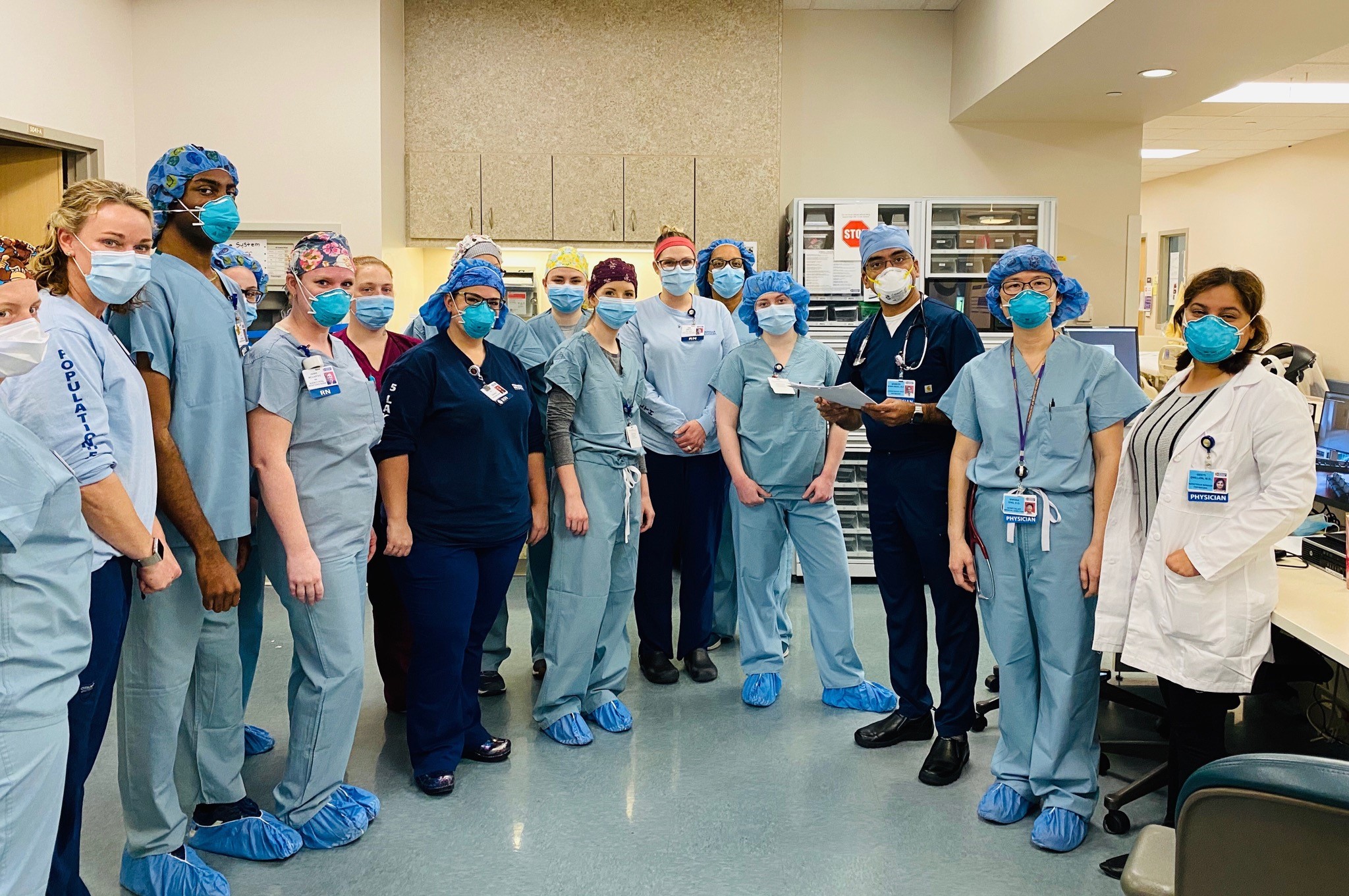 Before Peninsula Regional Medical Center even saw its first COVID-19 patients, a clinical team took on the task of creating protocols to direct the treatment and placement of people with COVID-19.
 Drs. Chris Snyder, Chief of COVID Hospital; Yashvir Sangwan, Medical Director COVID ICU; Geeti Dhillon, Director of COVID Treatments; Glenn Hornstein, Medical Director of the Emergency Department; and Emergency physician Brian Desaulniers combed through hundreds of studies from China and Italy to come up with a screening protocol designed to correctly identify COVID-19 patients.
 "In the beginning, we were making changes to the screening protocol every few hours as new information came in," Dr. Snyder said. "Every time a change was made, it was immediately distributed to our hospitalists – doctors who provide care to hospitalized patients – and our Emergency Department physicians, who would then immediately apply the changes and give strong and immediate feedback to us."
 The protocol, now in its 14th version, was shared in a closed group of 20,000 critical care COVID-19 providers around the world and was well received. A 15th version is already prepared for when in-house testing becomes more easily available.
 "Like many hospitals, we had only 300 tests at that time. It was extremely important to clinically identify each possible COVID-19 patient so as to use the tests very judiciously, and at the same time not miss even one patient who could then go to a regular hospital bed and spread the virus to other patients and staff," Dr. Dhillon said.
 The protocol's success would not have been possible without the buy-in, help and tireless work of Peninsula Regional's inpatient and ED providers under the leadership of Drs. Fayad Nayim, Chief of Medicine, Simona Eng, Chief of Hospitalists and Sameer Shaik-Abdul, Assistant Chief of Medicine and Co-Medical Director for the Department of Medicine.
 "Then we had a surprise discovery," Dr. Sangwan said. "Dr. Desaulniers called from the emergency department and said they were seeing a lot of pulmonary embolisms." These PEs, or blood clots in the lungs, were caught because the protocol included CT scan surveillance of the chest. COVID Tests available at that time would only detect 7 out of every 10 COVID-19 patients, but the CT scan would detect 9 of 10 cases, so PRMC chose to combine both to prevent missing any patients.
 Since these patients were already receiving treatment for their clots, no further attention was given to the PE issue. Also, as part of his practice, Dr. Sangwan routinely gives vitamin C and thiamine to critically sick patients to stabilize their blood pressure, so all sick patients in the COVID units were getting these. That was to play an important role in the protocols to come. In its first two weeks, PRMC patients did extremely well compared to reports from other facilities.
 When another patient presented with trouble breathing, high heart rate, low oxygen and a normal CT scan, Dr. Sangwan remembered that Dr. Desaulniers had raised the issue of blood clots. He immediately called Dr. Dhillon, Dr. Robert Chasse, Medical Director of Critical Care, and Interventional Pulmonology Nurse Practitioner Jenna Crossan. After a quick discussion, a decision was made to start Eliquis – an oral blood thinner. The response was dramatic. Within hours, the patient's heart rate and oxygen were better.
 The team immediately searched for answers. A few hours later, an NYU doctor appealed on the internet for use of blood thinners and avoidance of ventilators in COVID patients if possible. The Chinese studies from Wuhan and expert opinion for Italy reflected the same. It seemed that the virus not only produces blood clots in the lung, heart, liver, kidney and brain but also makes it difficult for blood to carry oxygen normally. Guess what helps the blood recover: vitamin C, thiamine and zinc, a part of Dr Sangwan's treatments from the very start. The experts also suggested to keep the pressures on the ventilators "low."
 "But no one laid out a clear, step-by-step method to actually reach the goal of least pressure on the ventilators," Dr. Snyder said. "We needed to come up with our own."
 The core team got Cardiac Anesthesia Specialist Dr. Jaspreet Singh, Dr. Chasse, Dr. Tania Hudson, Chief of Pulmonary Medicine, and Tom Jones, RN, Director of COVID Unit, involved in multiple discussions including group texts and group emails numbering in the hundreds to hammer out a workable protocol almost overnight.
 To make sure the team was on the right track, they reached out to a new epicenter of COVID-19 infections – New Orleans. Reviewing the protocol were Dr. Joseph Lasky, Pulmonary/Critical Care Section Chief at Tulane University Medical School; Dr. Jaime Palomino, Program Director for Pulmonary and Critical Care at Tulane; and Dr. Fayez Kheir, Director of Interventional Pulmonology at Tulane University Center for Health Sciences. After multiple small changes and rearrangements of the steps, their opinion was, "This will work! We can use it!"
 "A unified protocol allows consistent care for every PRMC COVID patient. It can be easily followed and changed when new information comes in," said Dr. Jaspreet Singh. "This also allows practitioners from Anesthesia, Emergency Department and internal medicine to be able to take care of the sickest ICU patients with the highest accuracy when we are called to serve the surge of patients outside our normal practice."
 The unique and comprehensive protocol allows every pulmonologist to monitor and care for many more patients than they normally could otherwise on any day.
 "We started applying these aspects of using blood thinners and lowest possible vent pressures within 2 days of our discovery on April 8th" said Dr. Sangwan. "Luckily, I have already used low pressures on my patients on ventilators for the last 9 years." Tom Jones, Erin Tobat, Robert Wilkerson and Ann Turner worked very hard to train CRNAs, respiratory therapists and critical care nurses on every aspect and bring all teams on the same page over the weekend.
 Peninsula Regional's protocol has been shared with Vanderbilt, Tulane, Nanticoke Memorial Hospital, McCready's freestanding medical facility, Atlantic General Hospital and practitioners as far as the United Kingdom and India. "We want everyone to use it and more importantly provide feedback and suggest improvements real time," Dr. Snyder said.
 "Our COVID providers and team members are working together to apply the protocol and continuously evaluate our own performance and opportunities to improve," Jones said.
 Peninsula Regional is grateful to this dedicated team and proud that the excellent care they have shown for patients is not only helping our community but potentially many more communities around the globe