Posted on October 13, 2017
Image: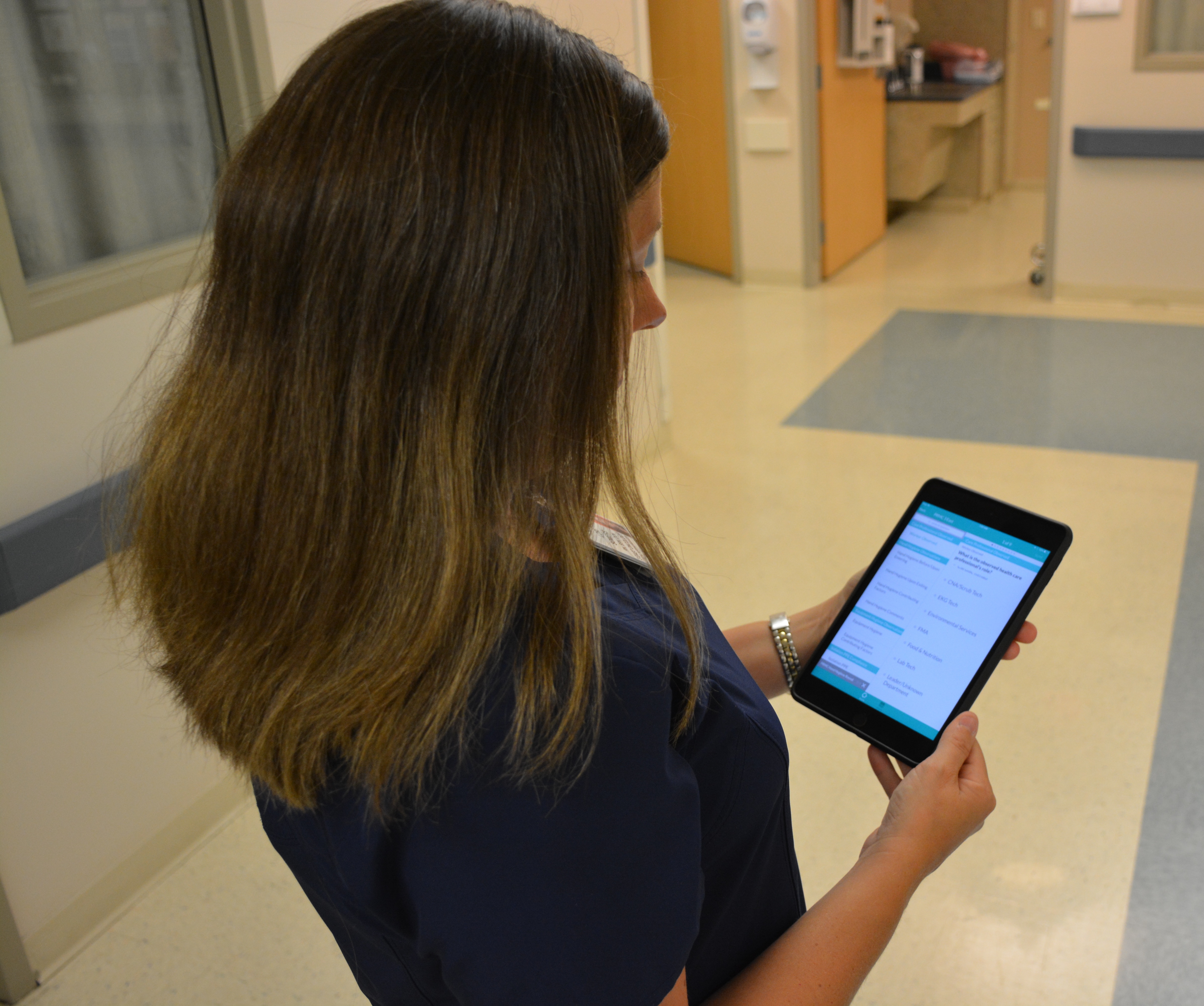 Peninsula Regional Medical Center is the first hospital in Maryland to adopt real-time digital rounding technology, Orchid, to assist to enhance patients' experiences and improve staff workflows. The hospital first implemented the solution to improve staff's hand hygiene adherence and reduce infection rates. After initial success with the hand hygiene program, the hospital's leadership team decided to roll out Orchid for quality and nurse leader rounds on patients.
"We are constantly seeking opportunities to improve safety and care for our patients," said Sheri Matter, Chief Nursing Officer and Vice President of Patient Care Services at Peninsula Regional. "By improving the feedback loop with patients, we hope that we can help them recover better and be discharged sooner."
Nurse managers on select in-patient floors are using the iPad-enabled technology to round on patients and assess all parts of the hospital stay, including their medical care, how well their pain is managed, and their satisfaction with nutrition/food services, environment/housekeeping and facilities.
PRMC's adoption of this digital rounding technology comes as part of the hospital's growing focus on delivery of a safe and positive patient experience. For example, during a recent round, a nurse manager discovered that a patient with gluten intolerances was concerned about her food tray. The nurse manager promptly verified that her diet order in the system was indeed gluten restricted, reassured the patient, and showed the patient how to check the information on her tray before eating.
Real-time feedback is integral for nurses to provide the best care to patients. The hospital plans to deploy automatic alerts on the Orchid platform in the near future to further improve issue resolution, for example, if a patient reports an issue, the appropriate department at the hospital, such as Environmental or Food Services, will be promptly alerted.
"We aim to support long-term improvements with technology that aggregate patient data over time and provides detailed and actionable insights into hospital trends," said Alex Hejnosz, co-founder of CipherHealth. "Since the launch of Orchid, Peninsula Regional has seen patient improvements in patient satisfaction, complementing the outstanding clinical care they already receive."
In the photo, PRMC Clinical Nurse Manager, Lori Somers, RN, BS, OCN, uses Orchid technology while rounding on patients at Peninsula Regional Medical Center.  PRMC is the first hospital in Maryland to implement the real-time digital rounding technology.