Posted on November 22, 2017
Image: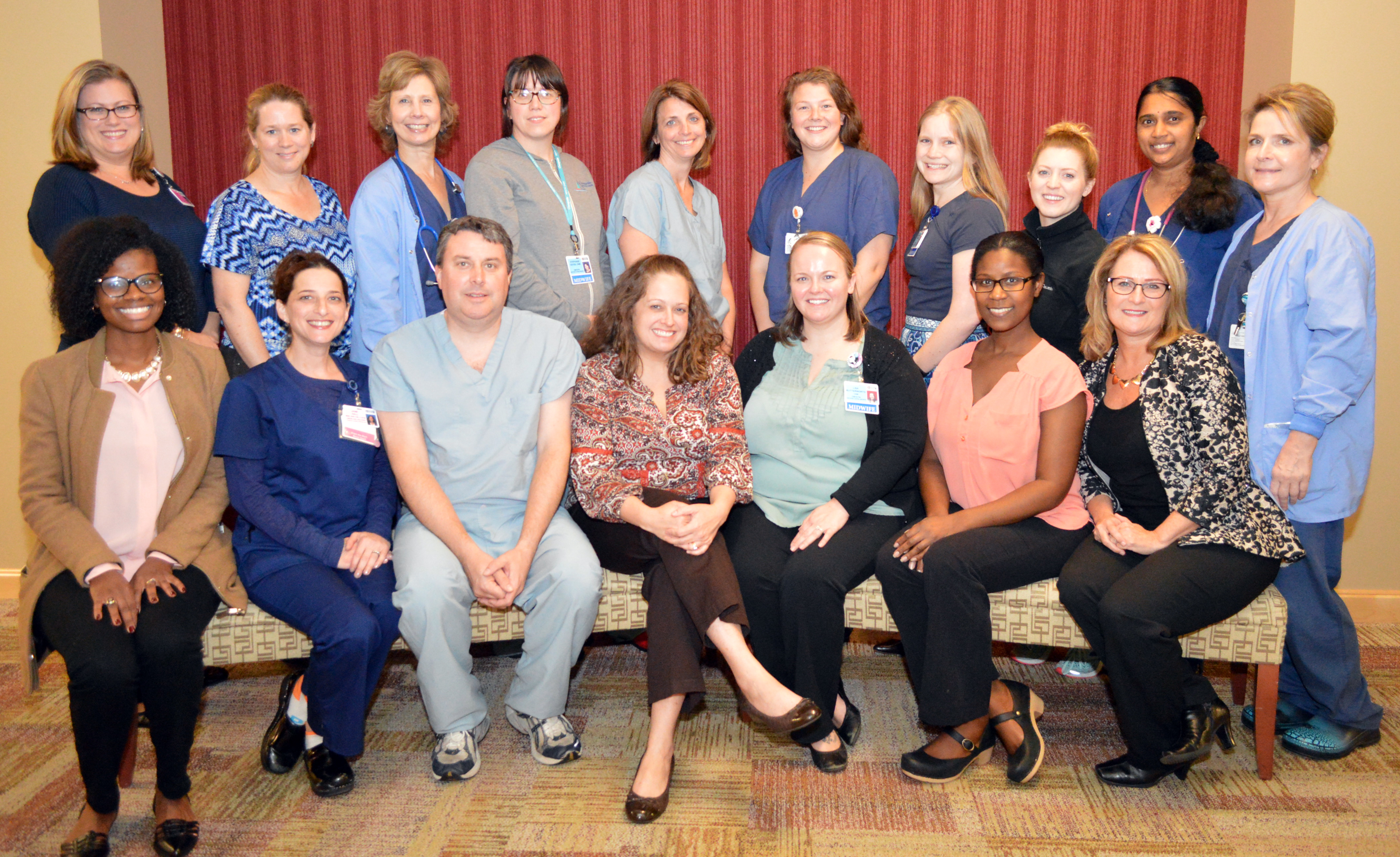 To help prospective parents find hospitals that deliver quality maternity care, CareFirst BlueCross BlueShield announced that Peninsula Regional Medical Center (PRMC) has been designated as one of the first hospitals to receive the Blue Cross and Blue Shield Association's (BCBSA) Blue Distinction® Center for Maternity Care designation, a new designation under the Blue Distinction Specialty Care program.
Nearly four million babies are born in the U.S. annually, making childbirth the most common cause of hospitalization.  This new BCBSA Blue Distinction Centers for Maternity Care program evaluates hospitals on several quality measures, including the percentage of newborns that fall into the category of early elective delivery, an ongoing concern in the medical community.  Compared with babies born 39 weeks or later, early term infants face higher risks of infant death and respiratory ailments such as respiratory distress syndrome, pneumonia, and respiratory failure, among other conditions. These babies also have a higher rate of admission to Neonatal Intensive Care Units.
In addition, hospitals that receive a BCBSA Blue Distinction Center for Maternity Care designation agreed to meet requirements that align with principles that support evidence-based practices of care, as well as having initiated programs to promote successful breastfeeding, as described in the Baby-Friendly Hospital Initiative by Baby-Friendly USA or the Mother-Friendly Hospital program by the Coalition for Improving Maternity Services (CIMS) through its "Ten Steps of Mother-Friendly Care." The program also evaluates hospitals on overall patient satisfaction, including a willingness to recommend the hospital to others. Blue Distinction Centers for Maternity Care, an expansion of the national Blue Distinction Specialty Care program, are hospitals recognized for delivering quality specialty care safely and effectively, based on objective measures developed with input from the medical community.
PRMC promotes family centered care by providing couplet care model where a mother can keep her baby in her room throughout the hospital stay. The new large, modern, private rooms were designed to resemble the comforts of home. 
"At Peninsula Regional Medical Center, we believe skin-to-skin contact immediately after birth is so important.  That's why each new mom has a dedicated newborn nurse to complete the newborn assessment and routine procedures without breaking the bond between mom and baby," said Diane Hitchens, Director, Women's and Children's Services.  "Research shows skin-to-skin contact in the first one to two hours after birth not only stabilizes the baby's breathing patterns, heart rate, and regulates temperature, but also reduces stress in both the mother and newborn.  Skin to skin contact during the first hour of life also promotes early mother-newborn attachment and helps the baby breastfeed easier." 
BCBSA companies across the nation have recognized more than 280 hospitals as Blue Distinction Centers for Maternity Care. Hospitals recognized for these designations were assessed using a combination of publicly available quality information and cost measures derived from BCBS companies' medical claims.
Since 2006, the Blue Distinction Specialty Care program has helped patients find quality providers for their specialty care needs in the areas of bariatric surgery, cardiac care, complex and rare cancers, knee and hip replacements, spine surgery and transplants. For more information about the program, visit www.bcbs.com/bluedistinction.
In the photo, members of PRMC's Women's and Children's division, recipients of CareFirst BlueCross BlueShield's Blue Distinction® Center for Maternity Care, are pictured with a recent mom, dad and their newborn at the PRMC Mother/Baby unit.