Posted In Uncategorized on June 29, 2015
Image: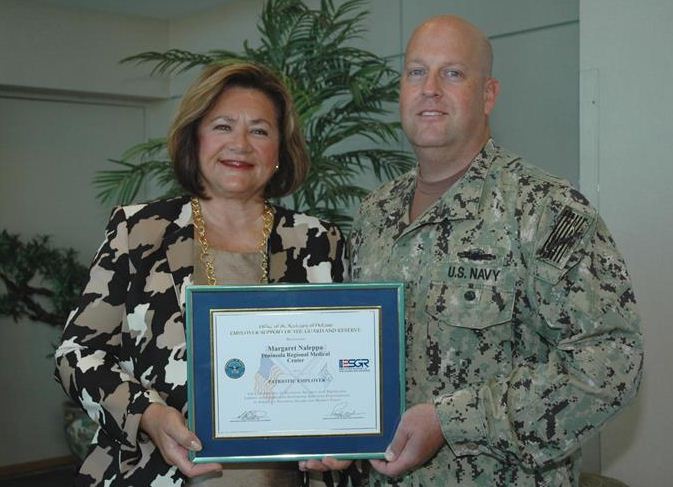 In the photo, Dr. Peggy Naleppa, MS, MBA, FACHE, President/CEO of Peninsula Regional Medical Center, and Tim Ward, RN and US Navy Reservist, display the Patriot Award presented recently to PRMC.
With the 4
th
of July approaching, here's a terrific story of patriotism and the support of the men and women who protect our freedoms. Timothy S. Ward of Salisbury finds serving and helping others to be a source of pride and pleasure. "I love it, I really do," said Ward. "I thoroughly enjoy taking care of people and making their experience, whatever they're facing, better." For 13 years that satisfaction came as a professional chef in places like Baltimore, Salisbury and Ocean City, but it wasn't his life's passion. Ward discovered that as a registered nurse, joining Peninsula Regional Medical Center (PRMC) in March of 2014 following graduation from the nursing program at Salisbury University. However, his ultimate act of service had already come a decade earlier in 2003 when he enlisted in the United States Navy Reserve, motivated by the events of September 11, 2001. "As soon as I finished my undergrad work, I knew I had to do something more for my friends, family and my country," he added. Ward, 45, a Boatswain's Mate Senior Chief Petty Officer and Expeditionary Warfare Specialist, is attached to a specialized Navy unit that protects the ports, harbors, rivers and shipping lanes of U.S. and U.S. allied waters. His reserve unit can be mobilized anywhere in the world within 72 hours. As a training officer and senior enlisted leader, the 109 men and women on his team expect him to be there, and that requires Ward to have the flexibility to leave his primary job at a moment's notice. He has that at PRMC. In fact, Ward has been so impressed with the above and beyond support of his healthcare family that he nominated PRMC for the Department of Defense Patriot Award, which was presented to Peninsula Regional and its President/CEO, Dr. Peggy Naleppa, in June. "Receiving the Patriot Award is truly an awesome honor," said Dr. Naleppa. "In Tim and all of our other reservists, our patients benefit from those extremely positive behaviors and values like professionalism, leadership, and passion, and it demonstrates parallels, particularly in what we are looking for in our employees. It only reinforces why it's so important for us to be as supportive of the reserves as we can be as a hospital and as a healthcare team." The Patriot Award was created by the Employer Support of the Guard and Reserve (ESGR), a Department of Defense agency, to publicly recognize individuals who provide outstanding patriotic support and cooperation to their employees who, like the citizen warriors before them, have answered their nation's call to serve. PRMC and Dr. Naleppa were nominated by Ward for being highly supportive of the U.S. Navy Reserve and providing crucial support to maintaining the strength and readiness of the nation's Guard and Reserve units. "PRMC has been very receptive to my military duty with absolutely no issues whatsoever. They've allowed me to get done whatever I've needed to get done," added Ward, who hopes other Delmarva businesses will follow Peninsula Regional's lead and be equally exemplary in their support for armed services reservists. "Reserve duty makes us better leaders and motivators of a diverse population of people, and in the Reserves we're learning and honing those skills that can directly apply to our professional careers," he added. "Best, employers are getting all of that for free when a reservist is given the time and the support required to serve their nation, and then bring home to their primary career that entire leadership package. It's a win-win for everyone." To learn more about opportunities to support reservists in the workplace, please contact the Maryland chapter of the Employer Support of the Guard and Reserve at 800-336-4590 or online at
www.ESGR.mil
.