Posted on January 24, 2022
Image: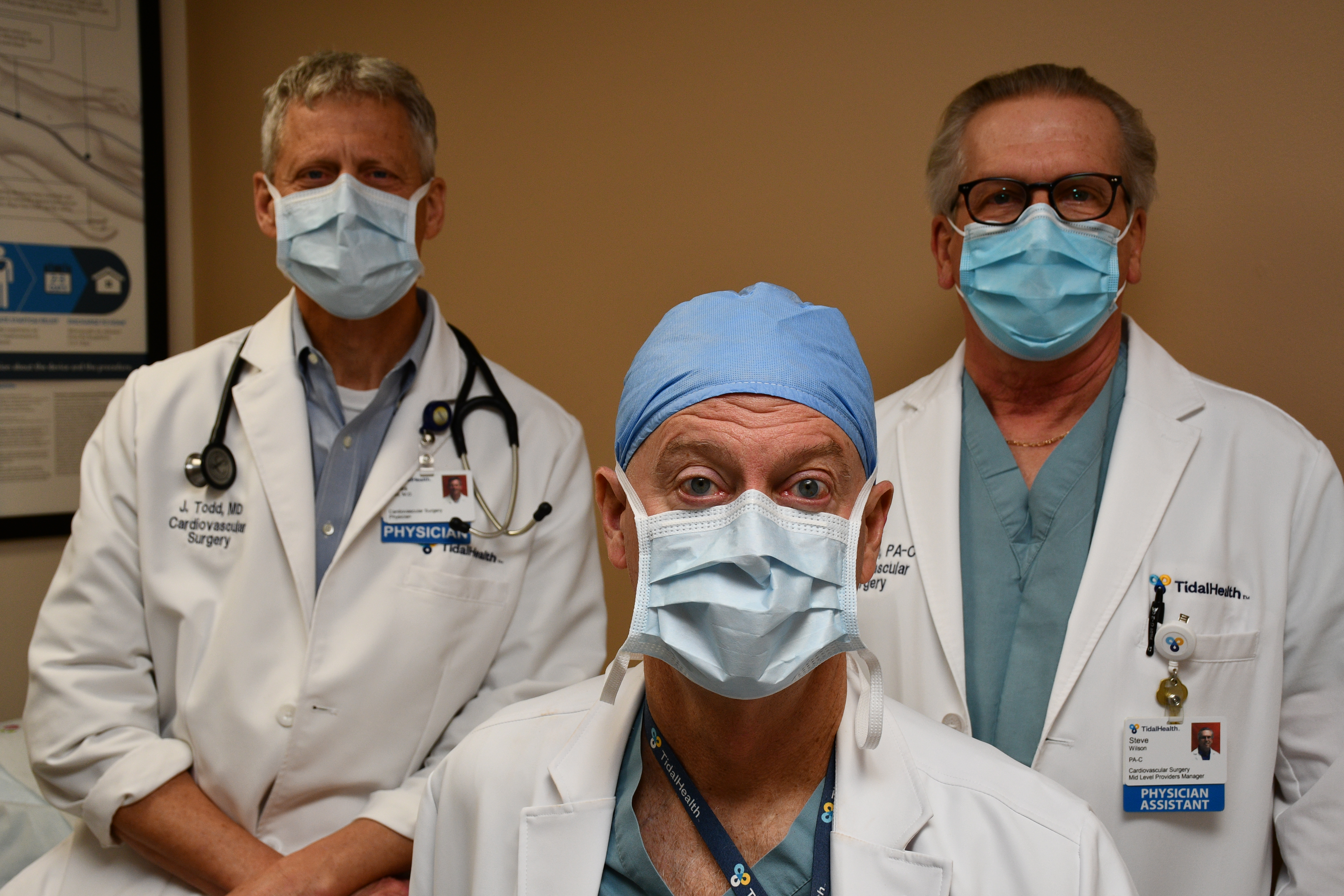 The mitral valve is one of four in the heart that help stop blood from flowing backward. When it doesn't close tightly preventing that backward flow, the heart cannot pump enough oxygen rich blood to the body. That can cause fatigue, shortness of breath and heart failure.
When a mitral valve stops performing as it should, surgeons can replace it, but over time if the new valve becomes diseased and begins to malfunction itself, patients face another significant open-heart operation.
For some, that second operation is too risky, leaving doctors with few options. Until now.
Valve in Valve Trans-Catheter Mitral Valve Replacement (ViV TMVR) is a revolutionary new procedure being performed at the Guerrieri Heart & Vascular Institute at TidalHealth Peninsula Regional in Salisbury, Md. It's a minimally invasive option for those patients doctors feel are not good candidates for a second traditional mitral valve replacement by open surgery.
"Our patient was out of options short of this procedure, which made being able to offer it a life-saving solution," said James Todd, MD, cardiovascular surgeon with TidalHealth Cardiovascular Surgery. "It's remarkable to see the rapid improvement from where he was before the ViV TMVR procedure to where he is now in his recovery."
With ViV TMVR technology, the structural heart team at TidalHealth actually places the new valve inside the damaged one without taking it out of the body. Once it reaches the heart, the new valve is positioned and opened inside the old one. The expansion pushes the thin flaps of tissue, known as leaflets, from the malfunctioning valve out of the way and allowing the leaflets of the new valve to open and close properly, ensuring correct and sufficient blood flow.
How the mitral valve gets there is what makes this such a beneficial option for patients who qualify. A cardiac surgeon and an interventional cardiologist work together to deliver the valve through a vein in the groin. It's threaded up into the heart without opening the chest, eliminating the pain, discomfort and risk of a regular open-heart operation.
Nationwide, only about 600 ViV TMVR procedures are performed each year, making unique this option locally. "Being the first on Delmarva to perform this procedure shows the commitment of TidalHealth and the Guerrieri Heart & Vascular Institute to bring innovative and the most up-to-date technology and treatment to our patients," said Steven Hearne, MD, interventional cardiologist and Executive Medical Director of the TidalHealth Guerrieri Heart & Vascular Institute.
ViV TMVR is not recommended for everyone with mitral valve disease. Consultation with a cardiologist and cardiac surgeon can best determine a patient's suitability for the procedure.
To learn more about cardiac procedures taking place at TidalHealth, visit tidalhealth.org.
In the photo: Leading the clinical team at TidalHealth Peninsula Regional in performing the first ViV TMVR were, in the front, Steven Hearne, MD, on the right, Stephen Wilson, PA-C and left, James Todd, MD.