Posted In Latest Cancer News on August 31, 2017
Image: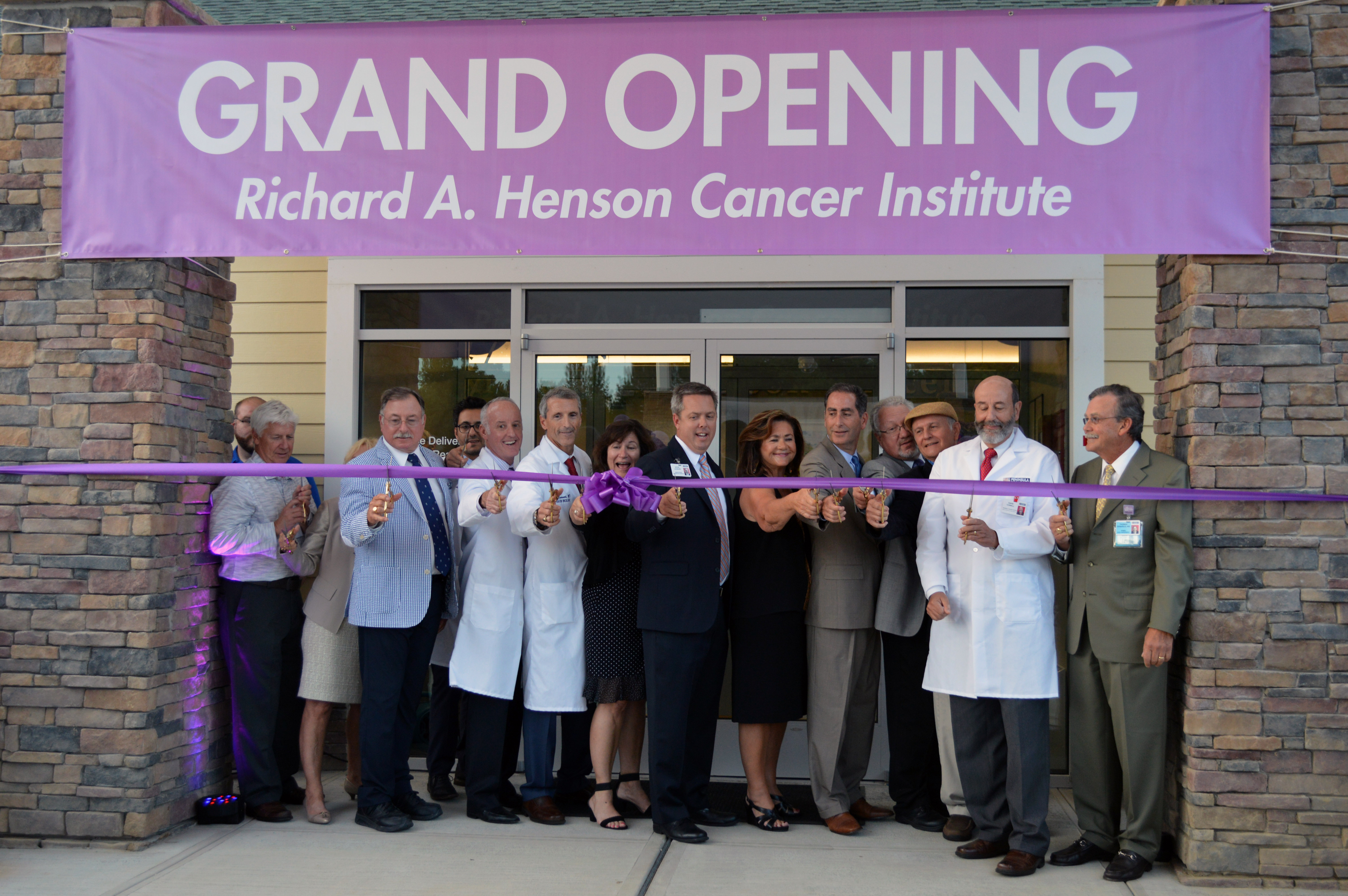 Many compare cancer to a journey. The metaphor conveys how arduous it can be, but making the literal trek is an additional hardship. At the grand opening of the Richard A. Henson Cancer Institute Ocean Pines, one breast cancer survivor did the math.
She lived in Worcester and traveled to Salisbury 50 times for her cancer treatments. At 30 miles each way, that came out to 3,000 miles. Add in her trip to Baltimore for a consultation, and that put her well over the mileage on the famous "Sacramento 3,073" mileage sign at the start of Route 50 in Ocean City.
"I calculated what it would have been if I could have been treated here," she said. "It was 250 miles – what a difference."
Multiply that times the hundreds of beach-area residents who are diagnosed and treated for cancer every year, and the reasons behind the Peninsula Regional's new cancer institute in Worcester County are clear.
"When you have to have oncology and cancer-related treatment that can last for many hours in an infusion center, or a high degree of frequency with radiation treatments, having it close to home is crucial," said Peninsula Regional President/CEO Designate Steven Leonard.
He was one of several cutting the ribbon on the Richard A. Henson Cancer Institute Ocean Pines Wednesday night.  Physicians at the new location start seeing patients there on Tuesday.
"Having cancer is hard enough," said Dr. John Mansueti, medical director of Radiation Oncology for the Richard A. Henson Cancer Institute Ocean Pines. "We needed to make it easier for our patients."
Dr. Mansueti is looking forward to treating patients on the new Varian TrueBeam image guided radiotherapy and radiosurgery system in Ocean Pines, identical to one in Salisbury and the very latest in radiation medicine. "It's accurate to within millimeters," Dr. Mansueti said.
The center also offers medical oncology, where patients can receive chemotherapy infusions in one of 12 comfortable, private and beautiful treatment areas with ample room for family and friends to join them, as well as their own television to make chemotherapy time pass quicker. The medical oncology office also offers immunotherapy, the very latest in cancer treatment that mobilizes the patient's own immune system to fight their cancer.
On-site laboratory services mean that any necessary bloodwork can be easily and quickly completed before treatment. A pharmacy specializing in oncology medications is located within the facility as well, attached to the medical oncology area so that infusions are readily available.
Clinical trials access through the Johns Hopkins Clinical Research Network and other collaborations allow patients of the Richard A. Henson Cancer Institute Ocean Pines to take part in studies that help them be a part of developing the next generation of cancer treatment, and often benefiting in the process.
Also on-site at the new location are complementary services such as nutrition, support groups and Fittings By Michele, which offers special services and products many women need after mastectomy or other cancer treatments.
A state-of-the-art teleconferencing room makes it simple for doctors in Ocean Pines to participate in the weekly multidisciplinary conferences. These are essential to the Richard A. Henson Cancer Institute's team approach, in which everyone involved in cancer care – from surgeons to clinical trial specialists – gather to review every patients' case from every angle to ensure that each patient has the best plan of care and that all the specialists are on the same page.
At the ribbon cutting, Dr. Thomas DeMarco, Peninsula Regional's Medical Director of Cancer Services, said the team approach that has made care in Salisbury stand out will be just as important in Ocean Pines. "We don't want it to be two separate cancer centers," he said. "It's one cancer institute with two locations."
It's already making treatment easier for patients. A Worcester County cancer patient scheduled for radiation in Salisbury next week came to tour the facility and found out it would be opening the same day as her appointment. Amid the balloons and tours of the grand opening, a staff member was able to log into the scheduling system and change it to an appointment in Ocean Pines.
Cancer may be a journey, but for patients taking that voyage with the Richard A. Henson Cancer Institute, the destination is closer than ever, no matter where they live.