Posted In TidalHealth Peninsula Regional Stories on August 03, 2022
Image: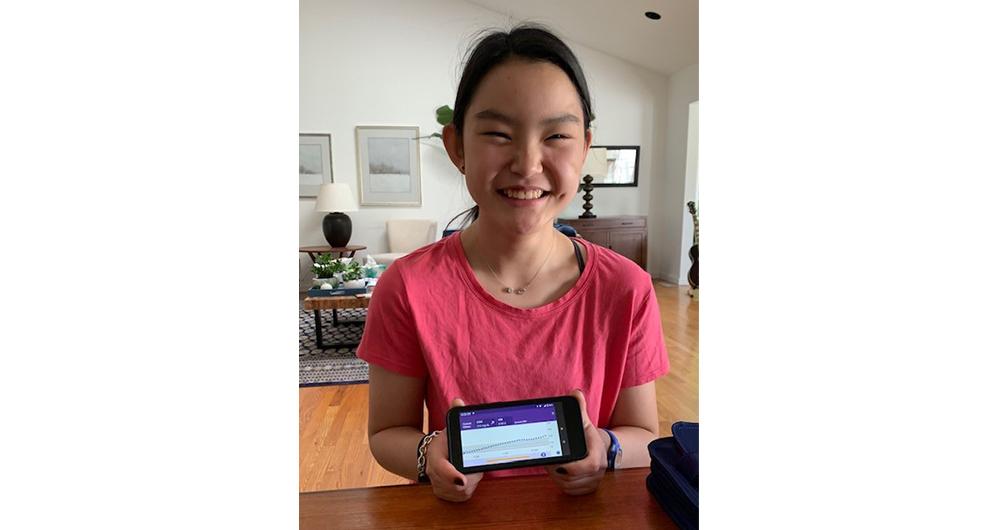 Like rowing a boat, it often takes a team effort to ensure that patients receive the care and support they need to live a healthy life. This is exactly what happened for a recent pediatric patient of TidalHealth's Pediatric Specialty practice in Salisbury.
Caroline Welte is an athletic, bubbly 14-year-old girl from Easton. She is a member of St. Peter and Paul High School's sailing team and participates on a sailing team on the Tred Avon River during the school year and summer. Caroline has type 1 diabetes, which she was diagnosed with at age two in 2010.
Caroline is TidalHealth's first patient to receive the newly released OmniPod 5 hybrid closed-loop insulin pump. This breakthrough pump communicates with the patient's continuous glucose monitor which predicts if a patient's glucose levels are going to decrease or increase and makes automatic adjustments to administer less or more insulin to keep blood glucose levels stable.
Before Caroline received the new OmniPod 5 pump, her blood glucose range was fluctuating frequently after participating in physical activity, resulting in lows in the afternoon and evening.  Her old pump was not sensitive to her glucose levels and would administer the same amount of insulin no matter the situation, which led to lows on the sailboat and at night.  Before the OmniPod 5, Caroline's mother would have to frequently send Dexcom reports and call her provider for adjustments to her dosing regimen. Flora and Caroline's mom knew that Caroline needed a hybrid closed loop pump to avoid dangerous lows, especially while she was sailing.
Now, Caroline's glucose levels are well-controlled thanks to the new pump and a team effort led by Flora Glasgow, CRNP. The team also included TidalHealth team members Marshonia McClendon, LPN; Kelly Birch, RN; Pam Silvia, RN; and Sodonia Jones, Admin Assistant of Pediatric Specialty Services.
When the OmniPod 5 pump was first released, it was in high demand, which made it incredibly hard to find and since it was new, insurance coverage was questionable. Flora and Marshonia worked together with Will Zastawrny from OmniPod for weeks communicating with Caroline's parents and health insurance company, completing multiple and revised prior authorizations. Thanks to their diligent efforts, the team received insurance approval and located a pump in Silver Spring, Md.
Samantha Bowers Welte, Caroline's mom, is incredibly thankful for TidalHealth's hard work and commitment to Caroline's care and for helping her get this new life-changing pump.
"It's amazing!" noted Samantha. "We can watch it learning Caroline's blood glucose patterns and catching her highs and lows. It's really going to be life-altering for us."
Since Caroline received her OmniPod 5 pump, Flora has been able to order an additional nine pumps for her patients at TidalHealth. "In today's healthcare environment, it really is a team effort to get devices approved by insurance and find them in stock," said Flora. "We are thrilled to be able to order a hybrid closed-loop pump for Caroline to help her glucose ranges remain stable with less variability."
To learn more about TidalHealth's Pediatric Endocrinology Services, visit www.tidalhealth.org/diabetes.