Posted In Awards and Recognition on May 19, 2023
Image: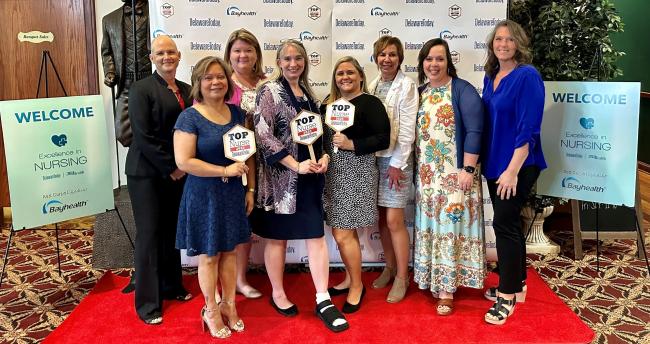 On May 17, 2023, nurses from TidalHealth Nanticoke attended Delaware Today's Excellence in Nursing banquet in Newark, Del. The Excellence in Nursing awards recognize the state's top nurses who were featured in Delaware Today's May 2023 issue.
Eight nurses from TidalHealth Nanticoke were listed among this year's Excellence in Nursing honorees. Additionally, Dr. Aaron Sebach, TidalHealth Hospitalist and Community Wellness/SWIFT Nurse Practitioner, was honored for his work with Wilmington University.
The nurses listed below were chosen by a survey of their professional peers. The Delaware Nurses Association conducted a survey on its website in partnership with Delaware Today, asking nurses across the state who they considered best in various areas of practice. Only Delaware-licensed nurses were able to vote. There are 27,500 nurses in the state of Delaware and 275 nominations were submitted for this year's Excellence in Nursing awards. 
Academic Educator:

Aaron Sebach, Ph.D., DNP, MBA, AGACNP-BC, FNP-BC, NP-C, CP-C, CEN, CPEN, CGNC, CLNC, CNE, CNEcl, SFHM, FNAP

Advanced Practice Registered Nurse:

Mary D'Amico DNP, APRN, FNP, Specialty Surgical and Robotics

Advancing and Leading the Profession:

Kimberly Pickinpaugh, MSN, RN, CCRN, Director of Critical Care

Inpatient/Acute Care Nursing: 

Angela Hubbard, RN, Charge Nurse, Medical-Surgical
Kimberly Pickinpaugh MSN, RN, CCRN, Director of Critical Care
Vickie Smith, Ed.D., MSN, RN, Medical-Surgical
Michael Lockerman, MSN, RN, Cardiovascular Surgery

Case Utilization/Management:

Melissa Shoultes, BSN, RN, Patient Care Coordinator, Acute Care/Care Coordination/Utilization Management

Licensed Practical Nurse: 

Rebecca Lunness, LPN, Emergency Department
Sarah Maddux, LPN, Medical-Surgical
These nurses are among the top 1% of nurses in Delaware and we are very fortunate to have them work alongside us at TidalHealth. Thank you to these incredible nurses for all you do and for being someone we can count on — we are proud of you!
To see the full list of Delaware Today's Excellence in Nursing honorees for 2023, click here.