Posted In Awards and Recognition on September 28, 2023
Image: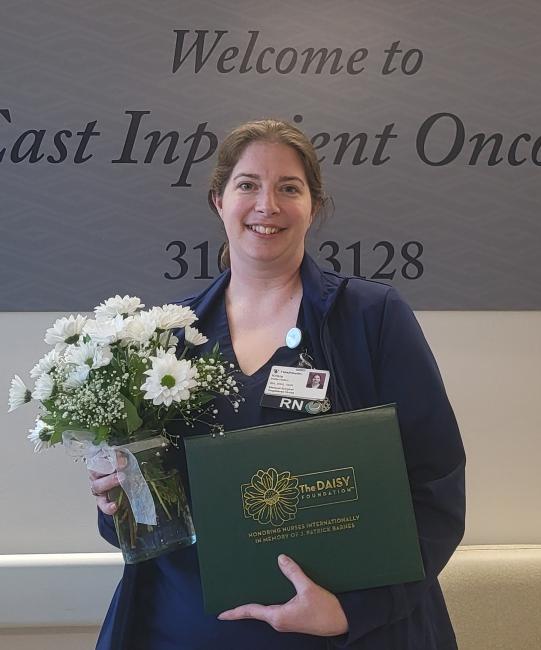 Krista Kelly-Hearn, RN, of TidalHealth Peninsula Regional's 3 East patient care unit, has been selected as the September 2023 recipient of the Daisy Award for her care and special attention.
Her nomination was written by a patient to acknowledge the care received.

I have been a regular patient on the 3 East oncology unit. Krista has always been so kind and compassionate.
However, one particular day she went above and beyond for me and my family. My dad was sent to the emergency department by his neurologist. He had been waiting for a bed all day and into the night.
I told Krista that I was going to have to skip the rest of my infusions for the week so I could be there for my parents. Hearing this, she called the emergency department and let them know that there was a bed available on 3 East and he could come there, which allowed me to continue my infusions.
I was able to check on him without putting my own health at risk. I am so blessed to have such a caring nurse, I'm forever grateful. She is awesome.
Krista Kelly-Hearn was recently honored with the Daisy Award in a ceremony before her colleagues. She received certificates commending her for being an extraordinary nurse, and a sculpture called A Healer's Touch, hand-carved by artists of the Shona Tribe in Zimbabwe.
The not-for-profit DAISY Foundation is based in Glen Ellen, CA, and was established by family members in memory of J. Patrick Barnes. Patrick died at the age of 33 in late 1999 from complications of Idiopathic Thrombocytopenic Purpura (ITP), a little-known but not uncommon autoimmune disease.
The care Patrick and his family received from nurses while he was ill inspired this unique means of thanking nurses for making a profound difference in the lives of their patients and patient families.