Posted In Awards and Recognition on August 11, 2023
Image: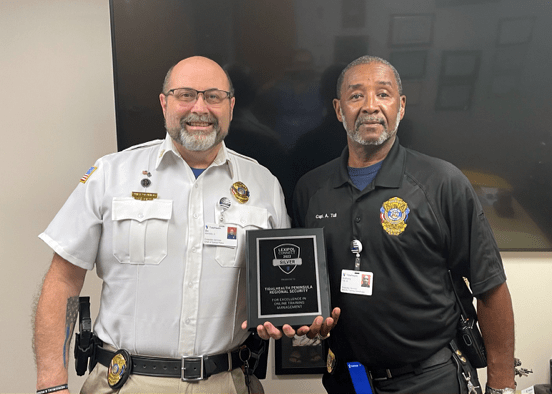 Pictured left to right: TidalHealth's Chief of Special Police, James "Bo" Kennedy, and Captain Anthony Tull
TidalHealth's Special Police team has earned the Lexipol Connect 2022 Silver Award for excellence in online training management with a 92% User Activity rating and over 98% assignment completion rate.
Lexipol is one of the nation's leading content, policy, and training platforms for public safety agencies. The Connect program tracks performance on five metrics proven to measure success in training management including average hours of training assigned, training assignment completions, average hours of training completed, user activity and external training ratio.
TidalHealth's Special Police team earned this award through its training with Police One Academy. The online law enforcement training academy provides courses approved by the Maryland Police and Correctional Training Commission for the team's required training for new officers and annual renewals.
"The training our Special Police officers receive through Police One Academy equips them with the latest skills and knowledge needed to safeguard our patients and visitors, uphold confidentiality and respond effectively to emergencies," said James "Bo" Kennedy, Chief of Special Police at TidalHealth. "Our priority is ensuring the safety of everyone who comes to TidalHealth's campuses for their healthcare needs."
Congratulations to our Special Police team on this outstanding achievement!