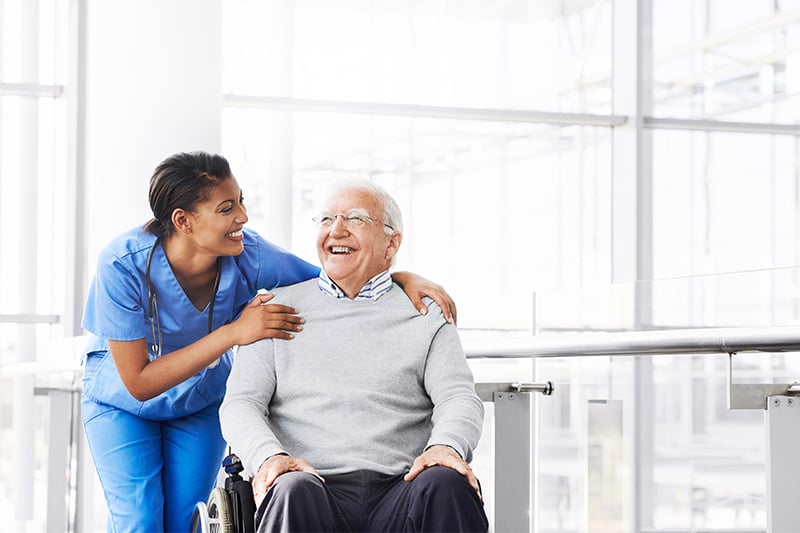 Overview
TidalHealth, in recognition of your rights as a patient and as its responsibility to provide quality healthcare, affirms these rights for all patients. We expect that you will receive considerate, safe, dignified and respectful care.
---
You Have the Right To:
Receive considerate, respectful, and compassionate care.
Be provided care in a safe environment free from all forms of abuse and neglect, including verbal, mental, physical, and sexual abuse.
Have a medical screening exam and be provided stabilizing treatment for emergency medical conditions and labor. Expect that the hospital will provide medical evaluation, service or a referral to another facility depending on the urgency of your condition. The institution you want to be transferred to must first accept you as a transfer patient.
Be free from restraints and seclusion unless needed for safety.
Be told the names and jobs of the healthcare team members involved in your care if staff safety is not a concern.
Have respect shown for your personal values, beliefs, and wishes.
Be treated without discrimination based on race, color, national origin, ethnicity, age, gender, sexual orientation, gender identity or expression, physical or mental disability, religion, language, or ability to pay.
Be provided a list of protective and advocacy services when needed.
Receive information about your hospital and physician charges and ask for an estimate of hospital charges before care is provided and as long as patient care is not impeded.
Receive information in a manner you can understand, which may include:

Sign and foreign language interpreters
Alternative formats, including large print, braille, audio recordings, and computer files
Vision, speech, hearing, and other temporary aids as needed, without charge
Receive information from your doctor or other healthcare practitioners about your diagnosis, prognosis, test results, possible outcomes of care, and unanticipated outcomes of care.
Access your medical records in accordance with HIPAA Notice of Privacy Practices.
Be involved in your plan of care.
Be screened, assessed, and treated for pain.
Refuse care.
In accordance with hospital visitation policies, have a person of your choice remain with you for emotional support during your hospital stay, choose the people who may visit, and change your mind about who may visit.
Appoint an individual of your choice to make healthcare decisions for you, if you are unable to do so.
Make or change an advance directive.
Give informed consent before any nonemergency care is provided, including the benefits and risks of the care, alternatives to the care, and the benefits and risks of the alternatives to the care.
Agree or refuse to take part in medical research studies, without the agreement or refusal affecting your care.
Allow or refuse your picture to be taken for purposes other than your care.
Expect privacy and confidentiality in care discussions and treatments. If you have questions or concerns about your privacy and confidentiality, contact our Privacy Officer at 410-543-7490.
Be provided a copy of the Health Insurance Portability and Accountability Act Notice of Privacy Practices.
File a complaint about care and have the complaint reviewed without it affecting your care.
Expect that the hospital will make a reasonable response to your request for appropriate medical care and services.
Be informed of available resources and practices that relate to patient care, treatment and responsibilities.
Have a family member or person of your choice and your own doctor promptly notified of your admission to the hospital.
Know if the hospital has any business relationships with outside parties that may influence your care.
Be accommodated (within reason) to your right to religious or spiritual services.
---
You Have the Responsibility To:
Provide a complete and accurate health history including medications and contact information.
Provide necessary information for insurance claims. If needed, ask to speak with a financial counselor for assistance. Comply with your financial obligations pertaining to your hospital stay as promptly as possible.
Bring a copy of your advance directives when you come into a TidalHealth office so it can be scanned into your medical record. Advance Directives describe to your doctors and your family what kind of treatments you want in case you become unable to make decisions for yourself. Speak to your medical provider if you have questions.
Be respectful of your care team, staff and other patients.
Control noise, limit the number of visitors, and not use profanity.
Protect your belongings. Send them home if possible. Ask for containers for your glasses, dentures and hearing aids. Inform your caregivers of any medications brought from home.
Participate in your treatment plan. Discuss goals for recovery. Ask questions if you do not understand.
Take responsibility for understanding the risks of refusing treatment including: not following provider's instructions, not going to scheduled appointments, not filling prescriptions and not taking your prescribed medications.
Report unexpected changes in your condition to your care team promptly.
Respect the privacy and confidentiality of other patients.
Refrain from using tobacco, vaping, e-cigarettes and other nicotine products while on TidalHealth properties.
Refrain from photographing, videotaping and recording any staff, providers or physicians without the consent of those involved.
Refrain from bringing handguns, knives or other weapons on TidalHealth properties. 
Refrain from aggressive behavior, verbal or physical. TidalHealth has zero tolerance for aggressive behavior. Any physical assault is reported and Security will be contacted.
---
Contact Us
During your stay, please voice concerns or complaints with any TidalHealth representative to have it addressed promptly. For assistance, you can ask for the clinical leader or supervisor of the unit or department.
After discharge, please phone, email or contact us in writing at:
TidalHealth Peninsula Regional
c/o Patient Experience
100 East Carroll Street
Salisbury, MD 21801
By phone: 410-543-7212
By email: [email protected]
TidalHealth Nanticoke
c/o Patient Experience
801 Middleford Road
Seaford, DE 19973
By phone: 302-629-6611, extension 3533
By email: [email protected]
To contact other agencies:
Maryland Department of Health
Office of Health Care Quality
Hospital and HMO QA Unit
7120 Samuel Morse Dr. 2nd  floor
Columbia, MD 21046-3422
By phone: 877-402-8218 or 410-402-8016
By email: [email protected]
Delaware Office of Health Facilities Licensing and Certification
261 Chapman Road, Suite 101
Newark, DE 19702
By phone: 800-942-7373
State of Delaware Division of Professional Regulations
861 Silver Lake Blvd., Suite 203
Dover, DE 19904
By phone: 302-739-4522
The Joint Commission
c/o Office of Quality and Patient Safety
One Renaissance Blvd.
Oakbrook Terrace, IL 60181
By phone: 800-994-6610
By Fax: 630-792-5636
By email: [email protected]
www.jointcommission.org
U.S. Department of Health and Human Services
Office for Civil Rights
200 Independence Ave. SW, Room 509F HHH Building
Washington, DC 20201
By phone: 800-368-1019 or 800-537-7697 (TDD)
www.hhs.gov/ocr/index.html