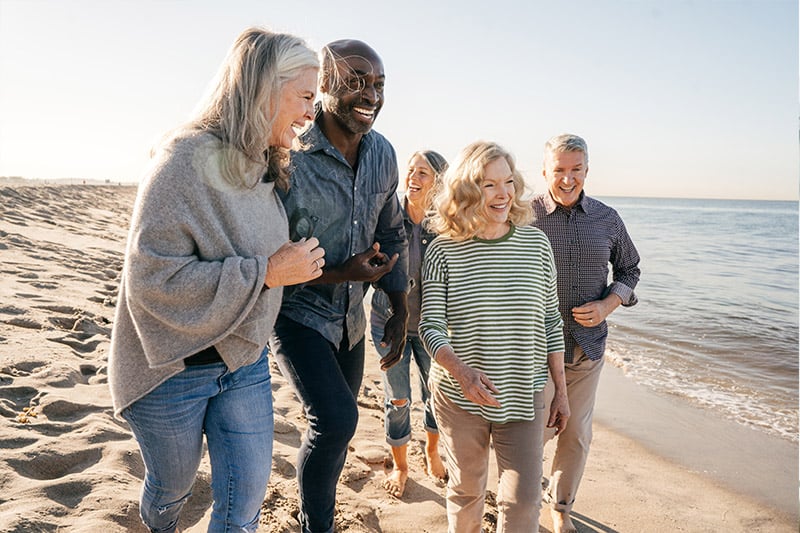 Overview
Proud of our 123-year history of keeping our community well and being better together.
---
TidalHealth McCready Pavilion
From the deepest of sorrows came the greatest of healthcare triumphs in Crisfield, Maryland, a small fishing and crabbing town on the Tangier Sound, an arm of the Chesapeake Bay.
This story begins in 1908 with a 30-bed facility known as the Somerset Hospital in neighboring Marion, Maryland. By 1910, the Crisfield General and Marine Hospital with 26 of its own beds opened its doors. By the beginning of World War 1 in 1914, the two had joined as one in Crisfield, and would soon weather together the terrible flu epidemic of 1918. 
Just a year later, in 1919, successful Chicago businessman, 59-year-old Edward McCready, decided to leave the family cork business and return to his roots in Crisfield. On Sept. 13, McCready, his 8-year-old daughter Suzanne and the family's nurse, Henrietta Steinbach, packed the McCready's Pathfinder touring car for the long trip from Westover, Maryland to Atlantic City, where they would meet up with Edward's wife and Suzanne's mother, Caroline, for a planned family vacation. They would never arrive. 
Shortly after departing, McCready failed to see an inbound passenger train speeding down the tracks. The impact killed him and Steinbach instantly. Little Suzanne was thrown 50 feet away, barely alive. A valiant effort to reach the General and Marine hospital, traveling bumpy dirt roads at a top speed of 20 miles per hour, failed before the child could be saved. 
Caroline McCready, in appreciation to the community, donated the money for a new hospital to be built in her husband's honor. The Edward W. McCready Hospital was completed on May 6, 1923, at a cost of $200,000.
It would serve the people of Crisfield proudly and honorably until 2020, when a change in daily patient census requirements made it impossible to continue as a hospital. Joining TidalHealth on March 1, it transitioned to the McCready Health Pavilion and still provides residents many of the same healthcare options as before, just without inpatient beds or surgical services, both of which transferred to Peninsula Regional. 
The Crisfield community and all of us at TidalHealth thank the McCready family for their healthcare vision and passion in the face of such great tragedy over a century ago.
---
TidalHealth Nanticoke
In 1945, a group of concerned citizens, including representatives from various Seaford Civic Organizations, endorsed the idea of building a local hospital as a "living memorial to those who served our country in time of war." Even though this seemed like a new idea, the seeds of this dream started 10 years before when the Seaford Volunteer Department purchased its first ambulance. Although the ambulance provided the area with quality emergency transportation, it still took 45 minutes to get to the nearest hospital. The First Aid Squad operating the ambulance saw enough deaths on the way to realize how great the need was for a hospital on the county's west side. 
In December, 1945 Nanticoke Memorial Hospital was incorporated. In March 1947, the first meeting of the board was held and by July 1947 the land for the hospital was purchased.  Over the next several years, many fundraising efforts were made to build the hospital, with additional challenges resulting from a post-war economy. The original vision of a 99-bed hospital became a vision of a 33-bed hospital and plans were adjusted. In July 1950, building began, using a combination of funds raised and an approved federal grant, allowing the hospital to open debt-free. Groundbreaking ceremonies were held on July 4, 1950, with a parade down High Street. On Monday, Jan. 28, 1952, Nanticoke Memorial Hospital opened its doors to the public.
Nanticoke quickly grew to care for additional patients, going through several expansions and building projects over the years. Building projects began with the addition of the Anna M. Brown Wing in 1957, and the J. Leland Fox Wing in 1968. These were followed by the addition of the Richard Tobin Coronary/Intensive Care Unit in 1975 and the addition of a three-story patient tower in 1983. Two additional patient floors were added to the tower in 1989.
Today, Nanticoke Memorial Hospital includes a 99-bed nationally-recognized community hospital and the Allen Cancer Center. Each year, Nanticoke Memorial Hospital cares for more than 5,500 patients admitted to the hospital, 35,000 people in the Emergency Department, and provides more than 105,000 outpatient tests and procedures.
---
TidalHealth Peninsula Regional
In the early 1890s, Dr. George W. Todd was making an increasing number of house calls on a growing population in and around the Salisbury area. With his team of six and an open buggy, there were many nights he would return home with his heavy beard soaked by rain or frozen stiff by the cold, and his horses too tired to reach the stable.
Dr. Todd understood the loss of his horse team would be the demise of his business, and medicine couldn't continue to be practiced as it had for decades. He, a simple country doctor but a man of great vision and leadership, began a campaign to build a regional hospital in his hometown. Dr. Todd enlisted senators, leading businessmen of the era and a community that contributed lemonade glasses, washbowls, oyster crackers, a tub and cakes.
On October 1, 1897, in a six-bedroom home within shouting distance of where TidalHealth Peninsula Regional now stands, Dr. Todd opened Peninsula General Hospital. Here, his grandson performed the region's first open-heart procedure in 1974, and his great-grandson started practicing emergency medicine two decades later.
From necessity, and in this case "straight from the horse's mouth", came one of healthcare's most influential advancements on the Delmarva Peninsula: a heritage of caring that continues today with the same diligence and pride demonstrated by the founding fathers and mothers so many years before.