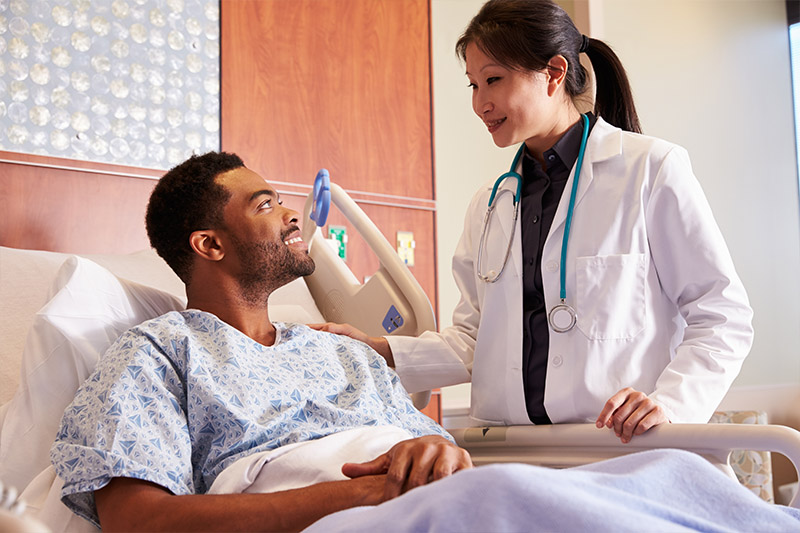 We Are Here For You
It's important for us to listen to our patients and families. Your feedback makes us better.
A patient advocate is available to assist patients and families with questions and concerns before, during, and after receiving care at any of our facilities. If you're staying in the hospital and have a question or concern, please speak immediately to the clinical leader or supervisor for that area, if the immediate team assisting you isn't able to resolve it.
After discharge, you can contact our patient advocates:

TidalHealth Peninsula Regional
pati[email protected]
410-543-7212
TidalHealth Nanticoke
[email protected]
302-629-6611 ext. 3533
Medical Office, Pavilion or Campus
[email protected]
410-543-7252
You may receive a survey by phone or email after your stay or visit. We encourage you to respond. Positive feedback helps us know what we're doing well, and if you have a concern, we can work to improve.
Please see our Patient Rights and Responsibilities page to learn more.
---
We Are Consistent
Like the tides that traverse our peninsula, we are here to be a consistent presence in the lives of our community.
You can always find us close to home, an essential part of the health landscape. We've been here since 1897 and we will continue to be here for you to rely on for your health and wellness.
The TidalHealth team works to bring a consistent health experience to every patient we encounter – to treat everyone fairly and considerately, to celebrate and embrace the diversity of our community. We flow and adapt to emerging health needs and are always ready to take on new challenges. In high tide or low tide, we'll be by your side.
---
We Are Quality
Patients and families know quality care when they experience it.
We define quality of care not just by standards of safety, effectiveness and equitability, but also by serving with kindness and grace. We're a benchmark system, setting the standard across the continuum, and we have a legacy of firsts and proven accomplishments. 
Legacy of Firsts
On Delmarva, TidalHealth was the first to offer cancer services, the first to perform open heart surgery, the first to offer minimally invasive neurosurgery and the first to perform robotic surgery. 
We also developed Maryland's largest and most comprehensive cardiac rehabilitation program and opened Maryland's first ALS treatment center.
New technologies and advanced disease detection and treatment options continue to define the standard for safer care, faster recoveries and better outcomes.
Best Doctors
Whether you need a specialist or a primary care provider who will help you on your health journey, trust the TidalHealth team to give you the best care, close to home.
TidalHealth providers are highly trained clinicians who believe in putting their skills and talent into personalized care for their friends and neighbors. They consistently strive for excellence through board certification, participation in clinical trials and research, and ongoing education to stay current with the latest evidence-based practices.
Best Medical Outcomes
At TidalHealth, we treat everyone who walks through our doors like family and give our absolute best to every patient, every time. 
We are recognized over and over for our superb medical outcomes and have collected a lot of accolades over the years. 

Recent Awards & Recognition Snapshot
June 2020
Healthgrades presents Patient Safety Award to TidalHealth Nanticoke.
May 2020
Blue Cross Blue Shield Care First designates TidalHealth Peninsula Regional as a Blue Distinction Center+ for Spine Surgery.
February 2020
Blue Cross Blue Shield Care First designates TidalHealth Peninsula Regional as a Blue Distinction Center+ for Hip and Knee Replacement.
Healthgrades names TidalHealth Peninsula Regional one of America's BEST 250 Hospitals for the third consecutive year. Top 5% in the Nation. Only hospital on the Delmarva Peninsula to achieve the honor. One of just 10 in Maryland.
Healthgrades presents TidalHealth Peninsula Regional with 37 clinical achievement awards for the care it provides to patients. Among them, One of America's Best 50 Hospitals for Vascular Surgery and 100 Best America's Hospitals for Prostate Surgery, GI Care and General Surgery. Top 5% or 10% in the nation in Pulmonary Care, GI Care, General Surgery, Vascular Surgery, Prostate Surgery, Critical Care, Orthopedics and Neurosciences.
January 2020
TidalHealth Peninsula Regional is one of just eight hospitals in Maryland, and the only on the Delmarva Peninsula, to be awarded a Five-Star rating – the highest possible by the Centers for Medicare and Medicaid Services. Only 8.9% of the 4,500 hospitals in the survey, 407 including TidalHealth Peninsula Regional, achieved a five-star rating.
Our recognition from the healthcare community is because we put people at the center of all we do. We know the best care can only be delivered on the foundation of a strong relationship and genuine connections.
---
You Are Our Priority
At TidalHealth, we use our size to our benefit to focus on the experiences we provide. 
Approachable, responsive, and friendly is in our DNA. We're treating friends, neighbors and family, so that's how you can expect to be treated.
Whether you're sick or just staying in check, we will always remember your name, and where you came from. We are trained in the fine art of hospitality, wherever we meet you – whether at a medical center, a doctor's office or in the community.
Putting You First
Wherever you go at TidalHealth, you'll find a personal touch. Here are just a few examples:
You're as unique as your fingerprint – that's why our registration staff use a secure palm-scan system to make sure the right person is linked to the right record. 
Cancer patients will find personalized care conferences that unite different specialists in one room. 
Patients spending the night will receive a visit from our friendly catering staff. They bring meals tailored by registered dietitians for their nutritional needs with an emphasis on taste from our talented chef. 
---
You Have Options
At TidalHealth, we want to bring you the right care at the right time, in the right place – close to home. 
Many Kinds Of Care
It all starts with our network of primary care doctors and providers, who keep you on the path to wellness and help guide you to our many specialty services when you need them. They can even see you at home via telemedicine.
We also offer the option of urgent care facilities, which can treat all kinds of life's little emergencies, from sprains to fevers. For more serious emergencies, our Emergency Departments are here for you 24 hours a day, 7 days a week.

For those interested in forging their own path to a healthy lifestyle, we're here to support you – from nutrition and diabetes education to medically-monitored adult fitness. Our highly-skilled joint replacement team will coach you through surgery and beyond, and get you moving without pain. 

Many Options for Expectant Parents
Having a baby? Our caring team provides birth services at TidalHealth Peninsula Regional and TidalHealth Nanticoke, and they're ready to help your family get off to the best start possible. 
Begin with our free childbirth and infancy app, so you can always have it handy to track your baby's development, time your kicks and learn about different birthing options for your birth plan. Or take an in-person class to get the experience of breathing techniques and hands-on diapering practice. Family-first policies encourage bonding so right from the start, you're never apart.
Whatever your need, you have options, and they're all right here - you never have to cross the bridge for care.
---
Recognition
Did you or your loved one receive exceptional care from a TidalHealth team member? Consider nominating them for one of the following awards.
The Daisy Award for Extraordinary Nurses is given to registered nurses and LPNs who have gone above and beyond in their care to patients - who demonstrate not only exceptional skill but notable compassion and kindness. Daisy nurses exemplify TidalHealth values and provide emotional as well as physical support.
The Sunshine Award is for certified nursing assistants, patient care technicians and patient care assistants who demonstrate exceptional care and kindness to their patients and their colleagues.
The MacGyver Award for Social Workers recognizes social workers who use their ingenuity and creativity to help their patients overcome obstacles and navigate the challenges in their lives.
The Tree of Life Award honors respiratory therapists who provide outstanding, excellent care to patients, make a special connection and are engaged with the care team to ensure the best outcomes for their patients.