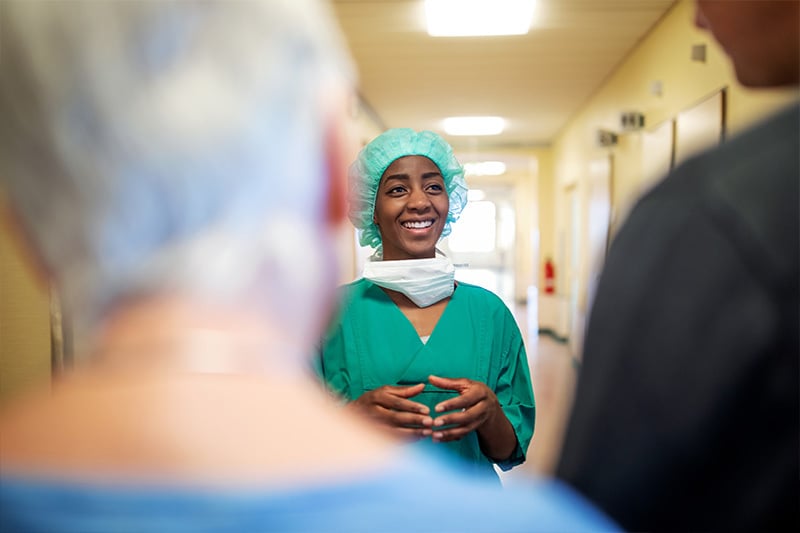 Overview
Our team works in cooperation with your physician to perform surgical services in a timely manner. New procedures, combined with state-of-the-art technology and fast-acting anesthetics, speed recovery time and get you back home more quickly. 
At TidalHealth, we also perform a variety of minimally invasive procedures and robotic surgery using the daVinci Surgical Robot. Minimally invasive procedures are also performed using laparoscopy which need much smaller incisions, reducing pain and speeding recovery times after surgery.
Our caring staff specializes in making the patient experience at TidalHealth as personal and pleasant as possible. Smiles and positive attitudes are part of our culture and patients can expect a warm, caring, and safe environment.
To find a surgeon near you, visit our Find a Doctor page.
---
Surgical Procedures
Some of the procedures performed at TidalHealth hospitals are listed below. This doesn't include everything, but includes common surgical procedures needed by our community. Surgeries are performed using minimally invasive techniques whenever possible.
General surgery procedures 
Appendectomy
Biopsies
Breast Surgery
Colonoscopy & Colon Surgery
Fistulectomy
Hernia Procedures
Wound Care Procedures
Specialty surgical Procedures
Bariatric/ Weight Loss Surgery
Ear, Nose & Throat
Gastroenterology (GI)
Gynecology
Interventional Cardiology
Oral Surgery
Orthopedic Surgery
Plastic Surgery
Podiatry 
Urology
---
TidalHealth Institute for Laparoscopic and Robotic Surgery
TidalHealth Peninsula Regional was the first hospital to bring minimally invasive surgical techniques to Delmarva Peninsula. Minimally invasive surgery (MIS) provides significant benefits to patients in reducing incision related pain, early return to normal activity after the surgery, and decreased hospital length of stay following the surgery. Scientific data shows reduced surgical complications following MIS compared to the traditional open surgery.
MIS often requires placing multiple small incisions and using a high definition camera to discern anatomy and perform surgery using the most advanced equipment. It can be performed either using a laparoscope or daVinci robot.
Laparoscopic surgery is at the forefront of MIS and continues to be an integral part of MIS since the 1990s when the first gallbladder surgery was performed at TidalHealth Peninsula Regional. Since then, multiple specialties in our health system have embraced laparoscopy and thousands of laparoscopic procedures are performed annually at TidalHealth.
TidalHealth Peninsula Regional was the first facility on the Delmarva Peninsula to use a daVinci robot in 2007, and has performed more than 1,000 robotic surgical procedures across many surgical specialties since then. The robot is now being used at TidalHealth Nanticoke as well, leading to smaller incisions, shorter hospital stays and quicker recoveries for patients in Sussex County.
The daVinci® HD Surgical Robot, located tableside in the operating room, allows a surgeon's hand movements to be scaled, filtered and translated into precise movements of micro instruments at the surgical site. From a console inside the operating room and near the patient, the surgeon uses the daVinci system to precisely translate their hand movements to the robot. The magnified, high-resolution, three-dimensional view the surgeon experiences lets them perform precise and complex surgery through very small surgical incisions.
Examples of surgeries currently being performed using MIS:
Thoracic surgery
Lung resection with lymph node dissection
Decortication
Thymectomy
Prostatectomy
Nephrectomy partial, total
Ureteral reconstruction
Pylolithotomy
Adrenalectomy
---
Preparing for Surgery 
Your physician will discuss your surgery with you during your office visit and explain the risks, benefits and alternatives. After the decision for surgery is made, your physician will work with TidalHealth to schedule a date and time for your procedure. 
You will complete a pre-anesthesia questionnaire that you can email, fax or drop off to the TidalHealth facility where you are having surgery. One of our pre-admission nurses will review the questionnaire with you about 3-5 business days before your planned procedure. Be sure to advise the staff of any medical or anesthesia problems, and all drugs that you are taking including illicit/social drugs, over the counter drugs, and herbal remedies. Bring specific questions or concerns to your nurse's attention at this time. We want you to be comfortable with all aspects of your surgery and postoperative care.
You will be contacted prior to your arrival by a TidalHealth staff member to verify your insurance. Do not hesitate to ask any questions regarding your insurance or required prior authorizations.
Routine pre-op testing is limited to patients whose procedure or medical condition (including medications) indicates the need for it. The surgeon and/or anesthesiologist may request additional testing or consultations based on your medical history. Testing may be done at a TidalHealth facility or a facility determined by your health insurance. 
---
When You Arrive
A staff member will escort you to a room to change into a provided hospital gown in preparation for surgery.
Your clothing will be put into a bag and placed in a locker.
A nurse will ask questions about your health and the medications you are taking. They will start an IV for you to receive medications and fluids.
Your family or significant other may stay with you during your time in the Day Surgery Unit. We ask that you limit the number of visitors to two due to space limitations.
For your safety, you will be asked to wear an ID band. Do not remove it. You may be asked the same questions multiple times during your stay for identification purposes.
Your surgeon, anesthesiologist and certified registered nurse anesthetist will meet with you prior to your surgery and review any questions you may have. In addition, your surgeon will be asked to mark and/or initial the spot on your body to be operated on. You will then be taken into the operating room to have your surgery. In the operating room your heart rate, blood pressure, pulse and respirations will be continuously monitored.
Occasionally, your surgeon may decide to admit you to the hospital following your surgery. The decision is based on the outcome of your surgery, how you tolerated anesthesia, or the amount of pain you have afterwards.
Reminders for the day of surgery
Remember to bring two forms of identification with you. One must be a photo ID such as a driver's license.
Bring your health insurance cards with you.
Do not eat or drink anything after midnight the night before your surgery. Unless told otherwise, do not give young children bottles after midnight the night before their surgery.
Do not take medications of any kind unless your surgeon or the anesthesiologist tells you. Take only sips of water.
No alcoholic beverages 24 hours before surgery.
Do not wear jewelry of any kind, including body piercings the day of surgery.
Please bathe or shower the morning of surgery, but do not use any creams or lotions on your skin. Do not wear nail polish.
You are responsible for the safe keeping of your valuables. Please do not bring any jewelry, money or any other valuables to the hospital.  Leave your contact lenses at home or bring a container and solution for them with you.
Wear loose fitting, comfortable clothing that is easy to put on after surgery.
Visit our Patient Rights & Responsibilities page.
---
After Surgery
You will return to the Day Surgery Unit or the Post Anesthesia Care Unit (PACU) for observation and preparation to return home.
Your blood pressure and pain level will be monitored. You will be asked to rate your pain on a scale of 0-10.
Medication and other comfort measures will be given to relieve your pain.
If you are an Extended Recovery patient or are admitted, nursing staff in your patient room will provide your care.
It is important to take deep breaths and cough to help rid your body of medication you received during surgery. A towel or small blanket placed over your incision will help comfort you if you move or cough.
Your nurse will review home care instructions with you and another responsible person when you are ready for discharge. You will receive a copy of these home care instructions.
---
After You Go Home
Do not operate any heavy machinery or equipment or make important business or personal decisions for 24 hours after your surgery.
Do not drink alcohol for 24 hours after your surgery. DO NOT mix alcohol and pain medication.
Take your pain medications according to the directions.
Do not drive while taking pain medications.
---
Frequently Asked Questions
Most people have questions about their surgery, from what to expect to how to prepare. The best resource for all of your questions will always be your surgeon. However, here are a few questions frequently asked by our patients.
My doctor wants me to get testing done before my surgery. Where do I get this done?
Before surgery, your surgeon may want to have some diagnostic testing done. This could include blood tests, EKGs, or X-rays. Your surgeon's office will help schedule your test(s). It's important that you keep these scheduled appointments and have any necessary testing completed before your scheduled surgery, as requested by your doctor. Not having these tests may delay your surgery. And, the sooner testing is done, the more prepared staff will be for your arrival. Testing may be completed at one of TidalHealth's outpatient testing facilities or at another provider in your area. Often, your insurance will determine whether you are required to use facilities other than TidalHealth.
How do I find out what time my surgery is scheduled?
A day before your scheduled surgery, you can call your surgeon or you may call the day surgery department for confirmation. If your surgery is scheduled for a Monday, please call the Friday before your surgery. We ask patients to arrive approximately an hour and a half (90 minutes) before surgery in order to prepare you for your scheduled time.
Can I drive myself home after surgery?
You will need someone to drive you home on the day of your surgery. This person should be able stay with you once you are home and help you if needed. It's important to not be alone after surgery. If you don't have transportation, your surgery may need to be rescheduled.
If you become sick between now and your surgery date, call your surgeon right away. If you wake up sick on the day of your surgery, call the facility at which your surgery is scheduled.
Can I keep taking my medications?
Your surgeon may want to stop aspirin, aspirin products, or blood thinners five days before surgery. Your surgeon will provide these instructions for you when their office schedules your appointment. It is very important that you review any medications you are taking with your doctor and understand the doctor's instructions about any medications you should or should not be taking prior to your surgery. Not following your doctor's instructions may cause a surgery to be rescheduled.