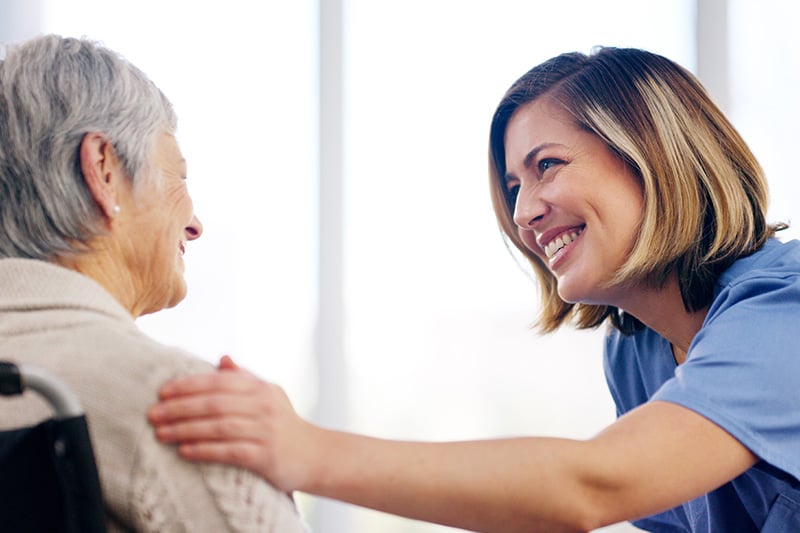 Overview
Emergency services are provided at TidalHealth Peninsula Regional in Salisbury, Md., TidalHealth Nanticoke in Seaford, Del., and at the TidalHealth McCready Health Pavilion in Crisfield, Md. 
Our 24/7 Emergency Care team serves patients around the clock, whether they come by land, sea or air. Treatment spaces are private and on-site x-ray and other diagnostics are available on site. We are ready to handle your emergencies, and to help you transfer to critical care hospitals if needed.
TidalHealth Peninsula Regional and TidalHealth Nanticoke are both designated as Level III Trauma centers by the American College of Surgeons meaning the center can provide emergency services including resuscitation, surgery, intensive care and stabilization of injured patients. Our teams have earned an outstanding reputation for reliable and accurate emergency and trauma care when seconds count.
---
Signs of an Emergency
If you believe you are having a health emergency, CALL 911. Every second counts during events such as stroke or heart attack.
Chest pain
Stroke symptoms:

Sudden dizziness, weakness
Sudden, severe headache
Sudden blurred vision
Numbness in face, arm or leg

Coughing or throwing up blood
Deep wound
Fever in newborn (less than 3 months)
High fever that does not get better with medicine
High fever with headache and stiff neck
Inhaled smoke or poisonous fumes
Major allergic reaction
Pain in the arm/jaw
Passing out/fainting
Persistent or heavy bleeding
Persistent vomiting or diarrhea
Poisoning or overdose of drug or alcohol
Possible dislocation or broken bone, especially if the bone is pushing through the skin
Pregnancy-related problems
Serious burn
Severe allergic reaction with trouble breathing, swelling, hives
Severe pain anywhere in the body
Shortness of breath or difficulty breathing
Sudden confusion
Suddenly not able to speak, see, walk, or move
Sudden, severe abdominal pain
Suddenly weak or drooping on one side of the body
Suicidal thoughts
Seizures 
---
What to Expect at the Emergency Department
When you arrive at the Emergency Department, a triage nurse evaluates you and places you on a track for care depending upon severity. For higher-acuity patients (those who are likely to be admitted to the hospital), you are placed in a hospital gown, assigned to a bed and evaluation or treatment begins.
For lower-acuity patients (those who are not likely to be admitted to the hospital), you may not be placed in a gown or a bed, but instead moved along a path for further evaluation and treatment. This process is specifically designed for mobile patients to help them get care and be discharged in a more timely and efficient manner.
No matter what level of care you receive at the Emergency Department, you are continuously monitored for changes in condition or needs. You can be moved from a fast track to a higher acuity care track at any time during your stay.
The Emergency Care Team at TidalHealth consists of a multidisciplinary team of physicians, nurses, technicians and support staff. Your initial triage may be done by a physician, an allied health professional such as a Physician Assistant or Nurse Practitioner, or by a specially trained emergency nurse. Radiology, laboratory, or therapy professionals may also be involved in diagnosing or providing treatment during your visit. 
If you have any questions during your stay, please ask. We are here to make you as comfortable as possible.
The Maryland Sexual Assault Kit Initiative (SAKI) project is underway. If you had a sexual assault forensic exam and would like to receive updates about the testing of your kit in Maryland, you can contact a SAKI Advocate at the Maryland Coalition Against Sexual Assault by calling the confidential SAKI information line at 833-364-0046 or by email at [email protected].
---
Immediate Care / Urgent Care
For conditions that may not be an emergency, but you want treated urgently, you can consider an immediate care, urgent care center or walk-in clinic. TidalHealth offers Immediate Care options in Delaware and we are proud to partner with Your Doc's In South Salisbury to offer urgent care services in Salisbury, Maryland.
Need Immediate Care?
TidalHealth Immediate Care

TidalHealth Immediate Care has two locations in Delaware – Seaford and Laurel. They are available for urgent care needs when your doctor is not available. All locations offer online wait times and check-in to hold your spot in line.
For more information about TidalHealth Immediate Care, visit our Immediate Care page.      
TidalHealth is proud to partner with Your Doc's In for urgent care services in Maryland. Your Doc's In is open seven days a week. 
Your Doc's In has locations in North and South Salisbury, Easton, Cambridge, Pocomoke and West Ocean City, Md.
Visit Your Doc's In for more information.
---
Not Sure Where to Go For Care?
When illness or injury occurs, it's important to know where to go for care. Your primary care provider should always be your first point of contact for most medical problems but sometimes immediate care or urgent care may be appropriate. In an emergency, always call 9-1-1. 

Check out our Where to Go for Care page for more help.