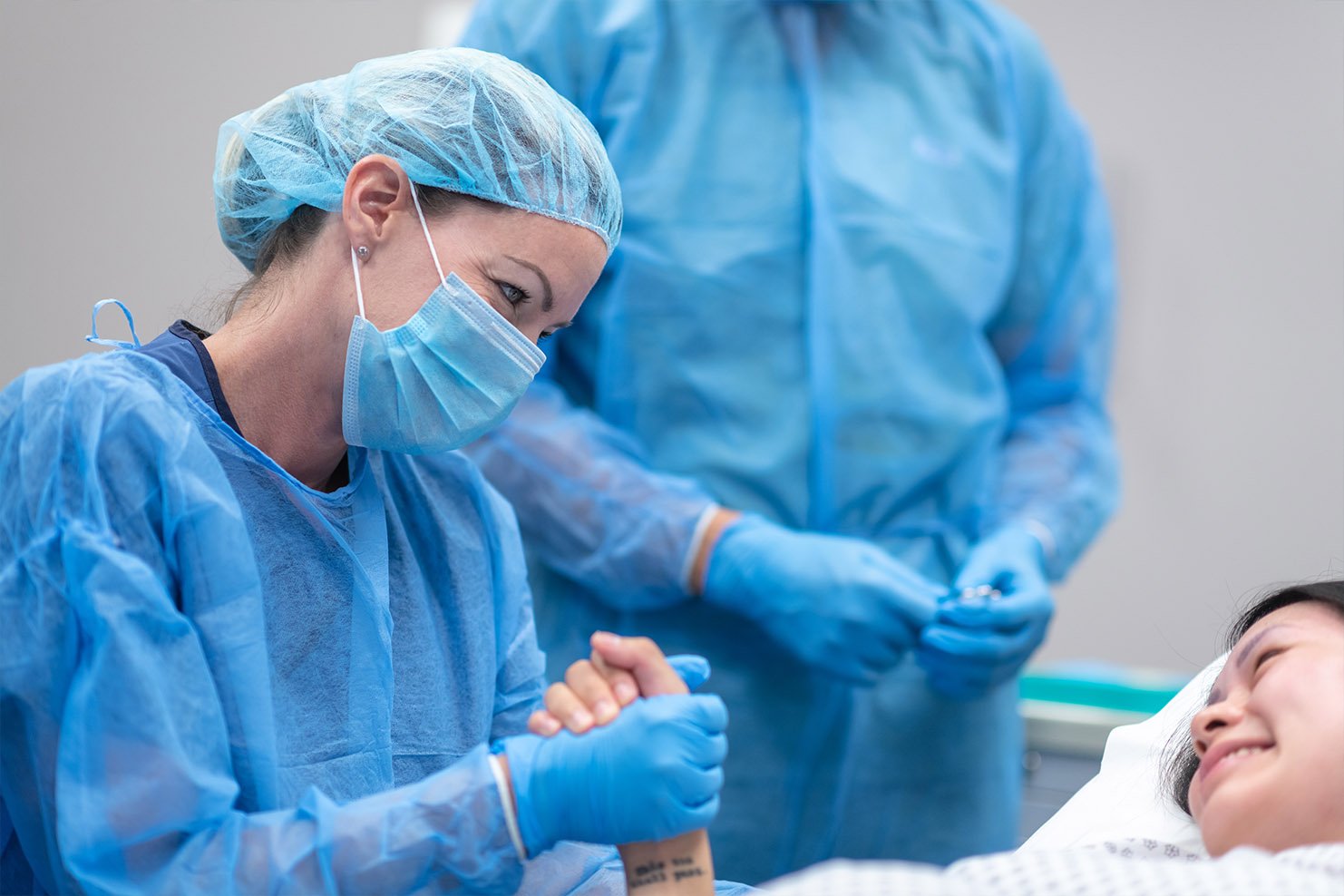 Overview 
Our team of highly experienced orthopedic surgeons, nurses, and rehabilitation therapists provide the best possible care for all of our patients ensuring excellent clinical outcomes and comfort. 
TidalHealth Peninsula Regional pioneered the joint replacement procedure in our region in the 1970s and advanced its refinement throughout the '80s, '90s and into today.
---
Orthopedic Services
Hip & Knee Replacement Surgery
Arthroscopic Surgery
Fracture Care
Internal Fixation
Meniscus Tear
Internal Fixation
Musculoskeletal Procedures
Soft Tissue Repair
Subacromial Impingement/Rotator Cuff
Upper & Lower Extremity Trauma
---
Latest Tech: Mako Robotic Arm Assisted Surgery
When joint pain is severe, your doctor often suggests joint replacement surgery. At TidalHealth, we perform the latest in joint replacement surgery. Using the Stryker's Mako robotic arm assisted robotic technology, our orthopedic surgeons are changing the way joint replacement is performed for our patients. TidalHealth Nanticoke is proud to be the first and only hospital on Delmarva to offer this technology.
Using mapping software, a 3D virtual map is produced prior to surgery using a CT scan. In the operating room, the surgeon validates the personalized plan and makes any necessary adjustments. Using the robotic arm, the surgeon is able to precisely remove diseased bone better than previously available technology. This personalized mapping and robotic assistance technology allows for the very best individualized implant for the patient which reduces post-surgical pain and allows for a quicker recovery.
---
TidalHealth Orthopedic Surgery
About Us
TidalHealth Orthopedics is led by Dr. William Doran and works with the Orthopedic Team at TidalHealth to ensure a quick recovery.
Conditions We Treat
Carpal Tunnel Syndrome
Chondromalacia Patella
De Quervain Tenosynovitis
Hip Arthroplasty (Anterior Approach)
Knee Arthroplasty
Lateral Epicondylitis
Lower Extremity Trauma
Meniscus Tear
Shoulder Arthroplasty
Subacromial Impingement/Rotator Cuff
Trigger Finger
Trochanteric Bursitis
Upper Extremity Trauma
Location Info  
TidalHealth Orthopedics
100 Rawlins Drive
Seaford, DE 19973
302-990-3280
Monday – Friday: 8 am to 5 pm
---
Preparing for Surgery
TidalHealth Nanticoke offers a comprehensive preoperative patient program that helps you prepare for surgery. This program includes a free class that provides you with important information about the entire surgery process. You complete a tour and get to meet a member of our surgical team, a physical therapist, an occupational therapist, and a case manager that help answer your questions. 
During your preoperative visit, we'll do any of your pre-admission testing. For this visit, we strongly encourage you to bring your coach, a member of your family or support person who will help care for you at home after surgery. It will help them learn more about their role throughout your recovery.
Before your surgery, a member of your orthopedic care team may speak with you about making a plan for your rehabilitation when you leave the hospital. This plan will be based on your physical condition prior to surgery and the available help that you have at home. 
The levels of care that are considered include:
Outpatient Services
This type of service helps patients get out of their homes and into the community in a setting equipped to help them reach their highest functional ability. Patients typically go to outpatient physical therapy three times per week. 
Home Health Care
Home health services help patients who are medically stable enough to return home, but temporarily homebound. The goal of home care is to get you back into the community and onto outpatient services. Home health nursing and/or physical therapy typically visit the home three to five times per week.
Sub-Acute Care (Rehabilitation Facility)
Although most patients are able to return home directly after their stay in the Medical Center, some are not. Sub-acute services are typically provided in a skilled nursing facility that specializes in rehabilitation. The nursing staff routinely monitors your vital signs and manages your medications. You usually receive one to two hours of physical and occupational therapy a day, five to seven days a week. Following sub-acute care, patients typically go home with outpatient physical therapy three times per week. 
Acute Rehabilitation
Patients recovering from joint surgery rarely need the services provided in an acute rehabilitation center. Only those patients with significant complicating factors or other illnesses qualify. The goal of inpatient rehabilitation is to restore your functional ability so that you can safely transition to the next level of care. You usually receive up to three hours of physical and occupational therapy a day, five to seven days a week. After an inpatient rehabilitation facility stay, patients typically go on to safely and productively return to their home and community continuing with therapy three times per week in an outpatient setting.
Provider Selection
For each level of care there are many different providers. You are encouraged to decide which is best for you. You will discuss this with a member of your orthopedic care team during your pre-admission visit prior to surgery. You are encouraged to select providers for each level of care in case your needs change after your surgery. To view our Physician Directory, visit our Find A Doctor page.
Rehabilitation Coverage
Please call your insurance company to verify your rehabilitation coverage prior to your pre-admission visit. Check to see if you have coverage for outpatient physical therapy, home health services, and inpatient rehabilitation – including both sub-acute and acute rehab services.
---
The Patient Experience
At TidalHealth, attention to patient care, clinical outcomes and comfort are top  priorities in every surgical procedure. Recovery is motivated through preparation, education, continuity of care and a pre-planned discharge.
Large, private rooms with a home-like environment and a rehabilitation gym on the same floor await every patient, as does the most experienced orthopedic team on the Delmarva Peninsula. We are a skilled team of surgeons, operating room staff, nurses, therapists and others involved in your care. We use tested and successful methods of treatment to improve patient care and safety. 
During their stay, patients also have access to alternate pain management methods such as soothing videos to help a patient relax prior to surgery or any other time a calming environment is needed.
---
Rehabilitation and Recovery 
TidalHealth boasts quick recovery for our patients through the use of our comprehensive rehabilitation program that promotes wellness and personal empowerment. The model of rehabilitation for our surgical patients provides a fun, supportive environment to help patients recover as quickly as possible. It includes support before, during and after surgery to allow our patients to become more mobile, quicker than traditional programs. Our goal is to provide an exceptional experience that involves you and your family every step of the way.
---
Awards and Recognition
TidalHealth Peninsula Regional's orthopedic team is proud to be the first in Maryland, Delaware or Washington, DC to earn The Joint Commission Gold Seal of Approval, Disease-Specific Care Certification in Total Knee Replacement Surgery.
TidalHealth Peninsula Regional and the Orthopedic & Rehabilitation Center achieved the prestigious honors of being a CareFirst Blue Distinction Center+ and Joint Commission Certified in Total Joint Replacement of the Hip and Knee.
TidalHealth Peninsula Regional has earned the 2018 Healthgrades Excellence Award for Orthopedic Surgery, in addition to being named the Healthgrades 2018 Distinguished Hospital Award for Clinical Excellence™. The distinction recognizes TidalHealth Peninsula Regional as one of the Top 5 percent of nearly 4,500 hospitals nationwide for its clinical performance as measured by Healthgrades, the leading online resource for comprehensive information about physicians and hospitals.
---
Contact Us 
TidalHealth Peninsula Regional
To learn more about orthopedic and rehabilitation services offered at TidalHealth Peninsula Regional, call 410-912-6322 or 1-86-MYJOINT9.

TidalHealth Nanticoke
To learn more about the orthopedic and rehabilitation services offered at TidalHealth Nanticoke, call 302-629-6611, extension 5103.
---
Frequently Asked Questions
Osteoarthritis, the most common form of arthritis, is also called degenerative joint disease or "wear and tear" arthritis. It most frequently occurs in weight-bearing joints, mainly knees, hips and ankles. This form of arthritis slowly and gradually breaks down the cartilage that covers the ends of each bone in a joint. Cartilage acts as a shock absorber, providing a smooth surface between the bones. However, with osteoarthritis, the smooth surface becomes rough and may even wear away completely. Without their normal gliding surfaces, the bones grind against one another, causing inflammation, pain and restricted movement.
What are the symptoms of osteoarthritis?
The number one symptom is pain. The pain is caused by irritation and pressure on nerve endings, as well as muscle tension and fatigue. The second symptom is loss of easy movement.  Morning stiffness is a problem for many people. This lack of mobility may cause the muscles to weaken.
What is rheumatoid arthritis?
Rheumatoid Arthritis is an autoimmune disorder that causes pain or stiffness in a joint.
Bursitis causes pain or tenderness due to inflammation of the fluid filled bursae sacs that provide a cushion for a joint.
What is carpal tunnel syndrome?
Carpal tunnel syndrome is numbness, tingling, weakness, and other problems in the fingers or hand because of pressure on the median nerve in your wrist.
What types of procedures are there to diagnose and treat joint problems?
Arthroscopy:  The use of special cameras and equipment to see, diagnose and treat problems inside a joint.

Fusion: When bones are fused together with bone grafts and internal devices such as rods to heal into a single solid bone.

Osteotomy: Correction of a bone deformity by repositioning the bone.

Joint Replacement: Removal of an arthritic or damaged joint, replacing it with an artificial joint or prosthesis.

Soft-Tissue Repair: Repairing or mending soft tissue such as a torn ligament or tendon.
Are there alternatives to joint replacement?
Different kinds of joint pain require different kinds of treatment. It is important that you work closely with your doctor.
How are hip and knee replacements performed?
With total hip replacements, the surgeon removes the ball part of the joint and replaces it with a metal or ceramic ball attached to a stem that is inserted into the femur (thighbone). This may be cemented into place with a special adhesive. For a total knee replacement, the damaged areas of the femur, tibia (shinbone), and the patella (kneecap) are removed and replaced by prostheses.
What is the purpose of joint replacement surgery?
The purpose is to stop the pain and allow a person to be more active and independent. It is a quality of life issue.
How long will my new knee last?
You can expect most knees to last 18-20 years.
What are the major risks?
Most surgeries go well and without any complications. Infection and blood clots are two serious complications that occasionally occur. To avoid these complications, we use antibiotics and blood thinners. Many people are concerned about developing an infection after a total joint procedure. Tidal Health is continually striving to reach our goal of zero post-operative infections. Some of the things we do to prevent infections include preparing the surgical site with Chlorhexidine antiseptic, ensuring that preoperative antibiotics are delivered in a timely manner (usually within 60 minutes of the incision), ensuring the appropriate dose based on weight, monitoring blood sugar levels in diabetic patients and using clippers instead of razors for hair removal at the incision site.
How do I donate my own blood?
For joint replacements at TidalHealth Peninsula Regional, call 410-912-6322.

For joint replacements at TidalHealth Nanticoke, call 302-629-6611, extension 5103.
How long will I be hospitalized?
Most patients are hospitalized for three days after their surgery. You must achieve several goals before you can be discharged.
How long until I can drive and get back to normal?
The ability to drive depends on whether surgery was on your right leg or your left leg, and whether you drive an automatic or manual transmission. If the surgery was on your left leg and you have an automatic transmission, you could be driving within 3-4 weeks. If the surgery was on your right leg, your driving could be restricted as long as six weeks. Getting "back to normal" depends on your progress.
---
Testimonials
Along with the awards and achievements our orthopedic team has earned, our patients are proof of our team's commitment to quality care.
"I like to hike, I like to bike, I like to keep moving. I would not be able to do these things without pain if it was not for Dr. Piccioni and the team at TidalHealth Nanticoke."


Jeff King, formerly of Hartley, DE
Less than five months after two partial knee replacements, Jeff King, a former patient of TidalHealth Nanticoke, spent a week pushing his body to extreme limits as he climbed Mt. Kilimanjaro, the highest mountain in Africa.
If it was not for the help of Dr. Lawrence Piccioni, orthopedic surgeon, and the team at TidalHealth Nanticoke, King might not have been able to make this climb—at least not without a lot of pain.
"I am over 70 years old and had been in pain for 30+ years with limited use of my shoulder. Notice I said "HAD BEEN" in pain – well that is NO more thanks to TidalHealth Orthopedic Surgery and a very fine doctor, William Doran. I no longer have pain and now have good or better use of my shoulder."

Larry Grimm - Millsboro, DE
"I fell and broke my hip and was taken to Seaford Hospital's ER. Dr. Doran was to operate the next day. He explained everything to me and my family. I was very impressed by this young, dedicated doctor. He was very professional and skillful.

I was up walking with a walker the next morning. I came home two days later. I had no pain at all. I had 8 weeks of physical therapy at home. After the 8 weeks, I was walking without a walker or a cane. I am 85 years old and back to normal. I would recommend Dr. Doran to everyone."

Madge Oliphant - Laurel, DE
"I chose Dr. William Doran (because of) the time spent explaining details of surgery, surgical skill, thoroughness, post-surgery recovery requirements and continued follow up by him and his medical staff. As a patient of Dr. William Doran who had major anterior hip replacement surgery, I would highly recommend Dr. Doran and his staff for orthopedic surgical services."

Raymond Papszycki, Jr. - Bridgeville, DE
---