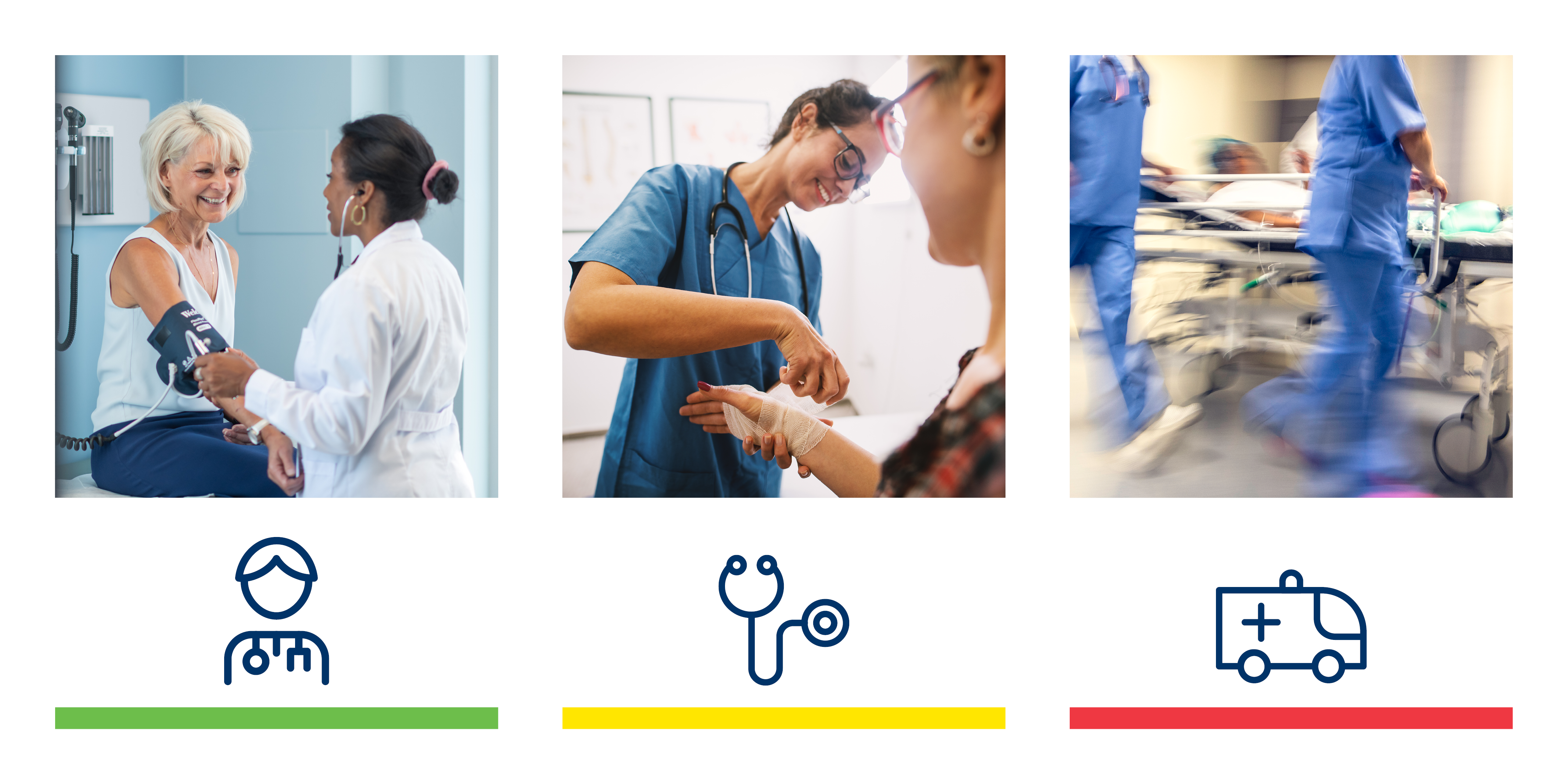 Overview
In illness or injury, it's important to know where to go for care. Your primary care provider should always be your first point of contact for most medical problems. You get the most efficient care because they know you and your medical history. 
In an emergency, always call 911. 
---
Primary Care Option
Best choice
Know you and your health
Your Primary care provider is your partner, helping you manage your health over time. They know you best and are your best resource for:
Chronic care management
Common colds, flu, and sore throats
Constipation/diarrhea
Depression/anxiety
Health advice
Joint pain/back pain
Medication questions and refills
Minor injuries, chronic pain, or minor cuts
Rashes, reactions
Regular physicals and screenings
Urinary infections
Vaccinations
Your primary care provider is available during office hours, but may also have extended hours or a phone service to help provide care and answer important questions after office hours. 
Everyone should have a primary care provider. If you are under the care of a specialist, they likely have a number to call with urgent concerns.
---
Immediate Care / Urgent Care Option
If your doctor can't see you and your condition can't wait
Extended and weekend hours
Providing services for urgent care needs when your doctor is unavailable. Immediate Care or urgent care can be a lower-cost option when you need help with:
Ankle or wrist sprains
Bug bites
Bumps/bruises
Cold or flu symptoms
Earaches
Fever
Minor broken bones like fingers or toes
Minor cuts or burns
Muscle strains or back pain
Nausea/vomiting
Sinus infection
Stomach pain
---
Hospital Emergency Department Option
Life-threatening problems
Examples:
Sudden chest pain
Sudden numbness in face, arm, or leg
Seizures
Inability to breathe
Sudden severe headache
Severe abdominal pain
If you are having signs of a HEART ATTACK or STROKE, call 911 immediately.
The Emergency Department is open 24 hours a day, 7 days a week. For possible life-threatening conditions, always go to the closest Emergency Department.