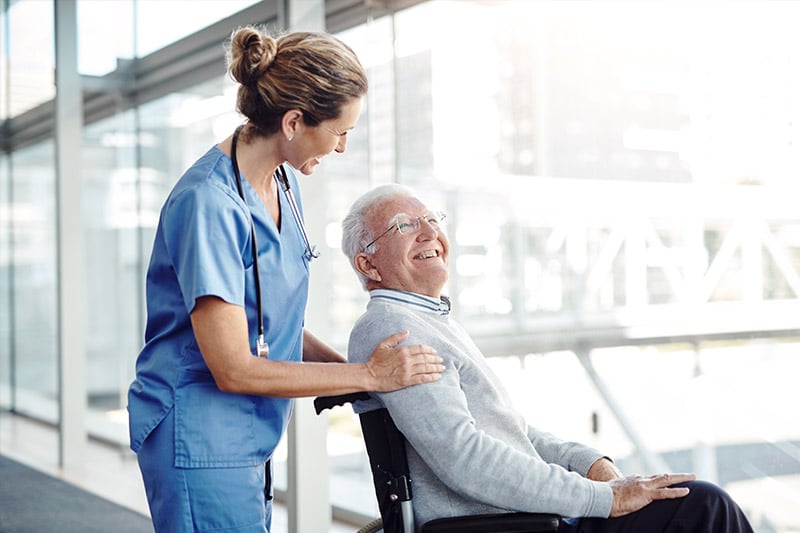 Overview
Chesapeake Cove is an assisted living facility located on the picturesque Chesapeake Bay. We offer residents the best lifestyle choice of all: the onCome to Chesapeake Cove and experience the beauty of the Chesapeake Bay in a relaxed, personalized atmosphere. Every resident has an opportunity to craft their own lifestyle - whether that means embracing all activities or winding down at a leisurely pace. Here you have control over how your days are spent!
The state of Maryland's 2019 inspection of care survey determined zero deficiencies at our facility. We are in total compliance with all COMAR 10.07.14, Assisted Living Programs.  
---
Location
Located in the bayside town of Crisfield, Md., Chesapeake Cove is just 15 minutes to Princess Anne, 40 minutes to Salisbury and 60 minutes to Ocean City's beaches. Our facility includes 28 residential suites on the fourth floor of the Alice B. Tawes Nursing and Rehabilitation Center. 
---
Services & Amenities
Our definition of "assisted" means providing services and amenities that help residents enjoy life to the fullest. Here are some of the benefits of living at Chesapeake Cove: 

Lifestyle Amenities
The Osprey Dining Room offers three meals a day. If a resident is leaving the facility for the day, they can ask the dining room for a bagged lunch to bring along. Snacks are available 24/7.
Views of the Chesapeake Bay can be enjoyed from all four sides of the building, from all common areas, and nearly all residential suites. 
Free laundry services are available to all residents.
A wheelchair accessible shuttle is available for a small fee to take residents to medical and dental appointments. 
Medical Services
Daily medication administration
Physical therapy per doctor's orders
Medical care around the clock
24/7 emergency care nearby at the TidalHealth McCready Pavilion
Located in the same building as the Alice B. Tawes Nursing & Rehabilitation Center which has inpatient rehabilitation if the need arises. For more information about the Nursing and Rehabilitation Center, visit our Rehab Services page.
---
Choosing an Assisted Living Facility 
When selecting an assisted living facility for yourself or a loved one, there are many things to consider. We hope this list helps you when determining whether or not an assisted living community meets your needs.
Is the facility locally owned or a franchise?
Is the facility licensed by the state?
How far away is emergency medical care?
Does the location offer transportation services?
What kinds of activities are available to residents?
To what degree can you decorate your suite?
What are the terms of the lease?
Will this feel like "home" over time?
---
Suite Options
A majority of our 28 suites are meant for individual residences, but a handful can accommodate a couple or two roommates. All suite options include water views, local phone service, internet service and basic cable television service. Long distance phone options and premium cable channels are available at an additional service charge.
We offer seven floor plans ranging in size from 246 square feet to 473 square feet. All suites include a kitchenette with a mini-refrigerator, a sitting room area, a bedroom, and a bathroom. Meals, activity programs and laundry services are all included in the cost of the suite. 
Suite Contents
Our suites are warm and inviting, and ready for residents to make themselves at home. We provide most of what a resident needs and we are in compliance with COMAR Regulations. This means that unless a resident supplies personal furnishings (must be brand new, directly from the store), or as otherwise specified in the resident agreement, the assisted living program shall provide the following to each resident:
A permanent bed at least 35 inches wide, in good repair, and include a clean, comfortable mattress sized to fit the bedframe and at least two clean and comfortable pillows
A bedside stand with a drawer
A comfortable chair
At least two dresser drawers in a chest of drawers
A bedside or over-the-bed lamp
A sufficient supply of bath and bed linens
We also provide an apartment-size refrigerator, flat screen TV, internet and local phone service.
---
Pricing
Suites are priced on two criteria: the size of the suite and the level of care required for the resident. Monthly suite rates range from $3,230 (smallest floor plan/ least care) to $5,465 (largest floor plan/ most care). Most residents will find their monthly rent will fall between $3,200 - $4,600 a month. 
Care Options
Level 1
Residents receive medication assistance, monitoring and ongoing nurse assessments.
Level 2
Residents receive all Level 1 care plus Activities of Daily Living (ADL) assistance and ambulation assistance.
Level 3
Residents receive all Level 1 and 2 care plus direct ADL support, increased monitoring, and social monitoring. 
A Note to United States Veterans
Programs are available for Veterans and their spouses. More information on Aid for Veterans can be found at Veteranaid.org.
---
Frequently Asked Questions
How can I schedule a tour to visit the facility?
Do you furnish the suites?
All suites are fully furnished. We provide a bed, dresser, comfortable chair, small kitchen table, lamps and other items (depending on the floor plan). Residents can bring photos, artwork, memorabilia and small items to make their suite feel like home. 

Do residents have to sign in and out when they come and go?
While residents can come and go as they please, we ask that they sign the log book before they leave and when they return. This helps us keep everyone safe. 

Can residents bring their car?
Residents with a valid driver's license are welcome to bring a car. Parking is free.

How do you get to Crisfield?
By car, Crisfield is off of Maryland Route 13 to Route 413/Crisfield. Once on 413 it's about 12 miles to Crisfield. By air, fly into Salisbury-Wicomico Regional Airport (about a 45 minute drive) and rent a car. You can also visit by boat — docking at Somers Cove Marina in downtown Crisfield.

Yes, friends and family are welcome to visit. Visitation may be restricted based on the prevalence of COVID-19 in the community. Please check out our visiting page for the latest on our visiting policy.

What is there to do in Crisfield?
There is much to do in our town including going to festivals, galleries, and restaurants to fishing, boating and strolling the town. Visit the Town of Crisfield website for more information on what there is to do in the area. 

What is there to do near Crisfield?
Crisfield is located 15 minutes from both Princess Anne (which has shops and stores most people need for basic shopping, restaurants and the University of Maryland Eastern Shore) and Pocomoke City (which also has shopping and restaurants as well as the Delmarva Discovery Center and the Mar-Va Theater.)  Less than 45 minutes away is Salisbury, the "hub" of the Lower Delmarva Peninsula, which includes a regional mall, movie theaters, Salisbury University, the Shorebirds minor league baseball team among other attractions. Farther out, Ocean City, MD  (the beach) and Cambridge, MD (on the Bay), as well as Chincoteague, VA (home of the legendary wild horses) are about an hour away; Philadelphia, Baltimore, Washington DC and Richmond are all within a 2-3 hour drive.
What kind of security is installed at Chesapeake Cove?
There are 24/7 security staff to keep everyone safe. All residents are provided a call button pendant that they can press to get assistance at any time.

Will I have access to internet service, cable television, and landline phone service? Are these included in the price?
Internet service, basic cable and local phone service are free. There are options for long distance calling services and upgraded cable television through the provider.

How do you handle medical emergencies and illness or injury?
Our facility is staffed by a Registered Nurse all day and an Licensed Practical Nurse with a Registered Nurse as back-up 24 hours a day. Should the need arise, the nearby TidalHealth McCready Pavilion offers 24-hour emergency care, and TidalHealth Peninsula Regional in Salisbury offers a full range of services, including neurosurgery, cardiothoracic surgery, joint replacement, emergency/trauma care, comprehensive cancer care, wound care and clinical research. It is located just 45 minutes away (and faster by helicopter, if need be).

For patients recovering from surgery, illness or injury, outpatient rehabilitation is available in Crisfield, and a primary care practice is also located at the TidalHealth McCready Pavilion, assuring continuity of care. We are located in the same building as the TidalHealth Alice B. Tawes Nursing & Rehabilitation Center which has inpatient rehabilitation if the need arises.
---
Contact Us
For more information or to schedule a personal tour, contact the Assisted Living Manager at 410-968-1200, ext. 3213.
To speak to our delegating nurse, call 410-968-1200, ext. 2430.