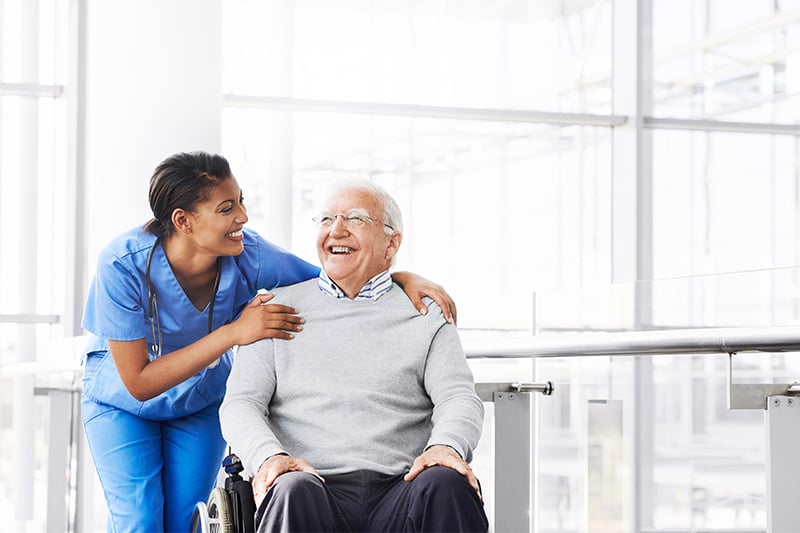 Overview
Our therapists use the latest techniques to restore normal joint mobility and function, relieve pain, and maximize independence for our patients. 
---
---
TidalHealth Peninsula Regional
100 East Carroll Street
Salisbury, MD 21801
410-546-6400
TidalHealth Nanticoke

801 Middleford Road
Seaford, DE 19973
302-629-6611
Alice B. Tawes Nursing & Rehabilitation
201 Hall Highway
Crisfield, MD 21817
410-968-1200
---
Physical Therapy Services 
Physical therapy is for people dealing with disabilities resulting in limited range of motion, pain, decreased strength, and endurance. Our goal is to help relieve pain and discomfort, and help patients regain movement and function.
In the hospital, physical therapists evaluate how an injury or disease is affecting a person's strength, mobility, flexibility, or endurance. Therapists work closely with the patient's medical team to ensure that patients are discharged appropriately. They can suggest continued rehabilitation after discharge, at home or in a different type of medical facility such as a skilled nursing unit or rehabilitation unit. A physical therapist may also recommend medical equipment or assistive devices, such as a walker, crutches, wheelchair, or a cane.
We treat a wide range of conditions like:
Amputation
Ankle injuries
Arthritis
Balance issues
Brachial plexus injury
Contractures
Deconditioning
Fibromyalgia
Fracture and sprains
Gait problems/retraining
Head injuries
Hip and knee replacement
Neck/back pain
Nerve injuries
Postural deviations
Repetitive stress injuries
Rotator cuff injuries/repair
Spasticity
Spinal stenosis
Spondylosis/spondylothesis
Stroke
Spinal cord injuries
Tendonitis
Thoracic outlet syndrome
Physical Therapy Services include:
Ambulation training
Strengthening and conditioning programs
Balance training
Energy conservation techniques
Return to work training
Manual therapy
Pain management
Orthopedic/neurological rehabilitation
---
Occupational Therapy Services
Occupational Therapy (OT) helps people of all ages stay actively involved in the things they want and need to do. It helps when you have an injury or medical problem making it difficult to complete daily activities.
We treat a wide range of conditions like:
Arthritis
Automobile injuries
General deconditioning
Hand and wrist injuries
Lymphedema
Overuse injuries
Spinal cord injuries
Splinting
Sprains, strains, and fractures
Stroke and other neurological conditions
Occupational Therapy services include:
Bathing and dressing retraining
Cooking, cleaning and household activity programs
Eating modifications
Return to work training
Leisure activities training
Splint fabrication
Hand and upper extremity rehabilitation
Energy conservation techniques
Strengthening and conditioning programs
Lymphedema management
---
Speech Therapy Services
Speech Therapy helps people having problems with communication and swallowing. Speech Language Pathologists work with people of all ages, from infants to the elderly. Treatment is personalized for each patient with the goal of helping them regain independence. Our Pathologists work with other members of our healthcare team to maximize patient care.
Speech Therapy services include: 
Stroke rehabilitation
Traumatic brain injury rehabilitation
Cognitive retraining (including memory, problem solving, and attention)
Modified barium swallowing evaluation
Dysphagia treatment (including pediatric feeding and swallowing disorders)
Head and neck cancer/laryngectomy services
Voice disorder treatment (including Lee Silverman Voice Treatment)
Augmentative and alternative communication intervention
Patient/family/caregiver training and education
---
Lymphedema Therapy Services
Lymphedema is the swelling in one or more limbs from impaired flow of the lymphatic system. While it happens most often in the limbs, lymphedema can show up in any area of the body. The lymphatic system is a network of lymph nodes and lymphatic vessels that transport and filter lymph fluid throughout the body. The fluid is carried to the lymph nodes, which filter waste and contain infection-fighting cells. When the lymphatic system is compromised, an excess of fluid gathers in a designated area, creating lymphedema.
While there is no cure for lymphedema, it can be reduced and controlled with lifelong management.
Causes of Lymphedema
Primary lymphedema
A rare, inherited condition in which lymph nodes and lymph vessels are absent or abnormal. It typically affects just the legs and is more common in women than men. This condition can be present at birth, developed during puberty, or after age 35.

Secondary lymphedema
Caused by a blockage or cut in the lymphatic system, usually the lymph nodes in the groin or armpit area. Blockages may be caused by infection, cancer, or scar tissue from radiation therapy or the surgical removal of lymph nodes. Surgeries for the treatment of the breast, uterine/cervical, melanoma, prostate, and throat/mouth cancers may lead to this type of lymphedema.

Stages of Lymphedema 
Stage 1 (mild)
Upon waking in the morning, the limb or affected area is almost a normal size. The tissue is still in a "pitting stage" which is when pressing a finger indents and holds in the tissue.
Stage 2 (moderate)
The tissue is "non-pitting" which is when the tissue bounces back from a finger press without leaving an indentation. The tissue has a spongy consistency.
Stage 3 (severe)
The tissue is hard and unresponsive to the touch. The swelling is irreversible and the limb is very large and swollen. Infections are possible at any stage of lymphedema but increase as the stages progress. A swollen limb, left untreated, turns hard and full of lymph fluid which is high in protein and an environment for bacteria and infections to grow.
Treatment Options 
While there is no cure for lymphedema, treatment methods can be used to decrease edema, pain, and the risk of infection, while also increasing patient mobility. We offer lymphedema treatment with both physical and occupational therapists certified in lymphedema. 
A typical treatment program usually takes two to six weeks and can include:
Manual lymph drainage massage
Multilayer compression bandaging
Sequential compression pumps
Skin care management and treatment
Decongestive therapeutic exercise
Kinesio taping
Self-management instructions
Recommendations for compression garments
Each treatment session is one-on-one and personalized for each patient's needs.
Screening for Life
Delaware residents – need help paying for cancer screenings? If you don't have insurance or if your insurance doesn't pay for cancer screenings, the Screening for Life program may be able to help. If you live in Delaware, call Screening for Life at 302-744-1040 to see if you qualify.
---
Nursing & Rehabilitation Services
TidalHealth offers inpatient skilled nursing care at Alice B. Tawes Nursing and Rehabilitation in Crisfield, Maryland. Our facility cares for patients who are recovering from an illness or injury that aren't ready for home recovery. 
Residents live in private or semi-private rooms. The center accepts private pay and insured residents, including those eligible for Medicare and Medicaid. 
Each resident's care is coordinated by a group of professionals – a "Care Planning" team that includes residents' family members. Physicians visit residents regularly and skilled nursing coverage is provided around-the-clock. 
For more information or to tour the facility call, 410-968-1022.