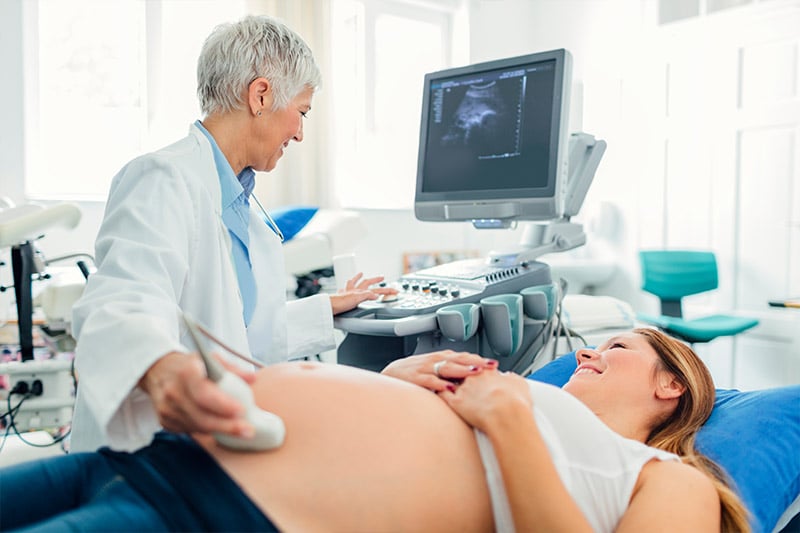 Overview 
Whether you're seeking care for a specific women's health need, planning for a healthy future for your family, or preparing for the birth of a child, we're here for you. 
---
Awards
TidalHealth Peninsula Regional
TidalHealth Peninsula Regional was recognized by the Maryland Perinatal Quality Collaborative (MDPQC) as a platinum-level participant for its maternal hypertension stewardship initiative. This signifies TidalHealth's commitment to reducing pregnancy and postpartum complications, and providing exceptional care to women and newborns across Delmarva.
---
Labor, delivery & postpartum care
TidalHealth is here for you and your family every step of the way — throughout your pregnancy, the delivery process, and for many years to come. Labor and delivery is conveniently available at both TidalHealth Peninsula Regional in Maryland and TidalHealth Nanticoke in Delaware.  No matter which location you choose, you will encounter a healthcare team committed to safety through compassionate, family-focused care.  
Our private labor and delivery rooms serve as a labor, delivery, and recovery room, keeping the mother and baby comfortable with their family. We promote the bonding of the new family, allowing skin-to-skin contact immediately after birth and throughout the hospital stay.
At TidalHealth Peninsula Regional, once stable for the rest of the stay the family will move to the postpartum unit.
We also encourage moms to have their baby stay in the same room versus being taken to the nursery. This option allows for additional bonding between mother and baby. 
Visitation may be restricted based on the prevalence of COVID-19 in the community. Please check out our visiting page for the latest on our visiting policy.
In Salisbury, you will access TidalHealth Peninsula Regional Labor and Delivery through the Frank B. Hanna Main Entrance or the Emergency Department after visiting hours. In Seaford, you will access TidalHealth Nanticoke Labor and Delivery through the main entrance or the Emergency Department after visiting hours. View the videos below for more information.
TidalHealth Peninsula Regional
410-543-4790
TidalHealth Nanticoke
302-629-6611, ext. 2540
---
Obstetrics & Gynecology 
TidalHealth is here for you for annual women's wellness exams, getting help for a health need, or preparing for the birth of your child. Our team provides obstetrics and gynecology services in Seaford, Del. at the TidalHealth Mears Campus. At TidalHealth Nanticoke, we are pleased to partner with TeamHealth for services.
Gynecological services are also provided at the TidalHealth McCready Pavilion in Crisfield, Md. and at TidalHealth Primary Care in Pocomoke, Md.  At TidalHealth Peninsula Regional, we are pleased to partner with Chesapeake Health for services in Princess Anne and Salisbury, Md.
---
Classes & education 
TidalHealth offers education to help you prepare for your new baby including childbirth education, newborn care, and breastfeeding. We are committed to giving your baby the best possible start in life, providing assessments and even helping to schedule those important first appointments with the pediatrician.
We have created a series of educational videos to help you prepare for your baby.
Breastfeeding Helpline
New mothers are encouraged to call our helpline with questions about breastfeeding. Call us at 410-543-7199.
YoMingo® Online Education App
Learn about childbirth, newborn care and more, right from your phone or tablet. TidalHealth offers anytime, anywhere parent education powered by YoMingo®, a free education program designed to give you convenient access to valuable information. It includes the tools and support you need at every stage. 
YoMingo gives you access to:
Evidence-based information on prenatal care, labor & birth, postpartum, breastfeeding, and newborn care including lots of videos
Information specific to your arrival and stay at TidalHealth
Kick counter, contraction timer, personal journal, feeding log, immunization log, and other tools
This education powered by YoMingo is available on any device with an internet connection and comes in multiple languages.
Register for the program by clicking here and completing the registration. Once you have registered, you will receive an email invitation from [email protected] where you can create a unique password and login. Then, you can also download the mobile app version by searching your app store for "myYoMingo."
Disclaimer: The information in YoMingo® is NOT intended to take the place of a healthcare provider or any information that your healthcare provider has discussed with you about your own personal health. It is imperative and advised that you find care and work with your healthcare provider to keep yourself healthy and safe. Always call your healthcare provider with any questions you may have. By creating an account in YoMingo, you have verified that you have read and agree to this disclaimer.
Already registered? Log in to MyYomingo.
For more information, call 410-543-7512 in Salisbury or 302-629-6611, ext. 2540 in Seaford.
---
Pediatrics
Pediatric hospitalists and neonatologists are available 24/7 onsite to care for children and infants at TidalHealth At TidalHealth Peninsula Regional, pediatric hospitalists and neonatologists are available 24/7 onsite to care for children and infants. We provide this through a collaboration with Children's National Hospital in Washington, D.C. In addition, we have a 10 – bed, Level II Special Care Nursery where our neonatology providers and nurses can provide care for infants who are born at or after 32 weeks gestational age and who weigh three pounds or more. We also provide care for infant's who may require extra support after delivery.  We collaborate daily in family-centered rounds with the physicians, parents, and other disciplines to provide the best plan of care for our patients and their families. 
Our specially trained pediatric providers work closely with our clinical teams in both the Pediatric Unit and Special Care Unit and are also available for consultation on pediatric illnesses and injuries at the Emergency/Trauma Center. 
Pediatric hospitalists are available 24/7 at TidalHealth Nanticoke to provide care for newborns in the Labor and Delivery Unit, to care for children in the Pediatric Unit, and for consultation on pediatric illness and injuries in the Emergency Department. This coverage is provided through a collaboration with Nemours/A.I. duPont Hospital in Wilmington, Del. 
A variety of pediatric outpatient services including diabetes and endocrinology are offered through TidalHealth Peninsula Regional.
Dr. Fran Cogen, Pediatric Diabetologist and Dr. Andrea Estrada, Pediatric Endocrinologist, of Children's National Medical Center, and Flora Glasgow, CRNP, Pediatric Endocrinologist provide in-person and telemedicine visits for children and adolescents with pre-diabetes, diabetes, metabolic and other endocrine disorders.
For more information about TidalHealth's outpatient pediatric services including location information online or call 410-543-7480.
---
Asthma awareness
Our goal is for every child to stay healthy and not need hospitalization. To help families manage their child's asthma, educational resources are available:
Asthma Education Links
Allergies and Asthma (English) (Spanish)
Asthma Friendly Cleaning Options (English)
Asthma Management at Daycare (English)
Asthma Triggers at School (English)
Colds and Flu (English) (Spanish)
Facts about the Flu and Asthma (English) (Spanish)
HEPA Filter Information (English)
Mold and Asthma (English) (Spanish)
No Pets Sign (English) (Spanish)
No Smoking Sign (English) (Spanish)
Pests and Asthma (English) (Spanish)
Pets and Asthma (English) (Spanish)
Safe Sleeping Zone (English) (Spanish)
Smoking and Asthma (English) (Spanish)
Medication and Device Instructions Links
How to Use a Diskus (English) (Spanish)
How to Use a Twisthaler (English) (Spanish)
How to Use an Inhaler and Spacer (English) (Spanish)
How to Use an Inhaler and Spacer with Mask (English) (Spanish)
Priming and Care of Devices (English)
Why Use an Inhaler? (English) (Spanish)
Related Information Links
Asthma and Your Lungs (English)
Asthma Guide for Patients and Families: (English) (Spanish)
Family Goals for Managing Asthma (English) (Spanish)
Signs of an Asthma Flare-Up (English) (Spanish)
---
Screenings
It is important that every woman has a primary care provider that is seen regularly to maintain good health. Your primary care provider not only helps you when you're sick, but also helps get you scheduled for necessary screenings to detect health issues early on, before they become a more serious problem. 
All women 18 years and older should have an annual women's wellness check with their gynecologist or primary care provider. It should include a PAP smear and a clinical breast exam. 
Check with your provider for what screenings you need to stay well.
Visit our Medical Testing page for more information about tests and screenings.
---