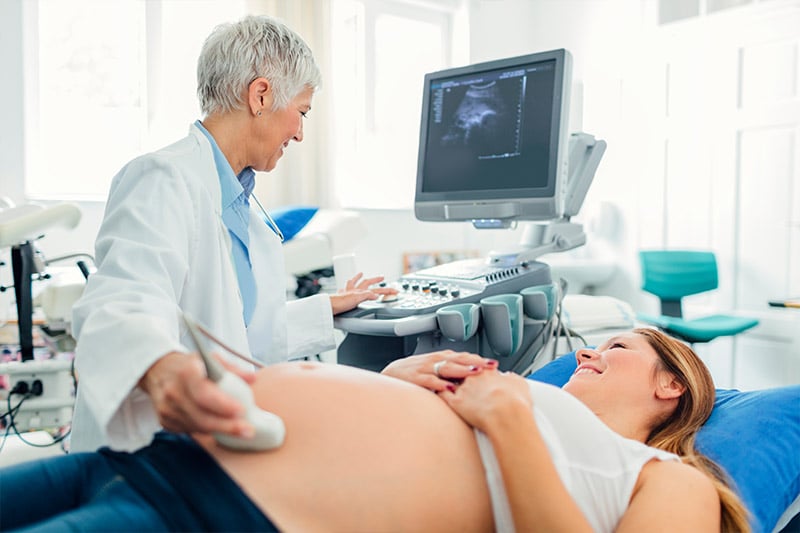 Overview 
Whether you're seeking care for a specific women's health need, planning for a healthy future for your family, or preparing for the birth of a child, we're here for you. 
---
Labor & Delivery
TidalHealth is here for you and your family every step of the way — throughout your pregnancy, the delivery process, and for many years to come. Labor and delivery is conveniently available at both TidalHealth Peninsula Regional in Maryland and TidalHealth Nanticoke in Delaware.  No matter which location you choose, you will encounter a healthcare team committed to safety through compassionate, family-focused care.  
Our private labor and delivery rooms serve as a labor, delivery, and recovery room, keeping the mother comfortable in one location. We promote the bonding of the new mother and baby allowing for skin-to-skin contact immediately after birth and throughout the hospital stay. We also encourage moms to have their baby stay in their same room versus being taken to the nursery. This option allows for additional bonding between mother and baby. 
At this time due to increased rates of COVID-19 transmission in our area, Labor & Delivery and Mother-Baby patients are permitted one support person, who may stay the entire time. To reduce risk, only one designated visitor is permitted. Trained doulas are also welcome with prior approval to support laboring mothers in addition to their chosen support person. Doulas should click here to complete this form for authorization.
Call to schedule a tour:
TidalHealth Peninsula Regional
410-543-4790
TidalHealth Nanticoke
302-629-6611, extension 2540
---
Obstetrics & Gynecology 
TidalHealth is here for you for annual women's wellness exams, getting help for a health need, or preparing for the birth of your child. Our team provides obstetrics and gynecology services in Seaford, Delaware at the TidalHealth Mears Campus. Gynecological services are also provided at the TidalHealth McCready Pavilion in Crisfield, Maryland and at TidalHealth Gynecology in Salisbury, Maryland.  We are also pleased to partner with Chesapeake Health for services in Princess Anne and Salisbury, Maryland.
Our Locations
400 Eastern Shore Drive, Suite 204
Salisbury, MD 21801
410-912-6716
---
Classes & Education 
TidalHealth offers a range of classes to help you prepare for your new baby including childbirth education, newborn care, and breastfeeding. We recommend taking our classes between the sixth and eighth month of pregnancy. We encourage all moms-to-be to bring a support person to each class. Pre-registration is required for all classes.
We are committed to giving your baby the best possible start in life, providing assessments and even helping to schedule those important first appointments with the pediatrician.
We have created a series of educational videos to help you prepare for your baby.
TidalHealth Peninsula Regional Offerings
Prepared Childbirth
A four week evening series. Meet other expectant parents at this course that includes information about prenatal care, labor and delivery, difference breathing techniques, relaxation skills, postpartum care, infant safety and newborn care. This class includes a tour of the labor and delivery unit at TidalHealth Peninsula Regional.
Newborn Care
This class focuses on survival skills for the first six weeks home with a new baby. Topics include diapering, bathing, sleeping, calming a fussy baby, becoming a new family, and much more. A support person is encouraged to attend with the expectant mother. Please note if you are attending a four week evening series Prepared Childbirth Class, this information will be covered in the final class of the series.
Breastfeeding Class
This class prepares parents for a great breastfeeding experience. Learn the basics of breastfeeding, proper positioning of the baby, how to avoid common problems, and how to pump and store milk. Videos help to demonstrate the proper techniques for successful nursing.
Breastfeeding Helpline
New mothers are encouraged to call our helpline with questions around breastfeeding. Call us at 410-453-7199.
YoMingo® Online Education App
Learn about childbirth, newborn care and more, right from your phone or tablet. TidalHealth Peninsula Regional offers anytime, anywhere parent education powered by YoMingo®, a free education program designed to give you convenient access to valuable information. It includes the tools and support you need at every stage. 
YoMingo gives you access to:
Evidence-based information on prenatal care, labor & birth, postpartum, breastfeeding, and newborn care including lots of videos
Information specific to your arrival and stay at TidalHealth
Kick counter, contraction timer, personal journal, feeding log, immunization log, and other tools
This education powered by YoMingo is available on any device with an internet connection and comes in multiple languages.
Register for the program by clicking here and completing the registration. Once you have registered, you will receive an email invitation from [email protected] where you can create a unique password and login. Then, you can also download the mobile app version by searching your app store for "myYoMingo."
Disclaimer: The information in YoMingo® is NOT intended to take the place of a healthcare provider or any information that your healthcare provider has discussed with you about your own personal health. It is imperative and advised that you find care and work with your healthcare provider to keep yourself healthy and safe. Always call your healthcare provider with any questions you may have. By creating an account in YoMingo, you have verified that you have read and agree to this disclaimer.
Already registered? Log in here: myyomingo.com
For a schedule of upcoming classes and online registration, see our Classes and Events page.
For more information, call 410-543-7512.
TidalHealth Nanticoke Offerings
Breastfeeding Class
This class covers the importance of breastfeeding, skin-to-skin contact, early feeding, feeding on demand, how to know if the baby is getting enough, and what to expect during the first weeks at home. Please note that this information is covered in the fifth session of the Childbirth Education Class. 
Childbirth Education Class
This five week series is for expectant mothers and their partners prepares expectant moms and their partner for childbirth. Topics include comfort measures during labor, the birthing process, postpartum care, an introduction to breastfeeding, and a tour of the labor and delivery unit at TidalHealth Nanticoke. 
Safe Sitter® Class
This course is designed to train pre-teens & teenagers how to be safe baby/child sitters.
Parenting Class
Sponsored by CHILD, Inc. and funded by the Delaware Department of Services for Children, Youth and Their Families, this course fulfills the Parent Education requirements of Delaware's Welfare Reform Program, "A Better Chance". Led by experienced instructors, they are designed to strengthen parenting skills with the goal of raising healthy children in safe and nurturing environments. 
For a schedule of upcoming classes, see our Classes and Events page.
For more information, call 302-629-6611, ext. 2540.
---
Children's Services 
Pediatric hospitalists and neonatologists are available 24/7 onsite to care for children and infants at TidalHealth Peninsula Regional. We provide this through collaboration with Children's National Hospital in Washington, D.C. 
Our specially trained pediatric providers work closely with our clinical teams in both the Pediatric Unit and Special Care Unit and are also available for consultation on pediatric illnesses and injuries at the Emergency/Trauma Center. 
Pediatric hospitalists are available 24/7 at TidalHealth Nanticoke to provide care for newborns in the Labor and Delivery Unit, to care for children in the Pediatric Unit, and for consultation on pediatric illness and injuries in the Emergency Department. This coverage is provided through a collaboration with Nemours/A.I. duPont Hospital in Wilmington, DE. 
A variety of pediatric outpatient services including diabetes and endocrinology are offered through TidalHealth Peninsula Regional.  
For more information about pediatric outpatient services, call 410-543-7480.
---
Asthma Awareness
Our goal is for every child to stay healthy and not need hospitalization. To help families manage their child's asthma, educational resources are available:
Asthma Education Links
Allergies and Asthma (English) (Spanish)
Asthma Friendly Cleaning Options (English)
Asthma Management at Daycare (English)
Asthma Triggers at School (English)
Colds and Flu (English) (Spanish)
Facts about the Flu and Asthma (English) (Spanish)
HEPA Filter Information (English)
Mold and Asthma (English) (Spanish)
No Pets Sign (English) (Spanish)
No Smoking Sign (English) (Spanish)
Pests and Asthma (English) (Spanish)
Pets and Asthma (English) (Spanish)
Safe Sleeping Zone (English) (Spanish)
Smoking and Asthma (English) (Spanish)
Medication and Device Instructions Links
How to Use a Diskus (English) (Spanish)
How to Use a Twisthaler (English) (Spanish)
How to Use an Inhaler and Spacer (English) (Spanish)
How to Use an Inhaler and Spacer with Mask (English) (Spanish)
Priming and Care of Devices (English)
Why Use an Inhaler? (English) (Spanish)
Related Information Links
Asthma and Your Lungs (English)
Asthma Guide for Patients and Families: (English) (Spanish)
Family Goals for Managing Asthma (English) (Spanish)
Signs of an Asthma Flare-Up (English) (Spanish)
---
Screenings
It is important that every woman has a primary care provider that is seen regularly to maintain good health. Your primary care provider not only helps you when you're sick, but also helps get you scheduled for necessary screenings to detect health issues early on, before they become a more serious problem. 
All women 18 years and older should have an annual women's wellness check with their gynecologist or primary care provider. It should include a PAP smear and a clinical breast exam. 
Check with your provider for what screenings you need to stay well.
Visit our Medical Testing page for more information about tests and screenings.
---
Fertility Testing
TidalHealth Peninsula Regional provides fertility testing. Dr. Jeffrey McKeeby, an experienced reproductive endocrinologist board certified in obstetrics and gynecology, can discuss your fertility options. His office is located at 1415 South Division Street, Salisbury. 
Location
1415 South Division Street
Salisbury, MD 21804
410-572-8848