Posted In TidalHealth Foundation News on June 30, 2023
Image: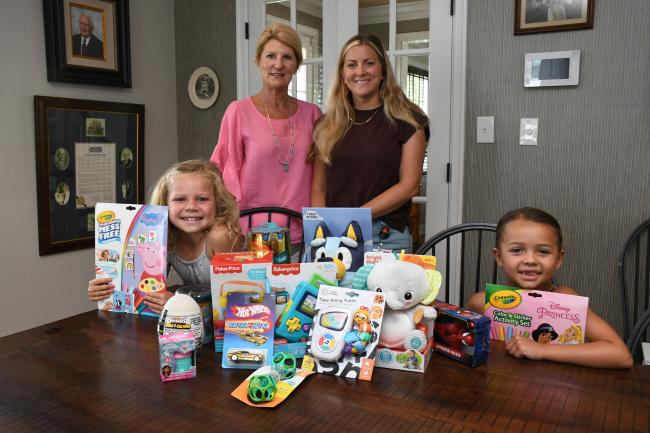 Kids helping other kids. Is there anything more inspiring or more promising?
Whitney Ballard is a Radiographic Technologist working in Diagnostic Radiology at TidalHealth Peninsula Regional. She and her husband, Josh, have two daughters, Lennon and Harbor. The girls decided they wanted to set up a lemonade stand in their neighborhood with a goal of raising money and donating to a worthy cause whatever they were able to collect.
With Dad's help, the stand was built, the girls hand squeezed the lemons themselves and posted signs around the neighborhood. Business was good; really good. They raised $135.00, and when it came time to decide where to donate the money, Whitney said it was an easy decision for her daughters.
Since Whitney works at the Salisbury hospital, and because Lennon and Ballard had received toys from Brooke's Toy Closet while patients there previously, they knew the best thing they could do with their proceeds was to bring positive moments and cheerful times to other kids and families experiencing their own difficult and challenging times. After all, that's exactly why Brooke established her toy closet at TidalHealth.
Remarkable story in itself, but it doesn't end there. One of their customers knew Brooke's Mom, Amy, who put the family in contact with the Community Betterment Foundation, that had already seen Facebook posts of the girl's lemonade stand. So touched, they matched the donation, bringing the grand total to $270.00.
Lennon and Harbor, themselves, picked out toys with the money raised and brought them to the Foundation's Giving House June 30 hoping to bring happiness to sick and/or injured children at TidalHealth just like Brooke would have wanted.
TidalHealth thanks the Ballard family and the Community Betterment Foundation. For more information on how you can contribute to Brooke's Toy Closet, please call the TidalHealth Foundation at 410-543-7140 or email at [email protected].
In the photo, Lennon Ballard, front left, and Harbor Ballard, front right, are joined by their mother, Whitney, back right, while dropping off toys at the TidalHealth Foundation for Brooke's Toy Closet. Accepting for the Foundation at the Giving House is Director Donna Murray.