Posted on May 17, 2023
Congratulations to our 2023 Nurse & Ancillary Week Award recipients:
Nurse Advocate, TidalHealth Nanticoke
Image: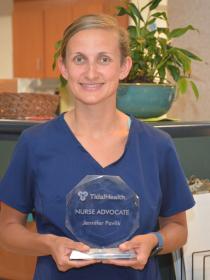 Jennifer Pavlik of the Intensive Care Unit (ICU) is a walking example of everything an ICU nurse represents. She has excellent critical care skills, acts as a pristine preceptor, and is the epitome of a team player. She is knowledgeable and always willing to lend a helping hand to staff. She is a strong patient advocate and is very caring and compassionate towards families. She also is an outstanding relief charge nurse who mentors other floor nurses when she is responding to emergency calls.
When she is in the role of resource nurse, Jennifer receives multiple compliments on how helpful she is. When an emergency arises in the ICU, she is concise and focused while also anticipating what will come next. She is kind and caring to her coworkers, and recently established a birthday board in the ICU.
Jennifer took it upon herself to create a resource book for the crash cart, that could act in an informative manner for new staff and new charge nurses. She took this initiative so that she could be better informed when she was responding to emergency situations.
Jennifer models everything that a nurse should be and conducts herself with professionalism and honor.
Nurse Advocate, TidalHealth Peninsula Regional
Image: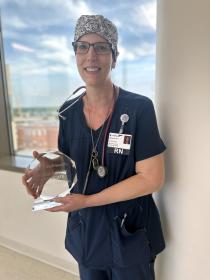 Melanie Watson of 5 South excels in patient safety by starting her shift by reviewing charts, prioritizing care and bedside shift reports while checking alarms, IVs and name boards, and ensuring them of a timely return. She provides excellent patient care during her practice through team communication, patient communication/education, timely medication administration, timely charting, and patient rounding. She communicates all needs to the appropriate member of the healthcare team and ensures a follow-up for the patient.
Melanie advocates for the nursing profession, showing professionalism in all that she does by participating in engagement activities for the unit. Just this year, she has been a preceptor to new team members, a relief charge nurse, picked up extra time and rearranged her schedule to meet the needs of the unit, created a bulletin board for wrist fracture education/staff education, and created another bulletin board for prostate surgery patients/staff education. She is certified in orthopaedics and renewed her certification with continuing education opportunities, she is an ambassador for the orthopaedic certification program, and she provided the unit with a gift box of candies/goodies during Orthopaedic Nurses Week.
Melanie advocates for community wellness and health by participating in external events and within community organizations. She has participated in several community events in the last few years and worked the most recent Drive-Thru Flu Clinic at Perdue Stadium. She is a member of the National Association of Orthopedic Nurses and the Academy of Medical-Surgical Nurses.
Nurse Educator, TidalHealth Nanticoke
Image: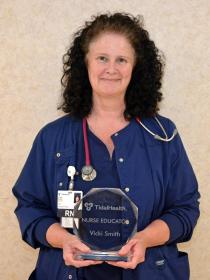 Vicki Smith of the Medical Surgical Unit (MSU) is a consistent part of the MSU team. She performs both relief charge and works as one of our main preceptors. While she does both roles well, Vicki shines in her role of preceptor the most. She thrives seeing our new nurses catch on, utilize critical thinking and finally figure out how to manage their time well on a busy day.
As a peer, Vicki is always willing to share her knowledge and wisdom both in nursing and life. Anyone who has worked with Vicki has surely become not just a better nurse, but a better person as well.
Nurse Educator, TidalHealth Peninsula Regional
Image: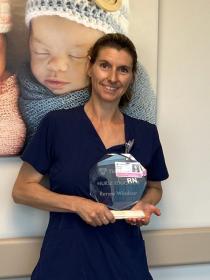 Renee Windsor of Mother Baby is the epitome of a strong, dedicated nurse who follows everything by the book. Renee is a wiz at everything with the computer, especially Epic. She is the first one to notice if something has changed or been added while those of us who are a little less tech-savvy are still stuck in our one-track mind world! Renee updates our report sheets as new protocols or requirements come out as well. She does things so fast, yet everything she does, she does with efficiency.
Renee is a leader that advocates not only for her patients, but for her fellow nurses too. She is not afraid to speak up and exemplify true nursing professionalism. Whenever there is a new skill to teach or a change in policy, Renee is the first one to volunteer to take the reins and be the educator for all Mother Baby staff.
Renee thrives on teaching and participates in many activities and community events outside of the unit. Whether it be as a preceptor, coworker, or skills day educator, Renee puts her whole heart into it and truly brings her heart to work each day at TidalHealth Peninsula Regional.​​​​​
Nurse Leader, TidalHealth Nanticoke
Image: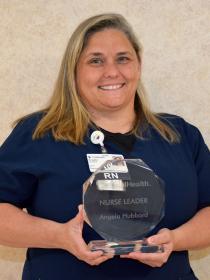 Angela "Angie" Hubbard, Clinical Manager of the Medical Surgical Unit (MSU), is the epitome of positivity. She comes to work every shift with a positive attitude that radiates toward everyone she interacts with. Whether it is resolving issues, assisting with procedures and med passes, or assisting a patient with their personal care, Angie performs her duties with a smile. Even in situations where it may not be warranted, she will smile, say "thank you for your help" and "have a nice day," and genuinely mean her statement.
Angie is a perfect definition of a leader. She consistently goes above and beyond to help staff. She is encouraging and supportive of all staff, no matter their department or title, and is quick to provide help to anyone in need. Additionally, she strives to make each team member feel like an integral part of the MSU and ensures their hard work and dedication do not go unnoticed. She always encourages her team members to be the best they can be and further their education.
Angie consistently works to increase her knowledge. She wants to know why and how behind all that she is doing. She has led the charge for peritoneal dialysis on the MSU floor. Angie stays over her shift to ensure staff are comfortable with the process and works through the barriers to get the patients their treatments. If she doesn't know something, she is not shy to ask questions and find answers.
Nurse Leader, TidalHealth Peninsula Regional
Image: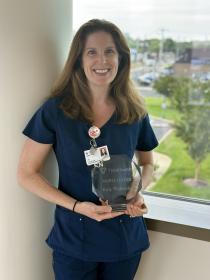 Katy Pietroski of Critical Care may hold the title of Clinical Quality Specialist (CQS), but she also wears the hats of educator, trainer, auditor, coach, PI analyst, and counselor — just to name a few! Even through the turnover we've experienced over the last few years, Katy has remained diligent in her efforts to engage and educate our staff. From face-to-face coaching/education to providing timely and detailed feedback via email or notes, each staff member is accountable and connected to their work contribution through her daily efforts. Katy maintains solid communication with unit managers, educators, and supervisors. She truly models our organization's values in all her interactions and her passion for high-quality, highly reliable care (and outcomes) is remarkable!
Katy exemplifies nursing and professionalism in every interaction. She has a strong commitment to high-quality patient care, advocates for best practices, and stretches her teams to be the best! We can always count on her to lend a helping hand all the while bearing a smile. She is prompt and follows through with action items. You consistently hear how reliable and accountable she is from her fellow leaders, physicians and patients. Katy's commitment to detail, organization, as well as effective communication, has been greatly appreciated with the ongoing rapid pace of change we've experienced.
Katy challenges her division's team members daily to continue enhancing their skills and talents as she guides the team in reaching our goal of being a highly reliable and zero-harm division.
Patient Advocate ​​​​​, TidalHealth Nanticoke
Image: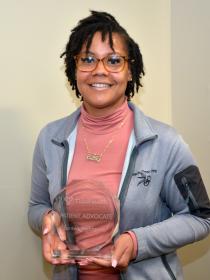 Jermia Rodriguez of Community Wellness is our first Community Health Worker (CHW) serving Sussex County. In just five months, she has made a significant impact on our patients and the community. From day one she has been an exceptional patient advocate, team member, and the epitome of TidalHealth's values by bringing her heart to work and showing that she cares.
Jermia is a self-starter and highly motivated, which was critical to the success of this new program in Sussex County. She went out into the community to make connections and network with area nonprofits and community-based organizations without being asked. For example, she built a partnership with the nonprofit Love, Inc. to find out what resources might be available for patients to help address social determinants of health among patients at risk of returning to the hospital.
Jermia goes to bat for her patients every single day to make sure their social risk factors are addressed. She manages a caseload of patients ranging from school-age to elderly with exceptional professionalism and compassion. She leaves no stone unturned. She is the epitome of advocacy and meeting TidalHealth's values in the community. Most recently, she helped a family of eight find health insurance. She regularly helps address housing, transportation, food insecurities, primary care access and insurance with every patient she is assigned. 
In addition to her work one-on-one work with patients, she is a team player who regularly volunteers to go out to provide outreach, to support her peer on our team, and as the first CHW for the area, she is stepping up to lead and help train her coworkers so that they are a strong and effective team.  As of this month, she has completed a comprehensive certification training through Delaware Public Health to be a certified CHW and is interested in continuing her education in chronic disease self-management, prevention, and health literacy to further how she can support her patients and the community and our team.
Patient Advocate,​​​​ TidalHealth Peninsula Regional
Image: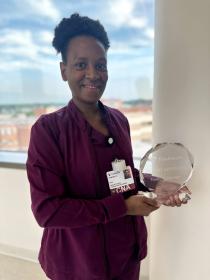 Toshiba Cannon of 5 South is more than a CNA at TidalHealth Peninsula Regional — she is a supporter of all people no matter the adverse circumstance, she is a voice for those who need one, and she would go to the ends of the earth if needed to support a good cause.
During her time on 5 South, Toshiba has grown personally and professionally. She is a team member that always shows up for her team and all of her patients as well. It seems like she manages her work with ease and that she genuinely loves to help people.
Toshiba is a blessing to have as a friend and co-worker and we are all lucky to have her. When she is not at work, she is helping her family and friends around our community in various ways and raising an incredibly awesome son.