Posted In Awards and Recognition on September 08, 2023
Image: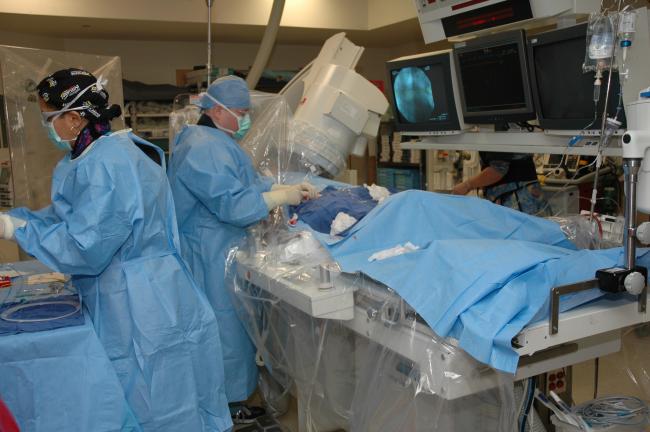 TidalHealth Peninsula Regional today announced that it has again earned The Joint Commission's Gold Seal of Approval® for AMI (treatment of heart attack) Certification by demonstrating continuous compliance with its performance standards.
The Gold Seal is a symbol of quality that reflects a healthcare organization's commitment to providing safe and quality patient care. The Salisbury hospital has been continuously accredited since 2005.
The certification recognizes healthcare organizations, like TidalHealth, that provide clinical programs across the continuum of care for AMI patients. The certification evaluates how organizations use clinical outcomes and performance measures to identify opportunities to improve care, as well as to educate and prepare patients and their caregivers for discharge.
To earn reaccreditation, TidalHealth Peninsula Regional underwent a rigorous, unannounced onsite review on July 6, 2023. During the visit, a Joint Commission reviewer evaluated compliance with related AMI certification standards including program management, clinical guidelines, performance measures, supporting self-management, and delivering and facilitating clinical care. The reviewer also conducted onsite observations and interviews with team members and TidalHealth physicians.
"AMI Certification recognizes healthcare organizations committed to striving for excellence and fostering continuous improvement in patient safety and quality of care," said Ken Grubbs, DNP, MBA, RN, Executive Vice President of Accreditation and Certification Operations and Chief Nursing Officer, The Joint Commission. "We commend TidalHealth Peninsula Regional for using The Joint Commission certification process to reduce variation in clinical processes and to strengthen its clinical program to drive safer, higher quality and more compassionate care for individuals served on the Delmarva Peninsula."
Every year, more than 300 people are treated for AMI at TidalHealth Peninsula Regional, the regional Trauma Center and Cardiac Interventional Center for the Eastern Shore of Maryland as designated by the Maryland Institute of Emergency Medical Services Systems (MIEMSS).
Hospital team members work closely with local EMS in the field to quickly diagnose people who may be experiencing a heart attack. This coordination of care allows for quick, direct access to the hospital for patients experiencing the symptoms of a heart attack. The care they receive includes cardiac catheterization, cardiac intervention and if necessary, cardiac surgery.
Patients are followed closely by the Cardiovascular and Pulmonary Rehabilitation team during and after their heart attack. Participating in the medically-monitored outpatient Cardiac Rehabilitation Program provides patients the reassurance and ability to return to life's normal activities, along with understanding and changing risk factors to reduce the chance of another cardiac event.
The Cardiovascular/Pulmonary Rehabilitation at TidalHealth is the largest and most comprehensive in Maryland and the Mid-Atlantic area, having been in existence for nearly 40 years.
"TidalHealth's Division of Cardiology and the Guerrieri Heart & Vascular Institute are pleased to have again earned this disease specific care re-accreditation from The Joint Commission, the premier healthcare quality improvement and accrediting body in the nation," said Jeanne E. Ruff, Senior Executive Director of TidalHealth's Guerrieri Heart & Vascular Institute. "This re-accreditation validates our quality of care, yet also challenges us to continue to improve and heighten our standards of care for the cardiac patient in our region, which ultimately improves the health of the community we serve."
For more information, please visit The Joint Commission website. Learn more about the full range of cardiac and vascular services at TidalHealth.