Posted In General News on May 04, 2023
Image: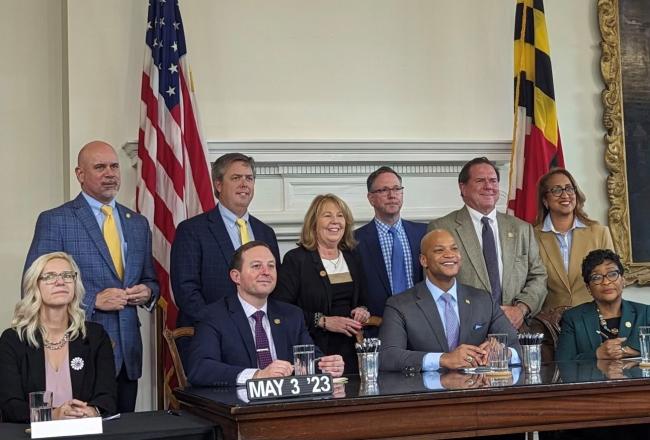 TidalHealth Leadership Attends Bill Signing

Legislation to address Maryland trauma centers' long-range funding challenges, including TidalHealth, was signed into law today by Governor Wes Moore in Annapolis. Signaling the importance of the legislation's passage, TidalHealth leaders joined bill sponsors Senator Mary Beth Carozza (R-District 38) and Delegate Tom Hutchinson (R-District 37B) at the bill signing ceremony.
Senate Bill 493 and House Bill 675 establishes a commission to study the adequacy of trauma funding across Maryland for operating, capital, and workforce costs. Trauma centers often require significant resources to operate effectively as they specialize in swiftly treating life-threatening conditions and promptly providing resuscitative care. In 2003, the Maryland General Assembly created the Maryland Trauma Physician Services Fund to aid Maryland's trauma system. In the 20 years that have passed, there has been no comprehensive review of this Fund despite the industry growing and evolving. Many trauma centers in Maryland are experiencing funding challenges.
"This legislation is absolutely needed as the Fund simply is not effective at this point. It's not keeping up with the increase in trauma services and patient care that TidalHealth has been providing over the years, benefitting residents from all 24 Maryland jurisdictions," said Carozza. "TidalHealth Peninsula Regional is the Eastern Shore's only trauma center, a linchpin in Maryland's Trauma Center System, and it is critically underfunded. At last estimate, the Fund provides less than 10 percent of the total cost that TidalHealth requires to keep its doors open."
Additionally, Senator Carozza, working with the Eastern Shore Delegation and leadership in the Maryland General Assembly, helped secure $9.5 million in additional trauma funding in the Fiscal Year '24 operating budget. "TidalHealth officials have told me that the trauma program is at a critical juncture," said Carozza. "Without this funding, the Eastern Shore's only trauma center could be in jeopardy."
In the photo, seated left to right: Senate Clerk Nicole Xander; Senate President Bill Ferguson; Governor Wes Moore; House Speaker Adrienne Jones; (standing) Chris Hall, TidalHealth Chief Business Officer; Steve Leonard, TidalHealth President and CEO; Senator Mary Beth Carozza; Brian Quinn, Venable LLP; Delegate Tom Hutchinson; and Trudy Hall, TidalHealth Chief Medical Officer.