Posted In General News on June 07, 2023
Image: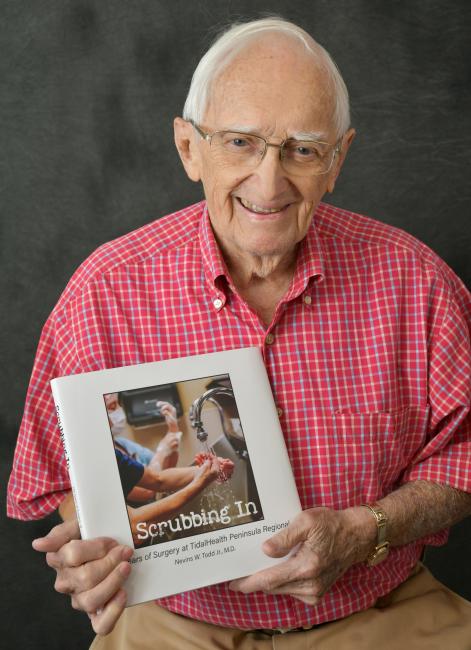 Nevins Todd, Jr., MD, is the oldest living surgeon to ever practice at TidalHealth Peninsula Regional. He's also the only doctor until his retirement in 2000, who personally knew every surgeon to ever operate there; including its first, J. McFadden Dick, hired on the one-year anniversary of the hospital in 1898. 
The retired cardiothoracic surgeon turned 90 in 2022 and has one of the most celebrated and respected legacies at the Salisbury, Md. hospital. He was born there in 1932. It's the hospital his grandfather, George W. Todd, MD, founded as Peninsula General Hospital in 1897. It's also the hospital where his son, Bill, practices emergency medicine.
However, and perhaps most importantly to this region, Dr. Nevins Todd has the distinction of performing TidalHealth Peninsula Regional's initial open-heart surgery in 1974, Maryland's first open heart surgery program outside the Baltimore/Washington area. It led to the establishment of the cardiothoracic surgery division and the physician practice that has become TidalHealth Cardiovascular Surgery. 
Therefore, it makes sense that Dr. Todd would be the person to document the development of the surgery program at TidalHealth Peninsula Regional after discovering that a complete and concise history didn't exist. His two-year labor of love has now come to fruition with the publication of "Scrubbing In" 125 Years of Surgery at TidalHealth Peninsula Regional. 
The 110-page book walks readers through the history of the Department of Surgery, its surgeons and leadership, and the progression of the profession through laparoscopic and robotic surgical specializations. 
Even into his ninth decade, Dr. Todd admits gaining knowledge through his research and studies, including that the hospital had just four surgeons operating from its opening in 1897 until around the time of World War II. 
"It was extremely challenging very early on for the older guys," said Dr. Todd. "There were no benefits of antibiotics for the patients, and they were forced to work quickly—using only the skills they had—because anesthesia was still fairly unreliable. Having such a selection of exceptional men and women has been a privilege for the surgical program at our hospital."
Scrubbing In, which retails for $39.95, is actually Dr. Todd's second book. He's also the author of "The County Doctor," which is the history of his grandfather, Dr. George W. Todd, as told through the writings of Nevins Todd's father.
Two "meet the author" and book-signing events are planned in the coming months. Dr. Todd will be at the Junior Auxiliary Board Shop at TidalHealth Peninsula Regional in Salisbury on Tuesday, June 13 from 10 am to 2 pm. 
He will also be signing books on Tuesday, July 18 from 5:30 to 7:30 pm at the Green Hill County Club on Whitehaven Road in Quantico, Md. As dinner will be served with this event, reservations are required and there will be an associated cost for dinner. They can be made by calling Green Hill at 410-749-5119. 
Scrubbing In will be available for purchase at each location.