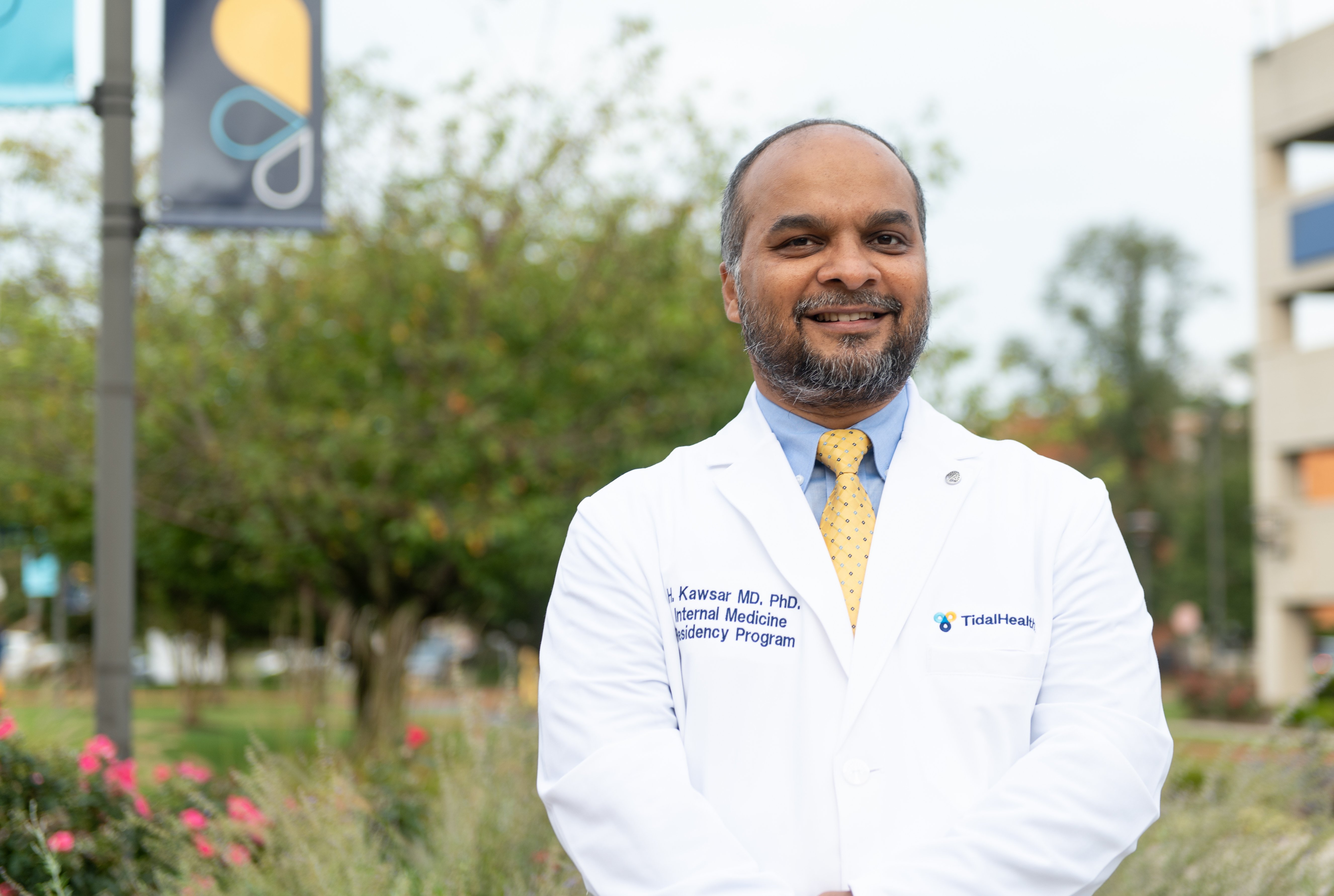 Welcome Message from our Program Director
---
Welcome to the TidalHealth Internal Medicine Residency Program! Thank you for your interest in our program, and congratulations on successfully completing your long medical school journey. Our program is primarily located in the beautiful city of Salisbury, in a very friendly community, and only forty minutes from Mid-Atlantic beaches. Our hospital, previously known as Peninsula Regional Medical Center, was initially established in 1897 and was recently rebranded as TidalHealth Peninsula Regional in 2020. The health system is well known and has been recognized with national awards for clinical excellence.
We will recruit 10 Internal Medicine residents each year in our categorical program. We have one Program Director, one Associate Program Director, one Continuity Clinic Medical Director, one Director for Research and Scholarly Activities, and a Program Coordinator. Our 18 core teaching faculty members are experienced physicians and are committed to patient care and medical education. Our outpatient continuity clinic is conveniently located adjacent to our main training hospital, supervised by a full-time board-certified physician, and staffed by nurses and medical assistants. We have implemented a 4+1 block schedule where residents will spend an entire week in the clinic every 5th week and will manage their own diverse patient panel to maintain long-term continuity of care.
Our TidalHealth Richard A. Henson Research Institute has a robust research infrastructure with strong collaborative research opportunities for our residents. There is also a well-established Quality Improvement and Patient Safety (QI & PS) program where our residents will participate in a supervised and mentored research program. In addition, we will offer research rotations to residents who excel in patient care and are interested in pursuing fellowship training. Our Director of Research will guide each resident to pursue their research interest and future career goals.
Our program objectives include:
Recruiting highly motivated physicians from diverse backgrounds with strong clinical knowledge.
Offering an effective learning environment to ensure high competency levels in evidence-based clinical practice, research, and leadership.
Mentoring each resident to fulfill their career goals successfully.
I hope you will consider TidalHealth your home for the next three years as you train to become a compassionate, confident, and efficient physician.
Sincerely,
Hameem I Kawsar, MD, PhD, FACP
Program Director