Posted In Awards and Recognition on May 12, 2023
Image: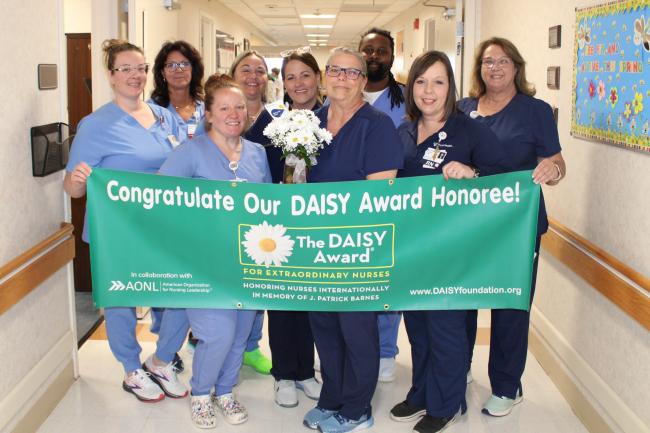 Image: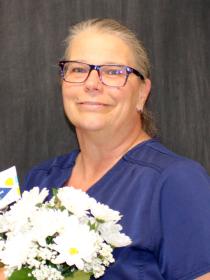 We are proud to announce that Abby Husfelt, RN, of TidalHealth Nanticoke's Surgical Specialties and Robotics Unit (SSRU), is TidalHealth Nanticoke's inaugural Daisy Award recipient! Abby was selected for her care and special attention shown recently to two patients:
From Patient 1:
I would like to begin with the fact that, during my stay from March 5-9, I received the best care in any hospital ever. March 7 was the first day I was lucky enough to have Abby. She is amazing! She cares and even pays attention to the small details, like listening if I needed to vent or anything. Not many people do that. She kept a smile on my face and was a huge part of my healing. Her interpersonal skills make it so easy for me to communicate my needs.
I also believe the laughs she gave me helped with my mental health and helped me heal faster. My dad is ill and traveled and when on FaceTime he even thanked Abby for caring for me exceptionally and they joked and laughed. Abby deserves this award. Not only is she an amazing nurse, but she's also an amazing human whose patients are her priority. You can even hear her laughing with her other patients and caregivers.
I genuinely thank her from the bottom of my heart for taking care of me this week. She really played a huge part in getting me from my worst to my best. I tend to get into a dark place and depressed while I am hospitalized. My anxiety and depression normally take over and literally shut my body down. I didn't have that issue this time because Abby kept me out of that place. I can tell you 100 times she is amazing; however, she is more than that. She is a special woman and nurse. She truly helped me heal mentally and physically this week. Not many are capable of that, nor do they care enough. She will continue to excel because of who she is. That is what makes her special, her being her genuine self.
From Patient 2: 
Abby is nothing short of a rock star! When my mom had to have emergency surgery and I got the phone call from my brother about it, I flew down from Maine, also where mom is from. Upon meeting Abby for the first time, I knew that mom was in the best place and that Abby was the nurse for her. Mom was scared and depressed, but Abby's nature and nurture allowed mom to improve. Abby is also a great teacher; she took the time to explain things in a way that mom and I could understand. She's a great patient advocate. You are lucky to have her!
Abby was recently honored with the Daisy Award in a ceremony before her colleagues. She received certificates commending her for being an extraordinary nurse, and a sculpture called A Healer's Touch, hand-carved by artists of the Shona Tribe in Zimbabwe.
The not-for-profit DAISY Foundation is based in Glen Ellen, Calif., and was established by family members in memory of J. Patrick Barnes. Patrick died at the age of 33 in late 1999 from complications of Idiopathic Thrombocytopenic Purpura (ITP), a little-known but not uncommon autoimmune disease.
The care Patrick and his family received from nurses while he was ill inspired this unique means of thanking nurses for making a profound difference in the lives of their patients and patient families