Posted In General News on March 20, 2023
Image: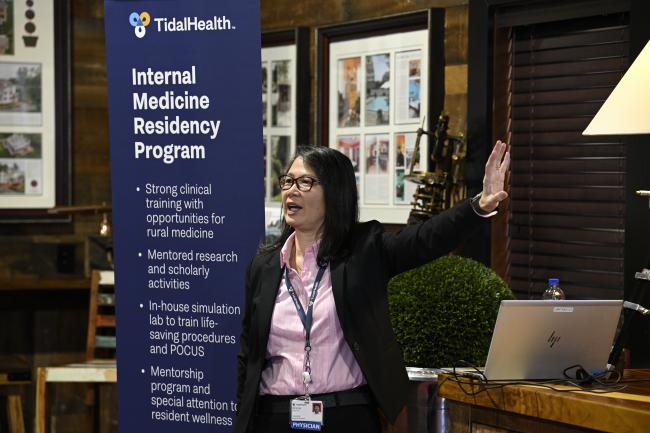 In America today, the increased demand for physicians continues to outpace the relatively fixed supply of available doctors.
By 2034, the Association of American Medical Colleges (AAMC) anticipates doctor shortages of between 38,000 and 124,000 as an aging physician population nears retirement. Primary care and internal medicine face the greatest challenge, but the impact is being felt across the board in all areas and specialties.
Each year, it becomes more difficult to keep pace, and nowhere is that shortage more prevalent than in rural areas—like the Delmarva Peninsula—where attracting and retaining doctors remains problematic.
It's why health systems, like TidalHealth, have launched residency training programs to prepare the next wave of physician specialists. TidalHealth graduate medical education (GME) programs are designed to address the issue head-on and with a focus on building a pipeline of doctors it's hoped will choose to stay where they hone their craft and specialty.
"These bright medical residents will bring fresh and up-to-date knowledge and practice to the bedside," said Hameem Kawsar, MD, Ph.D., FACP, and Program Director of TidalHealth's Internal Medicine Residency Program. "Once they graduate, we are hopeful some of them will stay with us to serve patients in this area. They will be part of us, and they will help us build our community on Delmarva."
A resident doctor is a doctor in training who is taking part in a GME program. They have already graduated medical school as an MD or a DO, but cannot practice independently until the completion of their residency. Physicians in a GME program continue their education, treat patients and train in a specialized field under the watchful eyes of skilled and board-certified physicians.
On March 17, TidalHealth held a "MATCH party" to announce the four physicians who have been chosen to participate in the health system's inaugural surgical residency program. The MATCH is a national program that provides an orderly and equitable process for assigning the preferences of applicants to the residency sites using a computerized algorithmic-based matching process.
More than 300 physicians worldwide responded to TidalHealth's call for surgical residency applications. From that, 46 were chosen to be interviewed by a multidisciplinary team of physicians. The four that matched with TidalHealth and agreed to do their residency on Delmarva will launch the first surgical residency program in July.
They are:
Marium Gul Mohammad, MD
Dow Medical College, Pakistan
General Surgery Prelim Resident, Montefiore Medical Center, New York, New York
Thomas Kasprzycki, MD
Jagiellonian University Medical College, Poland
General Surgery Prelim Resident, University of Connecticut, Hartford
Nancy Pina, MD
Ross University School of Medicine, Barbados
General Surgery Prelim Resident, University of Texas Rio Grande, Edinburg
David Winston, DO
Liberty University College of Osteopathic Medicine
General Surgery Prelim Resident, Medical University of South Carolina, Charleston
Each will spend five years being taught and evaluated by TidalHealth surgeons at the system's Salisbury and Seaford hospitals, while providing care in a number of surgical specialties including bariatrics, breast, vascular, colorectal, endoscopy, plastics, trauma, pediatric and general surgery. Residents will also have the opportunity to rotate at Children's National Hospital, Johns Hopkins University and University of Maryland hospital, as TidalHealth has clinical relationships with each.
As the program grows, TidalHealth will eventually have as many as 22 surgical residents in training.
"Not only are we training the next generation of surgeons, we're also helping to meet the need for increased medical services, creating opportunities for quality improvement and continuing the excellence in the delivery of care for everyone in the community, including those traditionally underserved," said Gopal Kowdley, MD, Ph.D., FACS, and Medical Director of TidalHealth's Surgical Residency Program.
Also announced at the March 17 MATCH event were the doctors who will make up the second class of 10 physicians chosen to participate and train in TidalHealth's internal medicine residency program, which began in June of 2022. More than 2,700 applications were received from doctors around the globe for these 10 residency spots, 900 were initially chosen and reviewed, and just 205 offered interviews.
This is the next class of internal medicine residents:
Gajendra Acharya, MD
Bolan Medical College, Pakistan
Syeda Bareeqa, MD
Jinnah Medical College, Pakistan
Heyue Du, MD
West China COM, China
Sarwat Ehsan, MD
Wah Medical College, Pakistan
Muhammad Jibran, MD
King Edward Medical College, Pakistan
Mohammad Hamza, MD
Dow Medical College, Pakistan
Safana Ismail, MD
Dow Medical College, Pakistan
Junaid Khan, MD
Sharif Medical College, Pakistan
Rohit Pandit, MD
KIST Medical College, Nepal
Mubasshar Shahid, MD
CMH Lahore Medical College, Pakistan
Internal medicine residents spend three years in the TidalHealth system doing the much same observing, learning, researching and providing care. As that program continues to expand, as many as 30 doctors will be working alongside their internal medicine physician mentors annually.
Upon their completion of the program, residents will be eligible for full licensing or board certification, and possibly open their practice or join one locally. According to the AAMC, 51.7 percent of physicians who completed residency training from 2011 through 2020 continue to practice in the state where they completed their residencies.
"Remember, too, through each of these residents we are also introducing into our community a representation of diversity in the medical field, creating role models for our youth, helping to break down communication barriers and increasing access for care," added Dr. Kowdley.
Additionally, in May, TidalHealth will welcome its inaugural Core Clinical Campus class of three medical students from Rowan University in New Jersey and two months later five additional medical students from the Philadelphia College of Osteopathic Medicine. All eight will spend their entire third year of medical school within the health system, practicing in a core clinical curriculum examining, evaluating and caring for patients at TidalHealth Peninsula Regional, TidalHealth Nanticoke or in TidalHealth physician and specialty care offices.
"We're fostering community by embracing the diverse population we serve and creating what we hope will become meaningful, long-lasting relationships," said Simona Eng, DO, FACOI, SFHM, Designated Institutional Official and Chairperson of the Graduate Medical Education Committee at TidalHealth. "We're guiding these doctors into becoming exceptional surgeons and internal medicine specialists, compassionate physicians and the next leaders of our nation's healthcare."