Posted In General News on April 19, 2023
Image: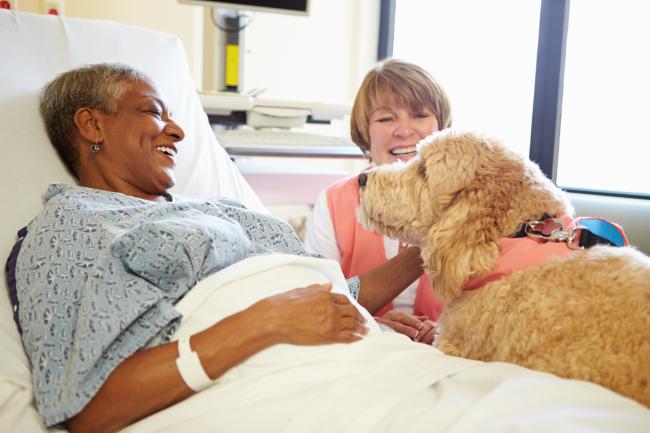 They're cute, they're fluffy, they're TidalHealth's therapy dog teams and they're back in action!
The health system's therapy dog program originated at TidalHealth Nanticoke in July 2018 when we partnered with National Capital Therapy Dogs of Delmarva (NCTD) to build certified therapy dog teams for the Seaford hospital.
The program has now expanded to include teams at TidalHealth Peninsula Regional in Salisbury, Md. There are currently 11 volunteer-certified therapy dog teams in service that visit throughout the health system.
There's no denying that the human-animal bond positively influences the health and well-being of both people and animals. Therapy dogs have been proven to provide social support and help improve blood pressure, pain, mood and other measures of distress.
Pet therapy can be utilized in a variety of settings including hospitals, long-term care facilities, hospice centers and schools. Depending on the setting, pet therapy programs may include pets such as dogs, cats and guinea pigs and may also include specialized programs with larger animals like horses and dolphins.
At TidalHealth, certified therapy dogs and their handlers visit locations throughout the health system including the Salisbury and Seaford hospitals, provider offices, the Alice B. Tawes Nursing & Rehabilitation Center, and Chesapeake Cove at TidalHealth McCready Pavilion in Crisfield, Md.
During their rounds, the therapy dog teams lift the spirits of TidalHealth team members, patients and visitors. Since September 2022, the teams have positively impacted nearly 4,500 people during their visits and have donated more than 250 hours to the organization.
TidalHealth hosts dog training classes in both Salisbury and Seaford. Two classes must be completed to become part of TidalHealth's therapy dog program: The Foundation Class and the NCTD Therapy Dog Training Course.
The Foundation Class provides dogs with socialization opportunities while teaching the handler to train their dog to pay attention, sit, come when called, lie down, walk on a leash without pulling, and stand for grooming or examination. The goal of this class, in addition to improving a handler's working relationship with their companion, is the successful completion of the American Kennel Club (AKC) Canine Good Citizen (CGC) evaluation.
 
The eight-week NCTD training course has been developed for dog and handler teams who are ready to expand on their basic obedience skills with the goal of passing evaluation, registration and beginning visitation with TidalHealth as a volunteer certified therapy dog team.
To date, 11 teams have graduated and gone on to volunteer as official certified therapy dog teams at TidalHealth.
If you are interested in learning what it takes to become a certified therapy dog team at TidalHealth, contact [email protected].