Posted on June 27, 2022
Image: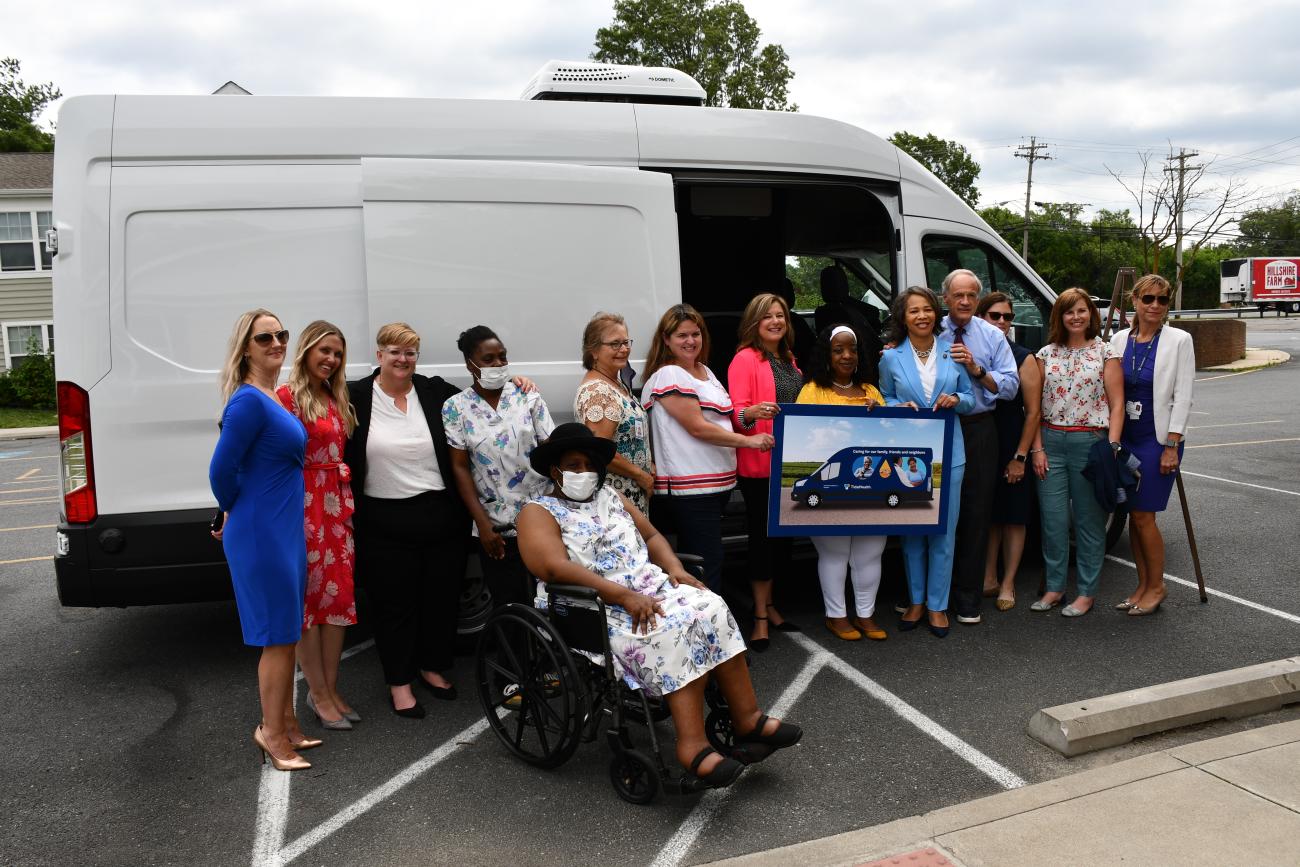 It was a landmark day at the Meadowbridge Apartments in Seaford, Del., as TidalHealth, residents and a core of community partners outlined plans for the health system's new Delaware Community Health Services van, which will soon be on the road and proving health and wellness services across Sussex County.
Congresswoman Lisa Blunt Rochester (D-Del.) joined the celebration and announced $350,000 in Community Project Funding for TidalHealth Nanticoke to wrap and outfit its mobile health van into a fully functional mobile health clinic. This funding will help keep Delawareans healthy by addressing health disparities in under-resourced communities within Western Sussex County including Georgetown, Millsboro, Selbyville, Laurel, Seaford, Delmar, Blades Bethel and Bridgeville.
Joining Blunt Rochester for the announcement was U.S. Senator Tom Carper, Penny Short, President of TidalHealth Nanticoke, Kat Rodgers, Director of Community Health Initiatives for TidalHealth, Sussex County Health Coalition, Children and Families First, First State Action Agency, and community members.
"I am so proud that out of 150 applications to my office, TidalHealth Nanticoke's application to outfit its current mobile health van into a fully functional mobile health clinic was in the top 10," said Rep. Blunt Rochester. "With these funds, TidalHealth Nanticoke will be able to build on its progress to help Delawareans in Western Sussex County live fuller, healthier lives all while advancing efforts to address health disparities within our communities. I'm proud to have secured this Community Project Funding for TidalHealth Nanticoke and look forward to its implementation in communities across Western Sussex County."
"At TidalHealth, we aim to improve the health of the communities we serve," said Kat Rodgers, Director of Community Health Initiatives. "We know that social factors such as transportation, food, and housing significantly contribute to a person's health status and health equity. By using tools such as this new wellness van, we are better able to meet people where they are and address their needs. We are putting together a team of community health workers and nurses that will work together with community partners to assess social determinants of health and connect residents to resources needed to prevent and manage chronic conditions. This project is a wonderful example of how we are truly better together as we care for our family, friends and neighbors."
The $350,000 for TidalHealth Nanticoke will go towards outfitting a mobile health clinic and help address health disparities in disadvantaged communities within Western Sussex County. The funding will support the purchase of equipment to outfit a mobile health van, the hospital already owns, to provide health screenings, multidisciplinary health services, education and outreach in community-based settings. The clinic van and its multidisciplinary team will connect marginalized communities with outreach, screenings, connections to primary care, as well as preventative health and wellness resources.
Following the announcement, Congresswoman Blunt Rochester, Senator Carper and all in attendance were provided a tour of the van. Meadowbridge was chosen as the site for the announcement as it is one of the locations that the van will visit on its travels across Western Sussex County.