Posted In Awards and Recognition on October 24, 2023
Image: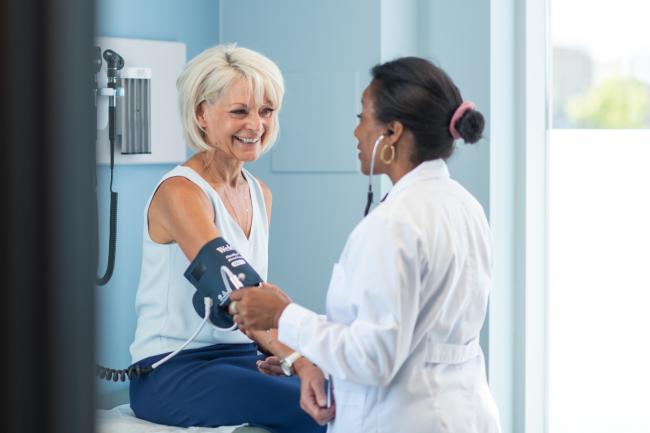 Healthgrades, the leading resource that connects consumers, physicians, and health systems, today released its 2024 Star Report of hospital achievements, and TidalHealth Peninsula Regional and TidalHealth Nanticoke are rated among the nation's best in several clinical services.
At TidalHealth Peninsula Regional in Salisbury, Md., new in the 2024 report is a designation as One of America's 100 BEST Hospitals for Spine Surgery, placing it among the Top 10% in the Nation. New 5-Star ratings in the 2024 report include Pacemaker Procedures, Spinal Fusion, Treatment of Sepsis and Treatment of Respiratory Failure.
TidalHealth Peninsula Regional is also again One of America's 50 Best Hospitals for Vascular Surgery. This is the tenth consecutive year earning that recognition (2015-2024). The vascular team also maintains the Healthgrades Vascular Surgery Excellence Award for a tenth consecutive year (2015-2024), placing it among the Top 10% in the Nation for Vascular Surgery.
TidalHealth Peninsula Regional was also the only hospital in the state to earn a 50 BEST Hospitals for Vascular Surgery designation, and the only Maryland hospital 5-Star rated in both the Treatment of Abdominal Aorta and Peripheral Vascular Bypass.
At TidalHealth Nanticoke, and new for 2024, the team was presented the Healthgrades Coronary Interventional Excellence Award, placing that service Top 10% in the Nation. The Seaford hospital also was 5-Star rated for the first time in Coronary Intervention, Treatment of Heart Attack and Treatment of Respiratory Failure.
"Quality and safety remain at the heart of everything we do as an organization. To have TidalHealth Nanticoke placed among the nation's best hospitals, once again, by Healthgrades and to have our cardiac services recognized this year among the nation's best reinforces that we have assembled the finest healthcare team in the region that is committed to outstanding clinical outcomes and quality patient care," said Penny Short, MSM, BSN, RN, TidalHealth Nanticoke President.
TidalHealth Nanticoke was also honored again as one of America's 100 Best Hospitals for Gastrointestinal (GI) Surgery. The recognition was first awarded to the Seaford hospital in 2023. The GI Surgery Excellence Award keeps TidalHealth Nanticoke among the Top 10% in the Nation.
TidalHealth Nanticoke is also the only hospital in the state of Delaware to achieve the Healthgrades 5-Star rating for the treatment of Heart Attack.
From 2020 through 2022, if all hospitals as a group performed similarly to five-star hospitals, on average, 215,667 lives could potentially have been saved, and 149,521 patients could have avoided potential complications.
Healthgrades evaluated patient mortality and complication rates for 35 of the most common conditions and procedures at nearly 4,500 hospitals across the country to identify the top-performing hospitals for specialty care. Hospitals cannot choose to opt in or out of a Healthgrades performance review.
"TidalHealth's greatest asset is our team members, medical staff, and volunteers. Our Healthgrades clinical successes, many that have repeated for several years, are a direct result of their devotion to every patient and family member," said Steven Leonard, Ph.D., MBA, FACHE, TidalHealth President and CEO. "And, to achieve these successes during a reporting period at the height of the COVID pandemic, validates the dedication and determination of our entire team in extremely challenging times."
A total of 18 services at TidalHealth earned a Healthgrades 5-Star rating, which indicates they are performing statistically significantly better than their peer services at other U.S. hospitals. Among those, Treatment of Carotid Procedures was 5-Star rated for a 14th consecutive year (2011-2024) and Treatment of Hip Fracture for a 9th consecutive year (2016-2024).
"Healthgrades congratulates TidalHealth for being a national leader and demonstrating a deep commitment to providing high quality care to all patients," said Brad Bowman, MD, Chief Medical Officer and Head of Data Science at Healthgrades. "Their dedication, expertise, and tireless efforts have not only set them apart but have also positively impacted the lives of countless patients on Delmarva."
Consumers can visit healthgrades.com to learn more about how it measures hospital quality, and they see a patient-friendly overview of the complete methodology.
Statistics are based on Healthgrades analysis of MedPAR data for years 2020 through 2022 and represent three-year estimates for Medicare patients only.