Posted on October 07, 2022
Image: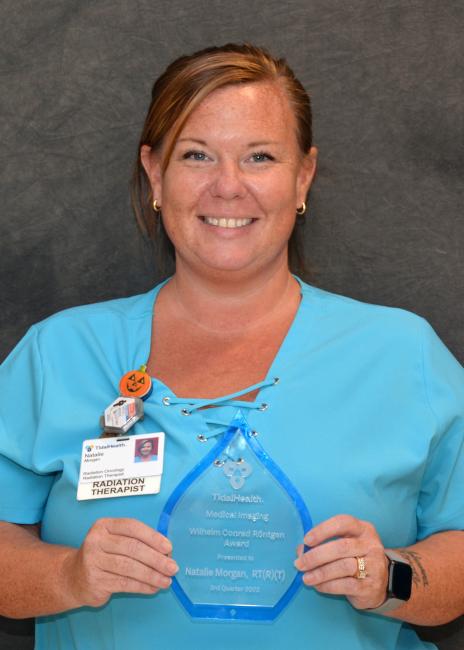 TidalHealth is pleased to announce that Natalie Morgan, RT(R)(T), is TidalHealth Peninsula Regional's inaugural Wilhelm Conrad Röntgen Award recipient. This award is given to TidalHealth Medical Imaging professionals and is named after Wilhelm Conrad Röntgen, a German physicist and mechanical engineer who discovered X-rays in 1895.
Natalie is a phenomenal radiation therapist with a strong work ethic. She approaches her job with patient-centered care at the forefront and consistently advocates for her patients and their families, answering any questions they may have and ensuring their treatment process is as comfortable as possible.
Natalie demonstrates a high standard of service not only to her patients but also to her fellow team members. She is quick to offer advice and help and consistently promotes a positive work environment. She works closely with physicians in the department and has helped implement policies to improve patient safety.
Thank you, Natalie, for being someone we can count on. Please join us in congratulating Natalie on this outstanding achievement.