Posted In Awards and Recognition on September 27, 2023
Image: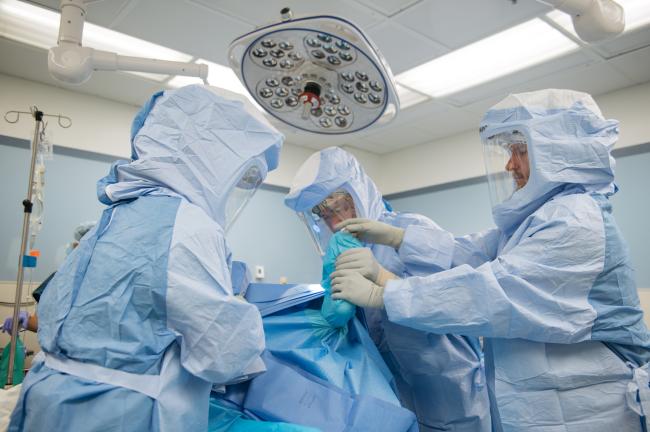 TidalHealth Nanticoke has again earned The Joint Commission's Gold Seal of Approval® for Total Hip and Knee Replacement Surgery by demonstrating continuous compliance with its performance standards. The Gold Seal is a symbol of quality that reflects a healthcare organization's commitment to offering safe and quality patient care.
The Seaford, Del. hospital was recognized for providing clinical total hip and knee replacement programs across the continuum of care. The recertification evaluates how organizations, like TidalHealth, use clinical outcomes and performance measures to identify opportunities to improve care, as well as to educate and prepare patients and caregivers for discharge.
The recertification is valid for a two-year period and follows a rigorous and unannounced onsite review earlier this year.
"TidalHealth Nanticoke's outstanding orthopedic division is pleased to have received this reaccreditation from The Joint Commission, the premier healthcare quality improvement and accrediting body in the nation," said Penny Short, MSM, BSN, RN, President of TidalHealth Nanticoke. "It validates our quality of care, while also challenging us to continuously improve and heighten our standards of care for orthopedic patients in our region, which ultimately improves the health of the communities we serve."
TidalHealth Nanticoke's total hip and knee replacement programs have continuously strived to exceed benchmarks with quality outcomes. The utilization of clinical practice guidelines in conjunction with multidisciplinary team collaboration were key components in preparation for the survey. The program utilizes strategies to assure best practices are implemented for pre-procedure education, early ambulation post procedure, appropriate pain management, post procedure education and improved functional outcomes.
"Total Hip and Knee Replacement certification recognizes healthcare organizations committed to striving for excellence and fostering continuous improvement in patient safety and quality of care," said Ken Grubbs, DNP, MBA, RN, Executive Vice President of Accreditation and Certification Operations and Chief Nursing Officer, The Joint Commission. "We commend TidalHealth Nanticoke for using The Joint Commission certification process to reduce variation in clinical processes and to strengthen its clinical program to drive safer, higher quality and more compassionate care for individuals served."
Learn more about orthopedic services at TidalHealth.