The benefits of having a primary care provider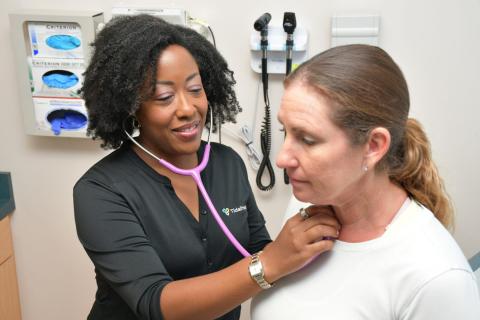 The role of a PCP in managing your healthcare needs
A primary care provider (PCP) serves as the "quarterback" of your healthcare team to help you manage your health needs and navigate the healthcare system; they provide preventative care and manage acute and chronic illnesses, both physical and mental. They will help you determine what testing or screenings you should have based on your age, sex, past and family history. They can also provide you with personalized guidance on the steps you can take to improve or maintain your health, such as a specific diet, regular physical activity goals, getting adequate sleep and managing your stress levels. These things can have a huge impact on your overall wellness and lifespan.
A PCP will also help to coordinate the medical care you need and empower you to take control of your health. This may include any laboratory or medical testing that is needed, along with seeing specific specialists to help manage any chronic diseases. Some patients need a team approach to help them be successful in taking care of themselves. Your team may include a medical doctor, surgeon, nurse practitioner and a physician assistant. There are also non-physicians that may be of help such as a dietician, a nurse, a health coach, a therapist or counselor; your primary care provider will ensure continuity of care.
Lastly, one of the best benefits of having a PCP is better health outcomes. Working together with your provider over time to prevent illness, manage acute and chronic diseases — and to engage more care team members when needed — will lead to a healthier life. Therefore, it is important to establish care with a local provider and take control of your health and wellness.
If you are in need of a PCP, TidalHealth has providers in locations throughout Delmarva, many of whom are even available without leaving your home through telemedicine.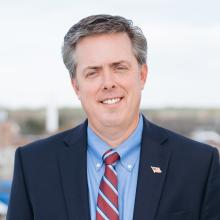 This year was indeed a remarkable one for our health system. We faced unprecedented challenges with unwavering dedication, commitment, and resilience.
Our vision to be the trusted leader in health and wellness, providing world-class care while building healthier communities for generations to come, remains steadfast. To achieve this vision, we have outlined three driving strategies: access, effectiveness, and engagement. These strategies are our guiding stars, illuminating our path toward excellence and the accomplishment of our vision.
As part of our strategic plan, we develop an annual operating plan that emphasizes key priorities for the fiscal year. Each year, we adjust and move the goals forward. Each entity within TidalHealth develops its own annual operating plan that aligns with the health system's plan, and goals are cascaded to all leaders and team members. The focus this year will be:
Primary care: Strengthening our primary care services is foundational to our mission. We aim to be the cornerstone of healthcare in our communities, providing accessible and comprehensive care to all.
Surgical volumes in Seaford: We're dedicated to enhancing our specialty services in this region to cater to the diverse healthcare needs of our community.
Diversity and inclusion: Our commitment to diversity and inclusion is unwavering. We believe in a healthcare ecosystem that mirrors the rich tapestry of the communities we serve.
Margin: Fiscal responsibility is essential to sustain and grow our mission. We will continue to work diligently to ensure the financial health of our organization.
Quality: Quality care is at the heart of our mission. We will relentlessly pursue excellence in every aspect of our service, ensuring that our patients receive the best care possible.
Experience and engagement: A positive patient experience and engagement with our team members are integral to our success. We will focus on creating an environment that fosters trust and satisfaction.
Our shared values and mission are the cornerstone of our organization, binding us together across all locations. It is this unity that makes TidalHealth a remarkable place to work and receive care.
Let us not forget our commitment to staying local for care. We are a complex system with a regional presence, allowing us to provide the right care in the right locations for our communities. This is a testament to our dedication to serving our neighbors, friends, and families.
As we look ahead, I am excited about the opportunities and challenges that await us. We will continue to build upon our strengths and embrace innovation to further enhance the quality of care we provide.
I want to reiterate how proud I am to lead this incredible team, and I am confident that, with your support and dedication, we will achieve even greater success in the coming year.
Fiscal year 2023 by the numbers
422 licensed beds
20,386 adult admissions
91,628 actual days of care
4.49 average length of stay (days)
109,168 emergency department visits
591,479 outpatient visits
6,298 outpatient observations
2,776 babies delivered
23,289 total surgical procedures
705,817 physician office visits
$44,739,423 total community benefit
2,318 nominations to honor TidalHealth team members that include peer-to-peer Values in Action entries, manager to team Member entries, the Daisy RN Award, Sunshine CNA Award and Team Members of the Quarter.
Garage A accident and repair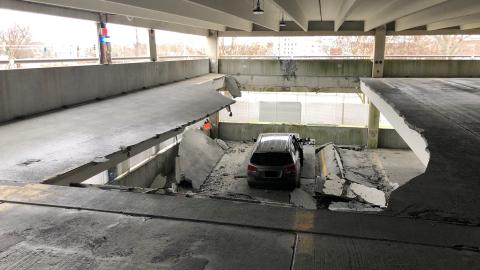 One of the biggest stories of 2023 on our Salisbury campus had nothing to do with patient care, but had a huge impact on every team member. In January a driver, at a very high rate of speed, slammed into an outside wall of our staff parking garage, collapsing a section of the structure in the process.
The estimate was for the garage to be out of commission for the entire year, but with some determined and dedicated work, the garage reopened at the end of July with the damaged section completely rebuilt and some new safety and speed measures put into place to slow down traffic and make the garage safer for drivers and pedestrians.
Trauma bill signed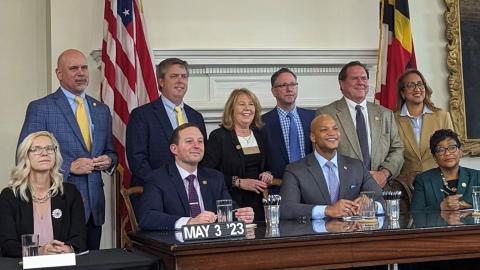 Legislation to address Maryland trauma centers' long-range funding challenges, including TidalHealth, was signed into law this year by Governor Wes Moore in Annapolis. Signaling the importance of the legislation's passage, TidalHealth leaders joined bill sponsors Senator Mary Beth Carozza (R-District 38) and Delegate Tom Hutchinson (R-District 37B) at the bill signing ceremony.
Trauma centers often require significant resources to operate effectively as they specialize in swiftly treating life-threatening conditions and promptly providing resuscitative care.
In 2003, the Maryland General Assembly created the Maryland Trauma Physician Services Fund to aid Maryland's trauma system. In the 20 years that have passed, there has been no comprehensive review of this fund despite the industry growing and evolving. Many trauma centers in Maryland are experiencing funding challenges.
Dr. Trudy Hall appointed to trauma funding commission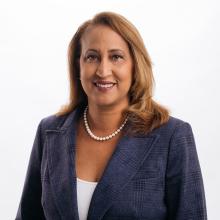 Trudy Hall, MD, TidalHealth's Senior Vice President of Medical Affairs & Chief Medical Officer, was named this summer to the newly formed Commission to Study Trauma Center Funding. Her appointment was made official by Laura Herrera Scott, MD, MPH, Secretary of the Maryland Department of Health.
Senate Bill 493 and House Bill 675, signed into law by Governor Wes Moore in May of this year, established the commission to examine the adequacy of trauma funding across the state for operating, capital, and workforce costs.
This commission to study trauma funding, which features a representative from each of the designated Level I, II, III and pediatric trauma centers in Maryland, is tasked with the goal of finding a permanent funding reimbursement solution.
YDI ownership
Your Doc's In (YDI), the leader in urgent and immediate care on the Eastern Shore of Maryland, and TidalHealth announced a new collaboration with TidalHealth purchasing a 50 percent share of the Your Doc's In franchise. Peninsula Health Ventures, an existing company of TidalHealth, is providing administrative oversight for the 50/50 partnership.
As part of the agreement, the urgent care practices will continue to operate under the Your Doc's In brand, and Walter Gianelle, MD, will remain as the corporation's CEO and Medical Director. The outstanding and existing team of Your Doc's In providers and support staff will still handle the day-to-day care.
Additionally, in 2023, Dr. Sarah Arnett was named President of YDI and Steve Tracy was named President of Peninsula Health Ventures.
Giddins named Chief Wellness Officer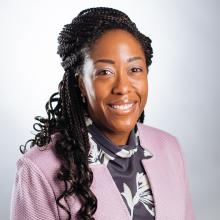 Danielle Giddins, MD, was appointed to the position of Chief Wellness Officer for the health system this fiscal year. In her new role, Dr. Giddins assumed the lead for the promotion and support of the overall health and well-being of all TidalHealth team members, including its medical staff and healthcare professionals.
The Chief Wellness Officer is responsible for evaluating the current culture, identifying workplace opportunities and programs and designing an organization-wide strategy to increase the personal and professional health and wellness of team members. A key goal is to help reduce burnout and increase professional fulfillment of healthcare providers.
Angela Brittingham named Chief Nursing Executive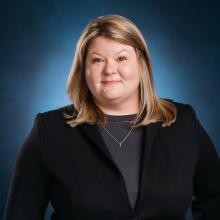 Angela (Angie) Brittingham, MSN, RN, CEN, CPEN, NEA-BC, CPHQ, was named the health system's Chief Nursing Executive (CNE) in March. Brittingham was selected after the completion of a national search.
In her new role, Brittingham leads the professional practice of nursing across the health system, including at the Salisbury hospital, at the 99-bed TidalHealth Nanticoke hospital in Seaford, Del and at Chesapeake Cove Assisted Living and at Alice B. Tawes Nursing and Rehabilitation, both located in Crisfield, Md.
Sheets named Corporate Compliance Officer
At its annual meeting in October 2022, the TidalHealth Board of Trustees affirmed the transition of the Corporate Compliance Officer role from Timothy Feist, MBA, CHC, Vice President of Ambulatory Services, to Debra Sheets, DNP, RN, CPHQ, NEA-BC, CHC, Vice President of Organizational Effectiveness.
The transition is part of TidalHealth's ongoing work in aligning services and functions across the health system. Dr. Sheets has been with TidalHealth since 2008 and supports the areas of regulatory compliance, patient safety/risk management and performance improvement for the health system.
Weisman VP of Information Technology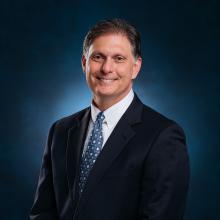 Mark Weisman, MD, MBA, was promoted to Vice President of Information Technology/CMIO & CIO late in 2022.
Dr. Weisman, who joined TidalHealth in 2018 as its Chief Medical Information Officer (CMIO), has also been servings as the health system's Chief Information Officer (CIO) at the Senior Director level since 2021.
Dr. Weisman, an internal medicine specialist, has extensive experience in advancing clinical and technological opportunities to improve quality of care, cost effectiveness and to reduce waste and unnecessary workload. He has had numerous leadership roles in clinical management, strategy and development, analytics, and informatics.
Gary named CFO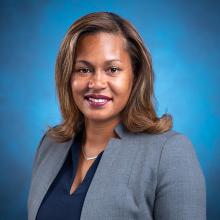 Dr. Steve Leonard, President/CEO of TidalHealth, announced the promotion of Stephanie Gary, CPA, MBA, FACHE, Vice President of Finance, to Vice President of Finance/Chief Financial Officer (CFO) for the health system in 2023.
Gary's promotion followed the retirement of Bruce Ritchie, Senior Vice President of Finance/CFO, January 13 after 29 years in a financial leadership role at the health system; 18 of those as its Vice President.
Gary becomes only the third CFO in TidalHealth's history, following Ritchie — who had been its CFO for the past 15 years — and Donald Durham, who was first to hold the title, until his retirement in 2007.
CNA Program graduates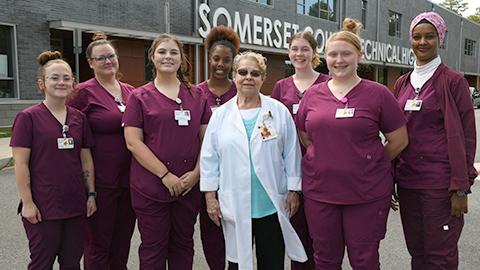 The first group of seven students in TidalHealth's new Certified Nursing Assistant (CNA) and Geriatric Nursing Assistant (GNA) program officially graduated last year.
All students were hired as full-time team members at TidalHealth, allowing them to earn an income while learning a skilled trade through the hybrid program.
The TidalHealth Nursing Assistant Program is a six-week educational plan, including 40 hours of clinical experience, where students are introduced to employment opportunities in the healthcare field. This educational plan incorporates knowledge and skills in medical terminology, communications, anatomy and physiology in disease processes and related procedures.
The program provides TidalHealth with a self-directed pipeline of CNA and GNA students and the ability to customize the experience relevant to their daily work environments. That results in better care for residents and patients.
Richard A. Henson Research Institute
Held its inaugural Research Symposium on June 16, 2023 for members of the medical staff, nursing staff, senior leadership, and the community. Ten internal medical residents and nine researchers supported by the Research Institute presented their research to symposium attendees.
Gopal Kowdley, MD/PhD and Robert Joyner, PhD, RRT, RRT-ACCS, FAARC have teamed up to develop a systematic literature review process and made it available to residents, medical students, university students and others.
The importance of conducting systematic reviews is two-fold: the participants gain valuable knowledge on how to investigate published literature and in the process become subject matter experts on a selected topic, and its provides the necessary background to support progressive studies that will have a direct impact on patients.
Cancer Care
The Salisbury Radiation Oncology department went live with new motion management software from Varian called "Identify." The software uses a multi-camera tracking system to monitor patient motion during radiation therapy and assists in complex treatments like Deep Inspiration Breath Hold, or DIBH. DIBH is a technique used to reduce the amount of radiation that reaches the heart while patients are receiving treatment for breast cancer.
Our Breast Program earned NAPBC recertification in April 2023. NAPBC accredited programs follow a model for organizing and managing a breast program that facilitates multidisciplinary, integrated, and comprehensive breast disease and breast cancer services.
Orthopedics and Neurosciences
American Heart Association and American Stroke Association "Get With the Guildlines" Gold Plus Quality Achievement Award was presented to both TidalHealth Nanticoke and TidalHealth Peninsula Regional.
The bariatric program at TidalHealth Peninsula Regional was reaccredited by the American Society for Metabolic and Bariatric Surgery with zero deficiencies.
Ceribell (Rapid EEG stroke diagnostic tool) in place at both hospitals (Salisbury and Seaford) experienced a 21% growth over anticipated patient encounters.
Cardiac and Vascular Services
The first Electrophysiology procedure — an ablation case — was performed by Dr. Scott Kaufman at TidalHealth Nanticoke on July 27, 2023.
The Convergent procedure, a hybrid approach featuring electrophysiology and surgery for the treatment of atrial fibrillation, was performed in July.
The Joint Commission disease specific recertification survey for the Treatment of AMI (heart attack) was conducted in 2023 and awarded later that year.
Behavioral Health
August 1, 2023, marked the one-year anniversary of the TidalHealth Crisis Center, a year of rewards and accomplishments.
During the first year, we treated 1,288 patients and observed a 3.2% decrease in psychiatrist admission by meeting directly with patients within the community. During this time, the Crisis Center engaged other crisis services to coordinate care in the community in order to assist patents with wrap around or continuing and complete care.
The Crisis Center is open Monday through Sunday from 8 am to 8 pm and helps any individual with their personal mental health crisis. No appointments needed and all insurances are accepted.
Surgical Services
Implemented O-arm and stealth navigation for Neurosurgery (enhanced imaging and navigation for brain tumors).
Increased surgical volume to 4,311 cases in FY23.
Infection Prevention
Navigated the end of the COVID-19 public health emergency and helped guide the health system into a new normal.
Reduction of Hospital Onset Clostridoides difficile infections at both TidalHealth hospitals.
Maintaining CAUTI and CLABSI under predicted rates while transitioning into a teaching facility.
98% of staff at both hospitals were vaccinated for influenza.
Emergency Services
TidalHealth Peninsula Regional
A base station redesignation survey that was used as an example throughout the state.
Consistent EMS off-loading times about the 90th percentile.
Decrease in the rate of patients who leave without treatment from last year with many throughput improvement initiatives.
TidalHealth Nanticoke
Decrease in the rate of patients who leave without treatment from previous year with throughput improvement initiatives.
Continued recognition as Level 3 trauma center for the state of Delaware.
TidalHealth McCready Pavilion
Continued commitment to patients in Somerset County.
Stabilization improvements for critical patients and trauma victims.
Women's and Children's Services
Implemented OB and Neonatal drills for TidalHealth Women's and Children's to foster team reliability for the early recognition of warning signs in maternal and neonatal complications.
In efforts to reduce maternal morbidity and mortality, we have begun using a new device, Jada, at both hospitals to provide control and treatment of abnormal postpartum uterine bleeding or hemorrhage through a conservative naturalistic approach. Maternal hemorrhage has accounted for 19% of maternal deaths worldwide in the United States and is the fourth leading cause of maternal mortality.
TidalHealth Foundation
The Foundation completed a three year Strategic Plan Sessions to deploy in FY24. Included in this process was health system leadership, foundation board members, foundation staff, volunteers, physicians and community members.
Established a Vision Statement: To ignite a ripple effect of positive change, where compassionate giving and innovative healthcare converge to empower individuals, families, and communities to create a legacy in the communities we serve.
Significant gift from Barbara and Chick Allen that brought Electrophysiology services to TidalHealth Nanticoke.
Established strategic alignment with the system leaders to become a long-term goal-based revenue stream to support Health System.
Transferred $4.6 million from the Foundation to TidalHealth System.
Foundation received $2.7 million in contributions from donors to various service lines.
Held four fundraising events in Maryland and Delaware for Graduate Medical Education.
TidalHealth would like to welcome our new providers who joined the health system in fiscal 2023. To learn more about them or for information on any of our primary care or specialty care offices or services, please visit the Primary & Specialty Care page.
Zee Ali, PA, TidalHealth Hospitalists
Dr. Griffith Batstone, TidalHealth Urology
Dr. David Beardsley, TidalHealth Anesthesiology
Dr. Sajid Ehsan, TidalHealth Hospitalists
Dr. Brent Fox, TidalHealth Anesthesiology
Erin Foreman, CRNA, TidalHealth Anesthesiology
Dr. Steven Gibson, Anesthesiology Residency Program
Kevin Harrison, CRNA, TidalHealth Anesthesiology
Lou Ann Hurst, CRNA, TidalHealth Anesthesiology
Dr. Hafiz Muhammad Javed, Tidal Hospitalists
Dr. Navneet Khaira, TidalHealth Hospitalists
Dr. Taoran Li, TidalHealth Hospitalists
David McMindes, CRNA, TidalHealth Anesthesiology
Lydia Russo, CRNA, TidalHealth Anesthesiology
Dr. Manjyot Saini, TidalHealth Hospitalists
Dr. Madhankumar Sathyamoorthy, TidalHealth Anesthesiology
Dr. John Snowden, TidalHealth Hospitalists
Karin Sommer, CRNA, TidalHealth Anesthesiology
Jessica Stoner, NP, TidalHealth Community Wellness
Christa Swanke, CRNA, TidalHealth Anesthesiology
Dr. Ronald Travitz, TidalHealth Internal Medicine
Kate Zwilling, CRNA, TidalHealth Anesthesiology
A pipeline of physicians to serve the Delmarva
TidalHealth's Graduate Medical Education commitment continues to grow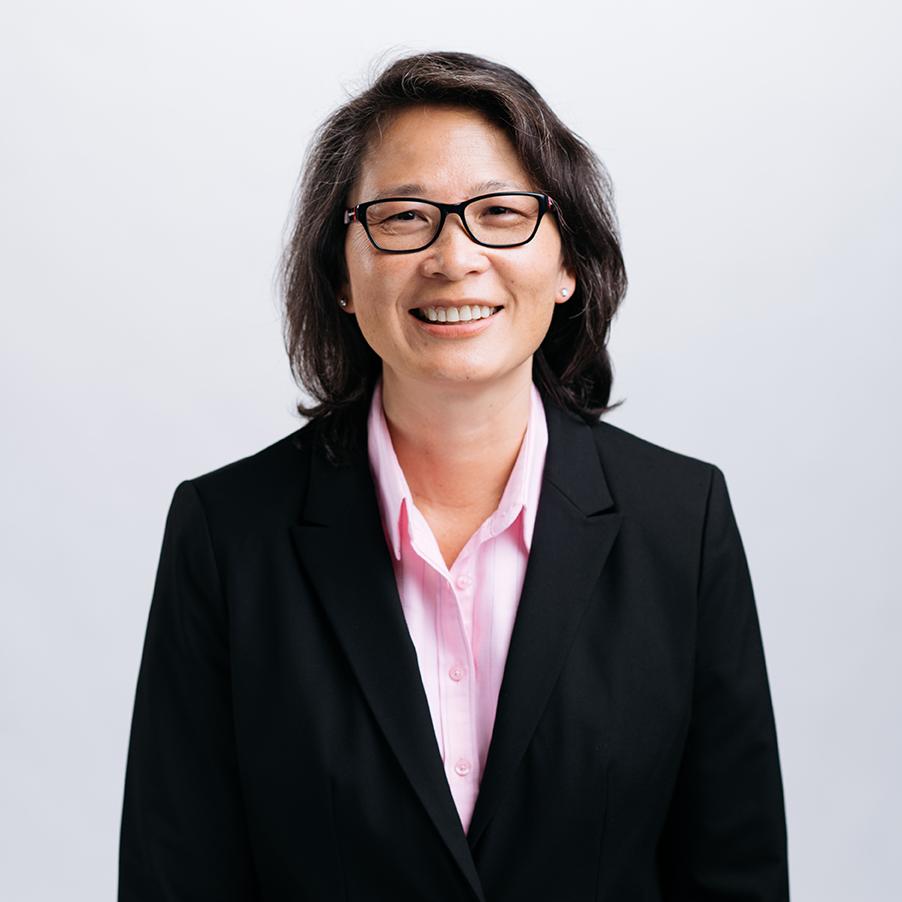 The Delmarva Peninsula is not alone in dealing with the physician shortage that impacts the entire country. We are one of three counties of five in Maryland that fall significantly below the national levels of active practicing physicians per 100,000 residents.
TidalHealth's primary service area is projected to increase by 4.1% over the next five years, while the secondary service area is projected to increase by 6.0% in that same period. The total service area for TidalHealth is projected to increase by 4.7%, which will outpace the national average of 3.9%. With TidalHealth Nanticoke (the former Nanticoke Memorial Hospital) joining the health system in 2020, our service area increased by almost 20%.
With the support of the community, Board of Directors, hospital leadership, and the team at TidalHealth, we developed and received initial accreditation for our first Graduate Medical Education program in internal medicine. Our goal is to develop a pipeline where we train our next generation of physicians, who we hope will choose to locate here, to provide the highest quality of care for our community.
We also realized the need for more surgeons for our area. TidalHealth received initial accreditation for a General Surgery Residency program in September 2022.
We have completed our Accreditation Council for Anesthesiology Graduate Medical Education site visit on June 19, and have been approved to move forward with resident recruitment, which is exciting.
We welcomed our first class of 10 internal medicine residents in July 2022. The second class of 10 started at the end of June, and we welcomed our first class of 4 general surgery residents as well. At full complement, we will have 30 internal medicine residents in three years, and 22 surgical residents in five years. Our plan is to add many more Graduate Medical Education programs to fulfill our community needs.
The sponsorship of Graduate Medical Education within the system furthers this mission by providing the highest quality healthcare experience to our patients and training future generations to serve our community.
SWIFT Program Expands in 2022-2023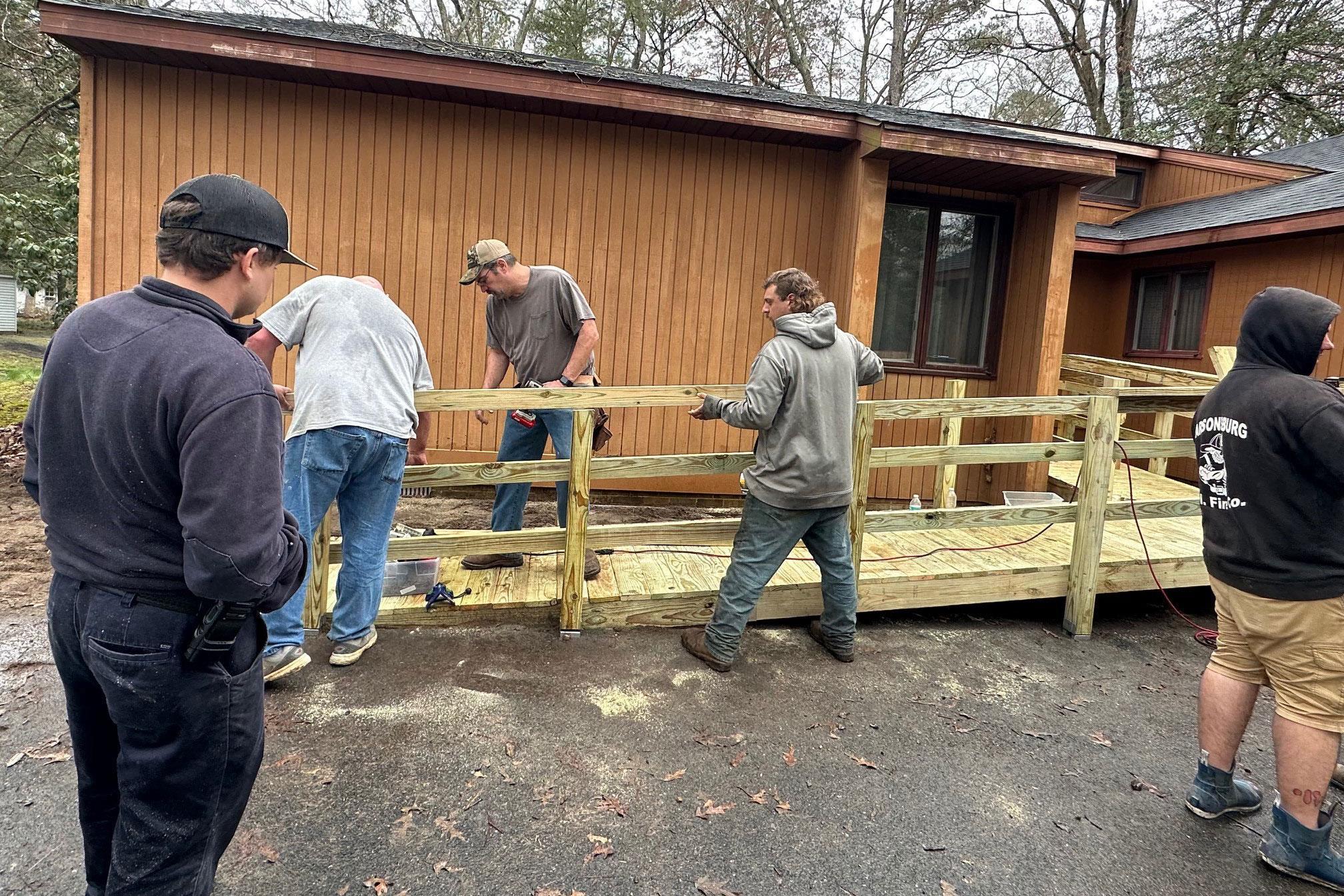 All too often, our neighbors are homebound and unable to access health care because they do not have a wheelchair ramp or safe way in and out of their home. Identifying and addressing this situation is one of the many ways the SWIFT, the Salisbury-Wicomico Integrated FirstCare Team, responds to the needs of patients in our community.
Thanks to a $187,775 grant from the Rural Maryland Council awarded to TidalHealth in September 2022, SWIFT was able to expand services to include all towns in Wicomico County. Previously, the program's services were only available in Salisbury city limits.
SWIFT takes an innovative, interdisciplinary approach to coordinated care for patients at highest risk for readmissions or avoidable ED visits. The team is led by a nurse practitioner (NP) working with a program coordinator paramedic from the Salisbury Fire Department. The NP and paramedic visit the homes of referred individuals to assess their health, medical, and social needs. They work with an extended care team including registered nurses, social workers, and community health workers to address needs identified through home visit assessments.
Sussex County Community Wellness Program Launches in 2022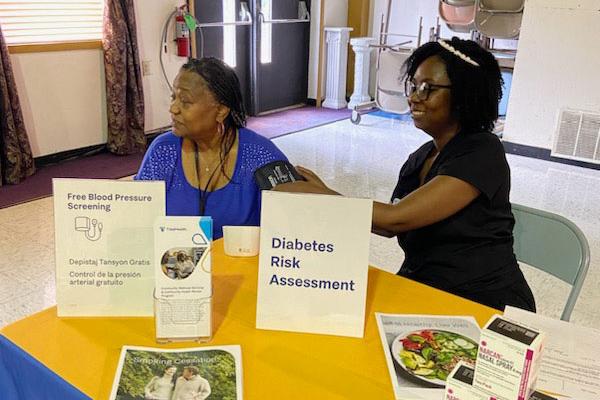 Last fall TidalHealth Nanticoke received a $950,000 two-year grant through the Sussex County Council's American Rescue Plan Act (ARPA) funds to build a community health and outreach program that provides mobile, preventative healthcare services to hard-to-reach, low income, and rural communities in western Sussex County.
Community health workers act as critical links and system navigators for residents who need additional support to understand and access health information and services as well as help addressing barriers including transportation, financial assistance, healthcare coverage, food insecurity, safety, housing, and other needs.
The team operates a new state-of-the-art Wagner Wellness Mobile Clinic which can now be seen in under resourced communities in Seaford, Bridgeville, Laurel, and other communities throughout Sussex County.
EXHALE Award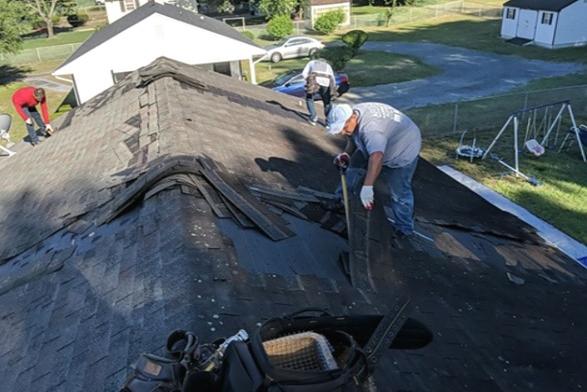 Each year the Community Development Network of Maryland honors organizations engaging in extraordinary community development work during our annual meeting.
EXHALE Asthma Control Program of TidalHealth improved the health of homes and families by connecting at-risk households with home repair resources, health education, support for social determinants of health and other services. TidalHealth partnered with Chesapeake Housing Mission and Habitat for Humanity to assess and address home repair needs of residents with chronic respiratory conditions such as asthma or COPD.
HealthFest Events Return in Salisbury, Laurel, and Smith Island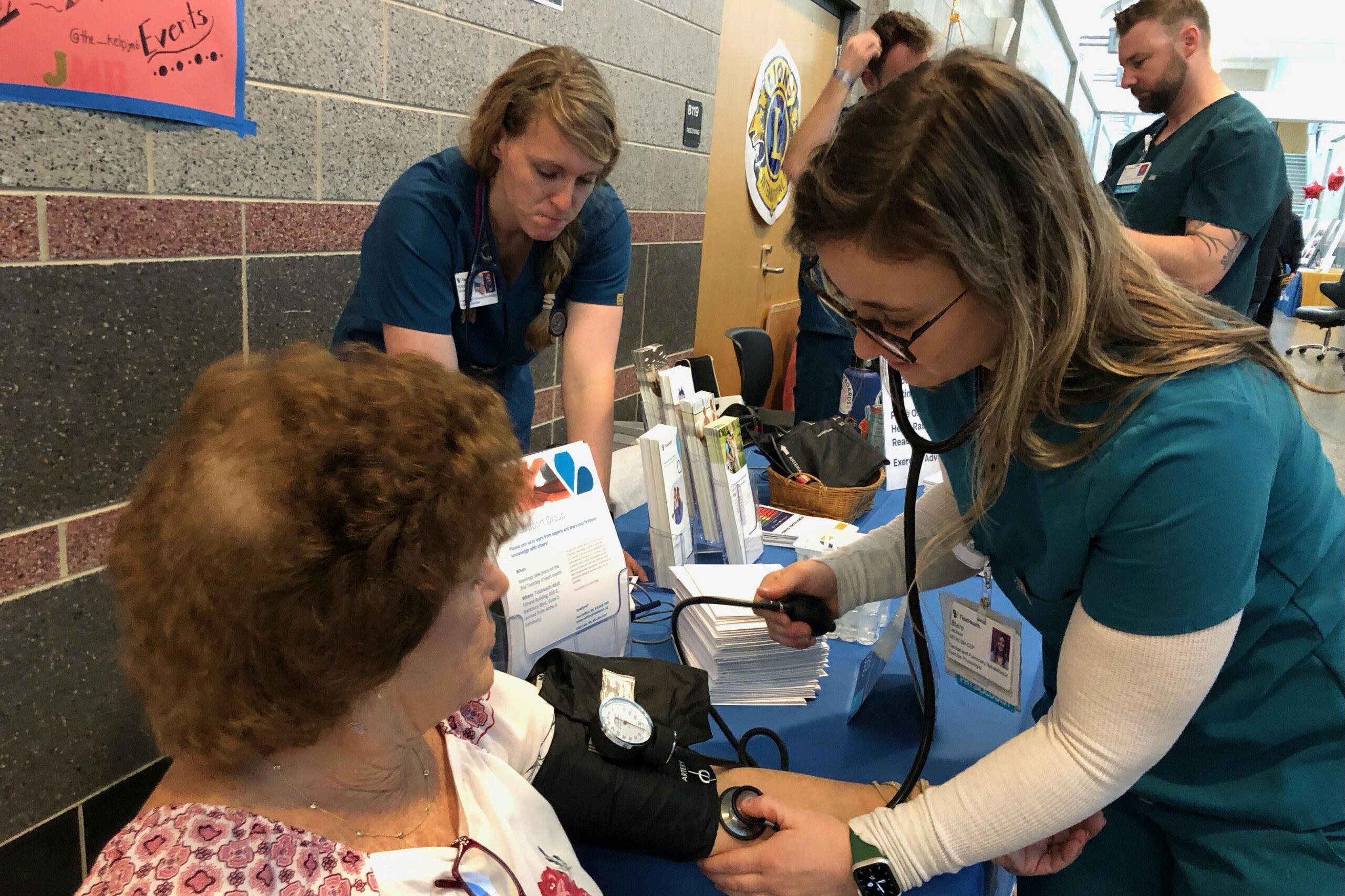 TidalHealth's annual health fairs returned to Salisbury, Laurel, and Smith Island in 2023. Each event featured dozens of screeners, exhibitors, demonstrations, and entertainment.
TidalHealth's clinical professionals were available to provide a showcase of exhibits and free health screenings such as blood pressure testing and body max index, fall risk testing, diabetes assessments, A1c blood draws, cholesterol and kidney disease testing thanks to additional support from the National Kidney Foundation.
Award winning care and team
Healthgrades GI and Vascular Surgery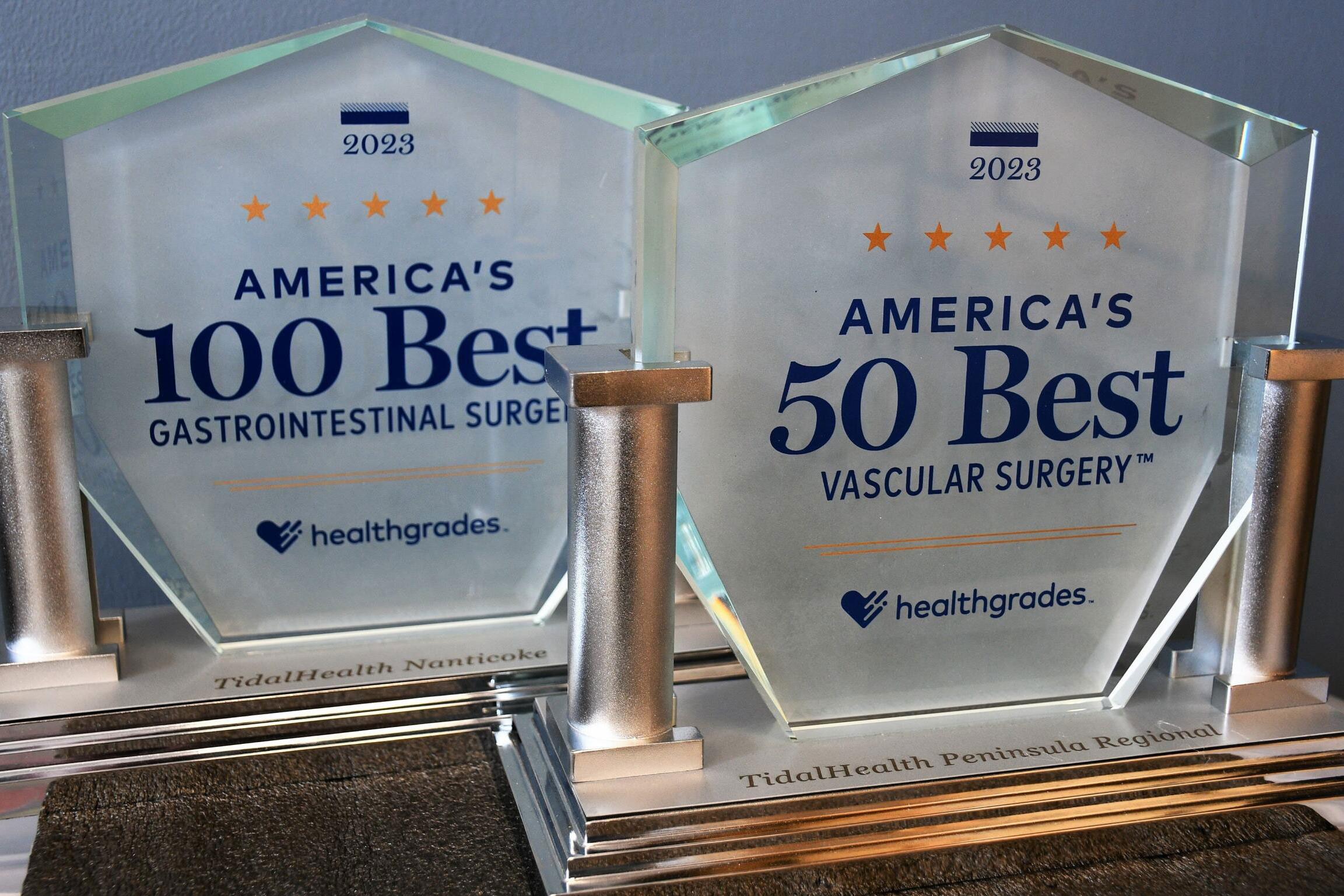 The Healthgrades 2023 STAR Report named TidalHealth Peninsula Regional one of America's 50 Best Hospitals for Vascular Surgery. This is the ninth consecutive year the Salisbury hospital has received this recognition. The achievement places vascular surgery services in Salisbury among the Top 5% in the nation for the third consecutive year (2021-2023). The vascular team also maintains the Healthgrades Vascular Surgery Excellence Award for a ninth consecutive year (2015-2023)
TidalHealth Nanticoke was honored as one of America's 100 Best Hospitals for Gastrointestinal (GI) Surgery. The recognition is new in 2023 for the Seaford, Del. hospital, placing it among the Top 5% in the nation for GI surgery. The GI team at TidalHealth Nanticoke also maintains the Healthgrades GI Care and GI Surgery Excellence Awards for a second consecutive year (2022-2023).
Joint Commission Accreditation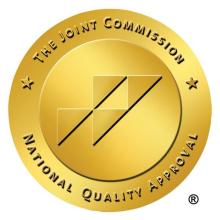 The Joint Commission issues full three-year accreditation (effective date August 6) for TidalHealth Peninsula Regional, TidalHealth FamilyLab, located in Princess Anne, TidalHealth FamilyLab located on Milford Street, Richard A. Henson Cancer Institute, TidalHealth McCready Pavilion, TidalHealth Breast Center, TidalHealth Millsboro Pavilion, TidalHealth Ocean Pines Campus and TidalHealth Cardiovascular, Pulmonary Rehabilitation & Preventive Cardiology.
Leapfrog Group "A" rating
Leapfrog Group awards TidalHealth Peninsula Regional an "A" grade in their 2023 spring hospital safety report. The Salisbury hospital was just one of nine in Maryland to earn an A grade and the only on the lower shore.
U.S. News & World Report
U.S. News & World Report names TidalHealth Peninsula Regional and TidalHealth Nanticoke as 2022-2023 High Performing hospitals for 11 challenging and elective health conditions; the highest award a hospital can earn for U.S. News' Best Hospitals Procedures & Conditions ratings. TidalHealth Peninsula Regional was ranked as the fifth best hospital in Maryland (tie), and was again named a Best Regional Hospital for the Eastern Shore. The Salisbury hospital was recognized as high performing in stroke care, the treatment of pneumonia, lung cancer surgery, knee replacement, hip replacement, kidney failure, heart failure, the treatment of heart attack, diabetes, colon cancer surgery, and for the care of chronic obstructive pulmonary disease (COPD). TidalHealth Nanticoke in Seaford, Del. was ranked a high performer in the treatment of stroke, and rated on average with peer United States hospitals in nine other categories (COPD, diabetes, heart attack, heart failure, hip fracture, hip replacement, knee replacement, pneumonia and kidney failure).
ALS Clinic Recertified
The ALS Association has recertified the ALS Clinic at TidalHealth Peninsula Regional an ALS Recognized Treatment Center (RTC). TidalHealth was the first hospital in Maryland to earn the initial designation in 2018.
TidalHealth Breast Center Accredited (May 23)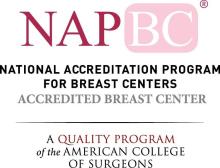 The National Accreditation Program for Breast Centers (NAPBC), a quality program administered by the American College of Surgeons (ACS) has granted accredited status to the TidalHealth Breast Center in Salisbury, Maryland.
Team Members of the Year
TidalHealth is pleased to recognize its 2022 Team Members of the Year: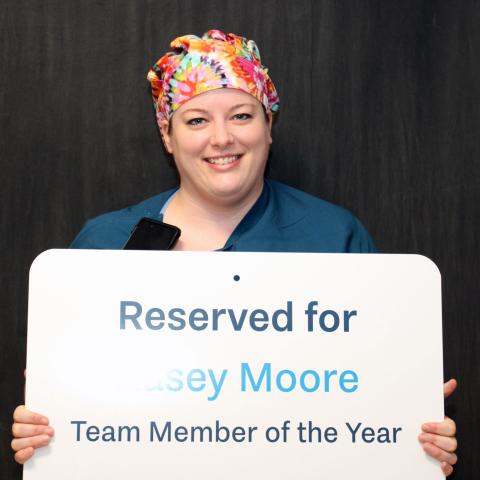 Physician and APP of Year
TidalHealth Peninsula Regional is pleased to honor its 2022 APP of the Year and Physician of the Year: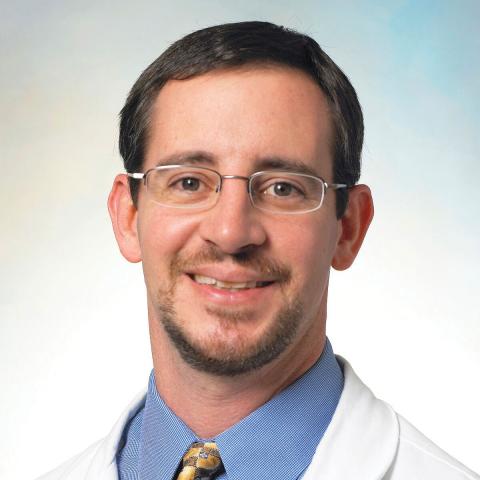 Chairman's and Ed Urban Quality Awards
In November 2022, TidalHealth announced its 2022 Chairman's Award and Ed Urban Quality Award recipients:
RISE Program
In July 2022, TidalHealth's Spiritual Care department introduced RISE, a free, confidential peer support service available 24 hours a day, 7 days a week to any team member who encounters a stressful, work-related event. Support is immediately available so that the stress can be dealt with before it has an adverse impact, and is also available at any time after an event.
2022 United Way Campaign
TidalHealth's 2022 United Way Campaign raised more than $117,000 to support the United Way of the Lower Eastern Shore and the United Way of Delaware.
TidalHealth has been a decades long partner with the United Way, and is always among the top five for funds raised on Delmarva.
Thank a Police Officer Day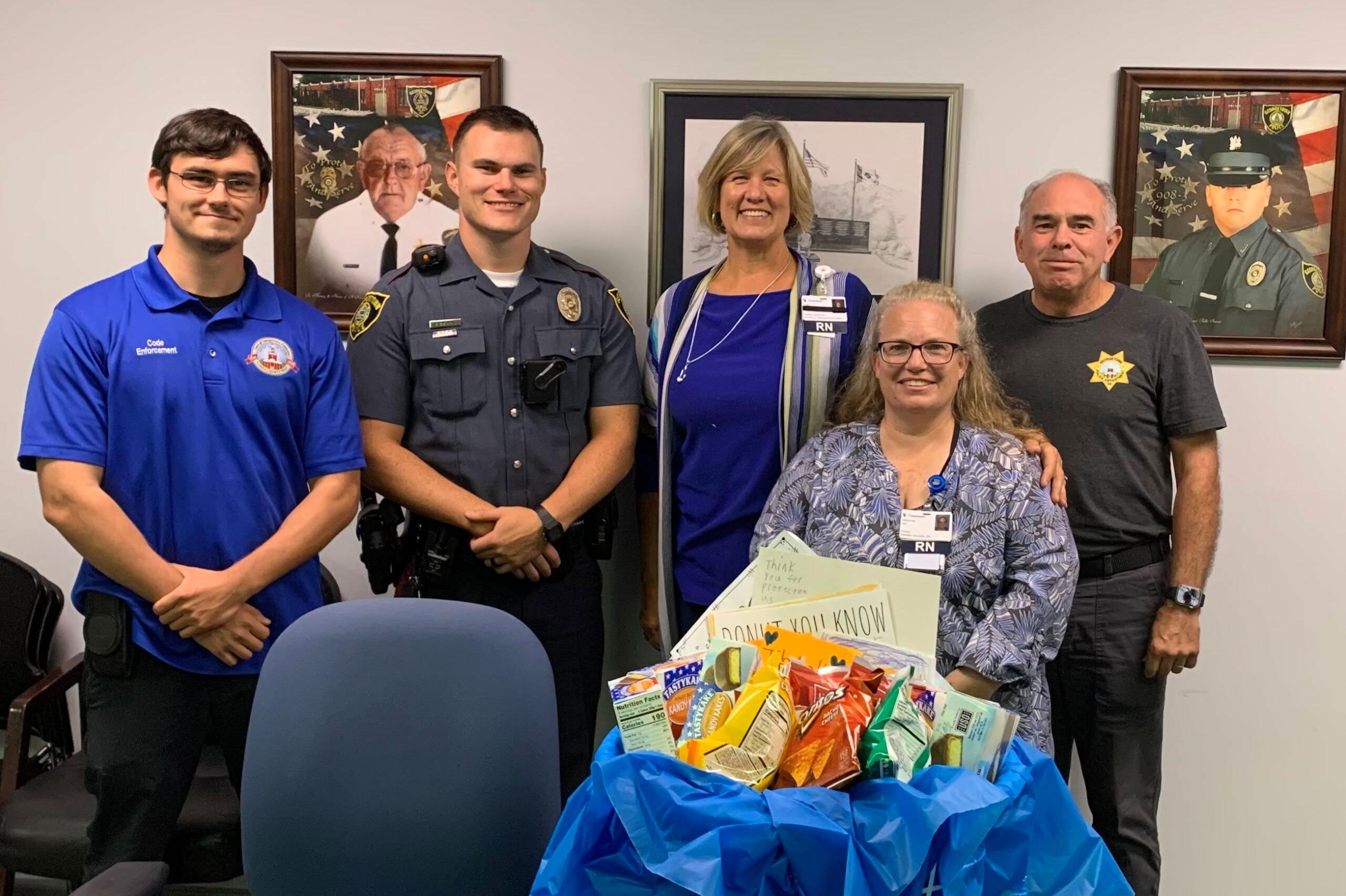 In September 2022, our teams in Salisbury and Seaford put together baskets and delivered them to 27 local police departments and Constables and School Resource Officers (SROs) at local school districts.
Drive-Thru Flu Clinics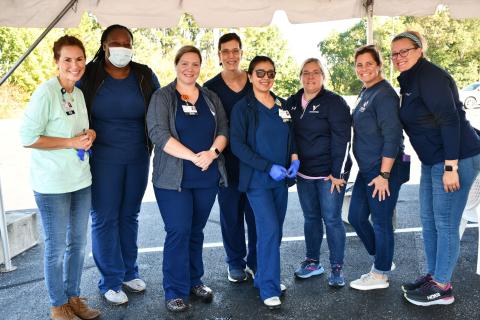 2,040 people were vaccinated at our Salisbury flu clinic on Oct. 7, 2022. In Crisfield, 232 people were vaccinated at our flu clinic on Oct. 15. Our Delaware event was canceled due to inclement weather.
Top Salvation Army bell ringing team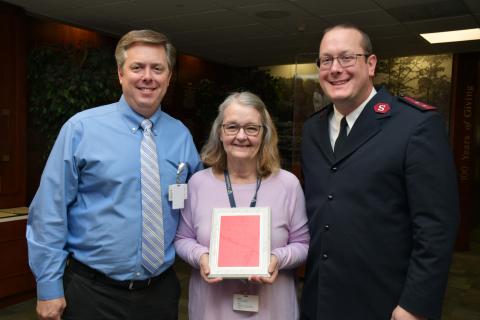 In November 2022, TidalHealth Peninsula Regional was presented a Top Organization Bell Ringing Award from the Salvation Army of the Lower Eastern Shore for the second year in a row for donating 111 hours to the Red Kettle Campaign in 2021.
Adopt-A-Family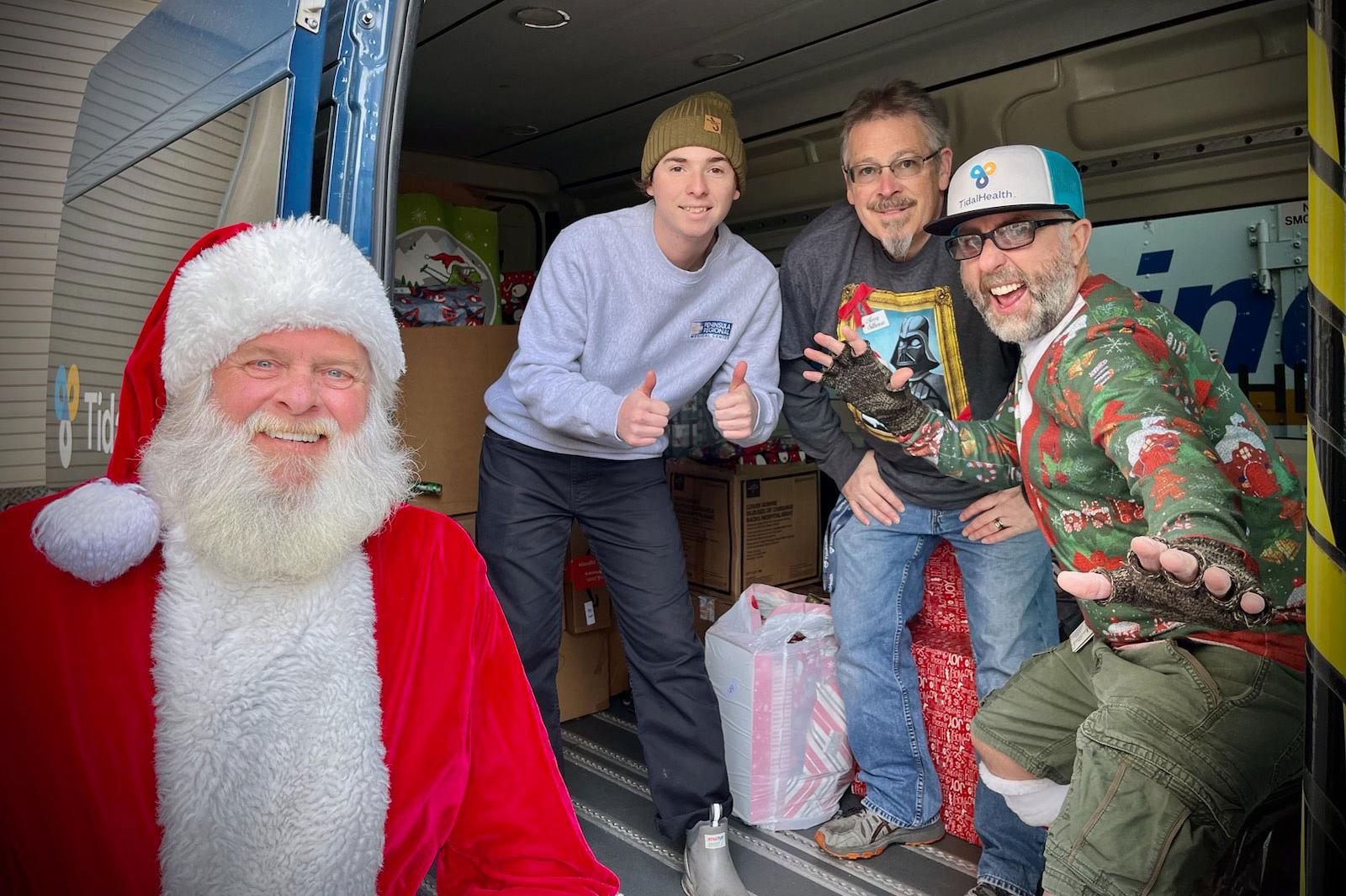 In December 2022, we "wrapped" up our 29th year of our Adopt a Family program and were able to make the holidays bright for 49 local families and 40 nursing home residents thanks to 92 areas throughout the health system.
TidalHealth HealthFest in Laurel and Salisbury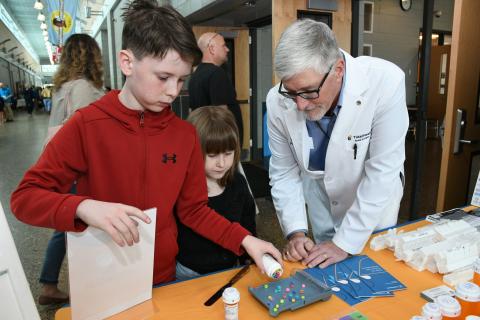 On March 25, over 300 people attended TidalHealth HealthFest at James M. Bennet High School in Salisbury, Md. to learn how healthy they are and how to live an even healthier life. The event was also held at Laurel High School in Laurel, Del. on May 6 and drew over 250 community members.
Donate Life Flag Raisings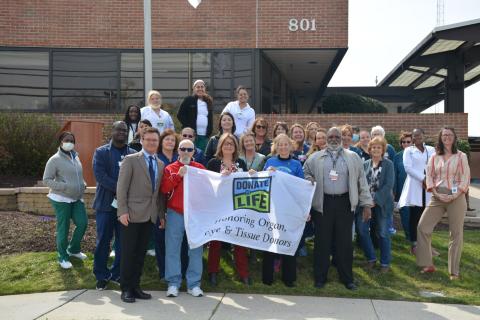 During the last week of March, Donate Life flags were raised at our hospital campuses to kick off Donate Life Month in April. The flag was raised in Salisbury in partnership with Infinite Legacy and in Seaford in partnership with the Gift of Life Program.
SU Cancer Comfort Kits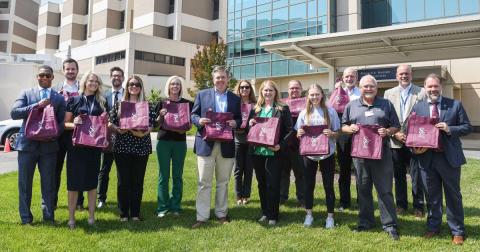 As part of Salisbury University's Presidential Inauguration Week festivities in May 2023 celebrating the investiture of Dr. Carolyn Ringer Lepre as the institution's 10th President, SU community members donated items for, and packed, 250 cancer comfort care kits for TidalHealth's cancer patients across Delmarva.
Juneteenth flag raisings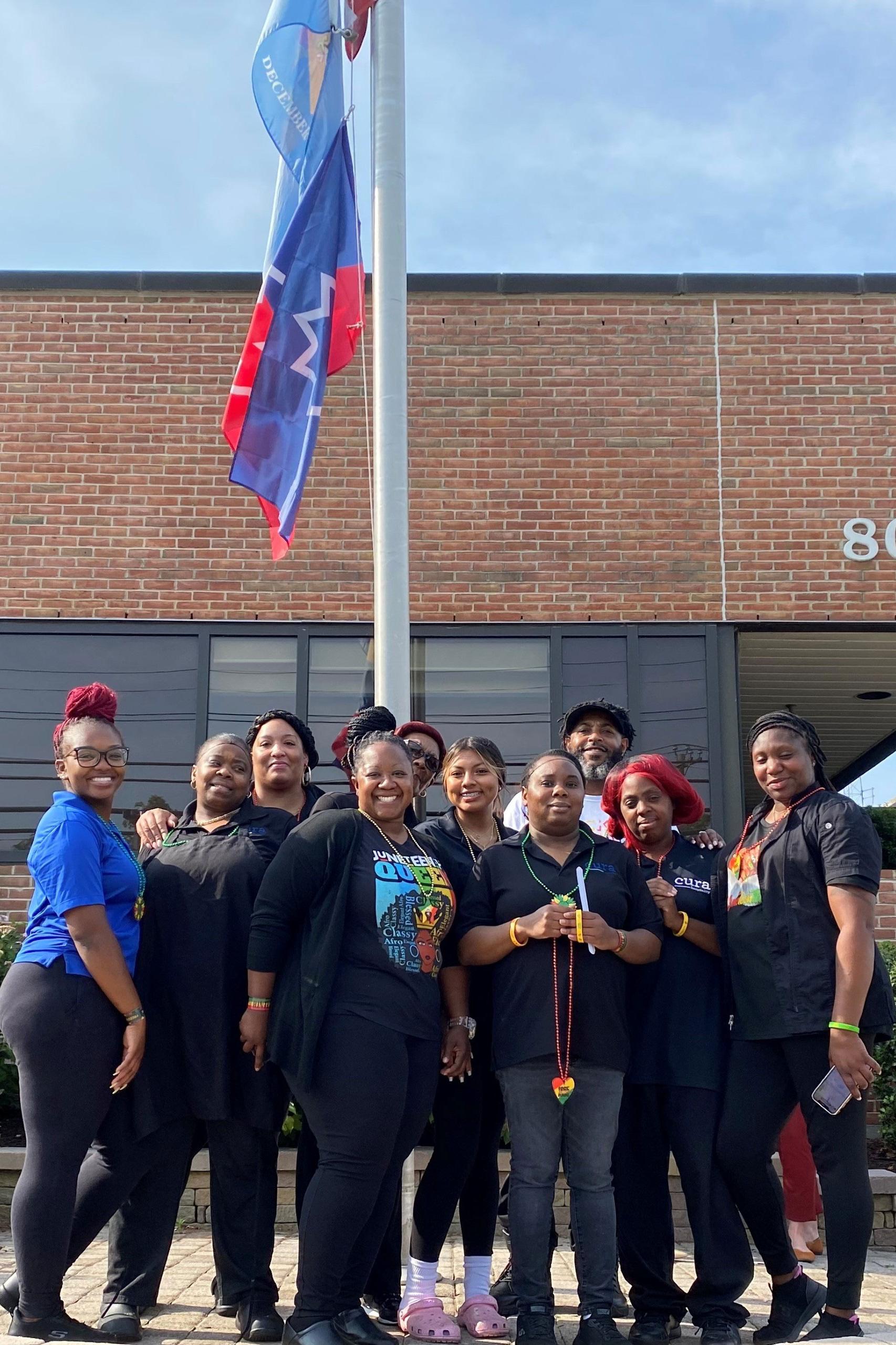 On June 19, TidalHealth joined in the national Juneteenth celebrations at its campuses in Seaford, Salisbury and Crisfield. The official Juneteenth flag was raised at all three locations, and General Order Number 3, which alerted the slaves in Texas that they had gained their freedom, was read as it was on June 19, 1865.
Dr. Nevins Todd authors book on history of surgery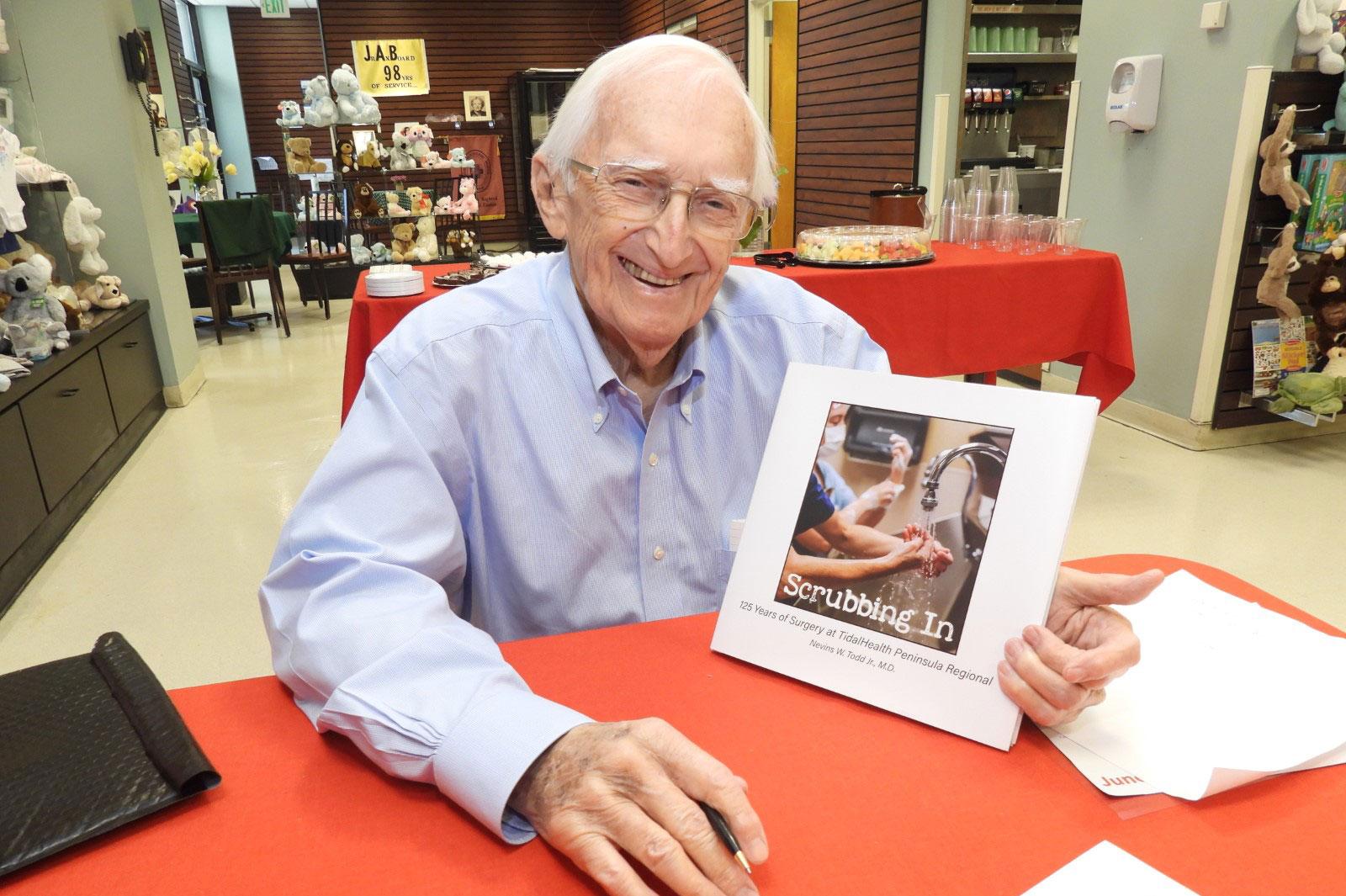 Dr. Nevins Todd was on the publicity and book circuits in 2023 to promote his new book "Scrubbing In" 125 Years of Surgery at TidalHealth Peninsula Regional.
The 110-page book walks readers through the history of the Department of Surgery, its surgeons and leadership, and the progression of the profession through laparoscopic and robotic surgical specializations.
The retired cardiothoracic surgeon turned 90 in 2022 and has one of the most celebrated and respected legacies at the Salisbury, Md. hospital. He was born here in 1932. It's the hospital his grandfather, George W. Todd, MD, founded as Peninsula General Hospital in 1897. It's also the hospital where his son, Bill, practices emergency medicine.
However, and perhaps most importantly to this region, Dr. Nevins Todd has the distinction of performing TidalHealth Peninsula Regional's initial open-heart surgery in 1974, Maryland's first open heart operation outside the Baltimore/Washington area.
TidalHealth McCready Pavilion turns 100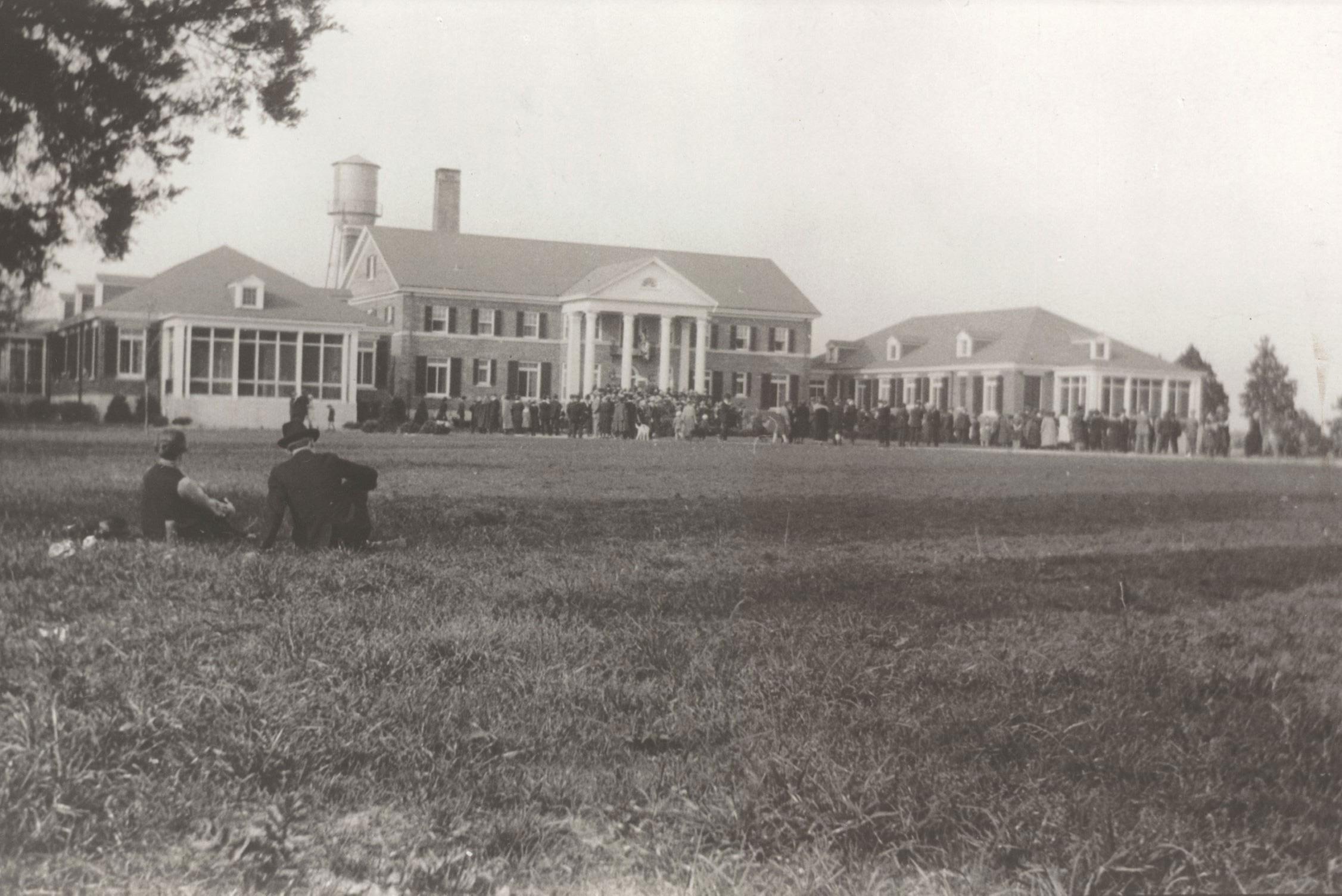 We celebrated a Century of Excellence on May 6 at TidalHealth McCready Pavilion with the 100th anniversary of our Crisfield operation.
Chicago Millionaire Edward McCready, his 8-year-old daughter, Suzanne, and her nurse, Margaret Steinbach, were killed when a train in Westover struck the car Mr. McCready was driving.
So moved by the compassion and kindness of the hospital staff that refused to bill her, Edward's widow, Caroline, donated $200,000 to have a new hospital built. It opened May 6, 1923, honoring Edward McCready.
TidalHealth Peninsula Regional celebrates 125 years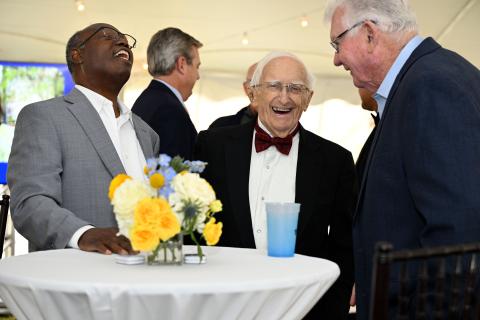 TidalHealth Peninsula Regional officially turned 125 years old on October 1, 2022. Dr. George W. Todd, our founder, opened then Peninsula General Hospital in 1897.
Dr. Todd's team of six horses that pulled his buggy from house to house was growing dangerously weary from being overworked. Fearing he would lose one or all to exhaustion, and in turn his livelihood as a physician, he began soliciting help from the community to build our region's first hospital.
True story – TidalHealth is here today primarily because of a need to reimagine healthcare, and to save a team of horses, at a time few even understood how running a hospital worked.
TidalHealth Nanticoke celebrates 70 years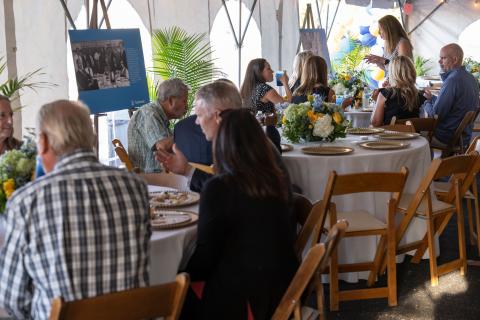 We also celebrated the 70th anniversary of TidalHealth Nanticoke in Seaford in 2022.
In 1945, a group of representatives from various Seaford Civic Organizations endorsed the idea of building a local hospital as a living memorial to veterans. Donations from the Lions Club, personal estates, DuPont, the Ladies Auxiliary and 600 individual families poured in to assist. On Armistice Day 1951, TidalHealth Nanticoke (then Nanticoke Memorial Hospital) was dedicated and opened two months later in January 1952.
ESGR honors TidalHealth for commitment to the military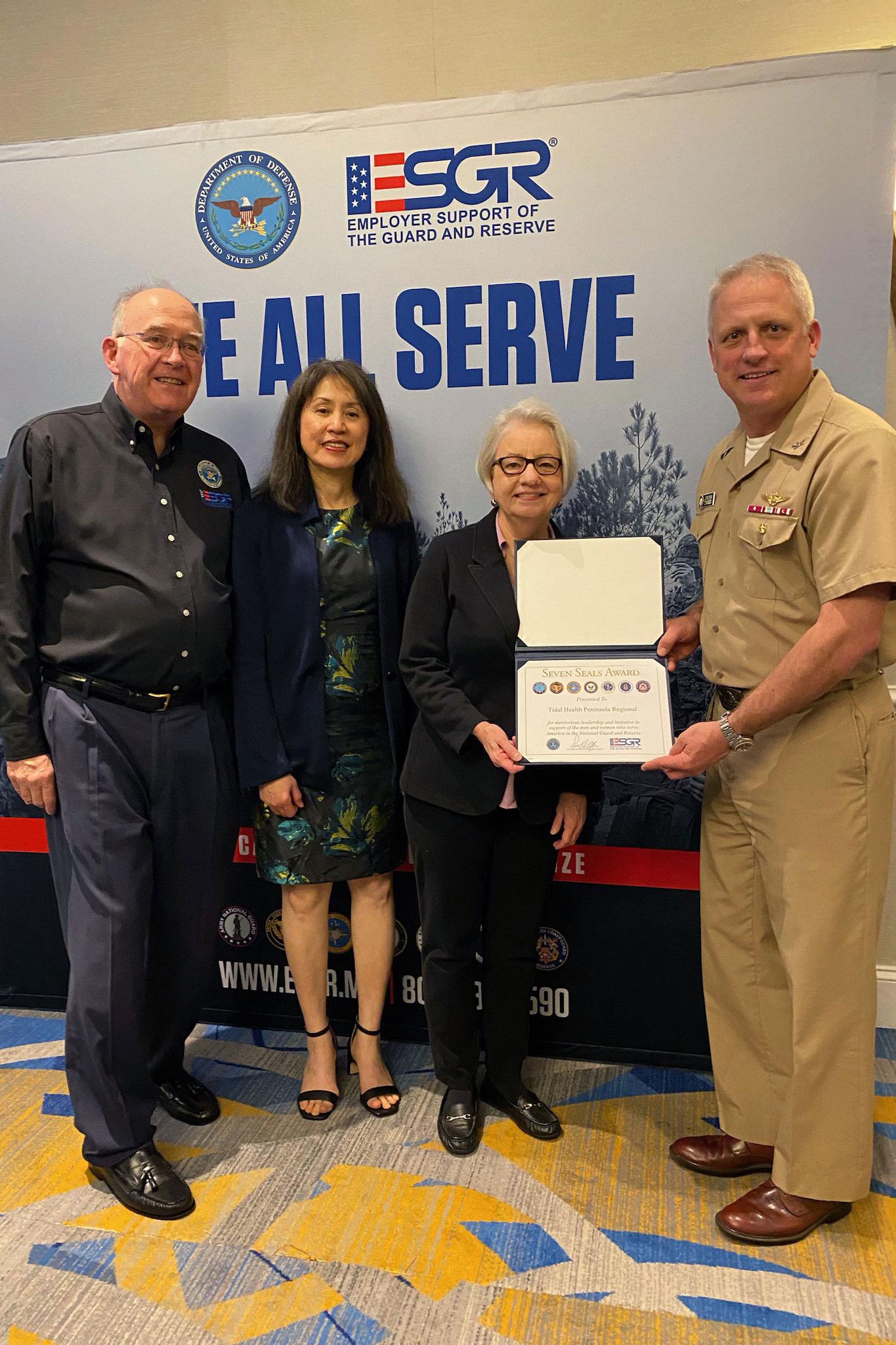 TidalHealth is proud to support our team members who have served and are serving in the United States military. For this dedication, TidalHealth Peninsula Regional was honored in 2023 by the Employer Support of the Guard and Reserve (ESGR).
On May 13, the Seven Seals Award was presented to TidalHealth Peninsula Regional for meritorious leadership and initiative in support of the men and women who serve America in the National Guard and Reserve.
On Friday, May 19, the Patriotic Employer Award was presented to TidalHealth Peninsula Regional and our President and CEO, Steve Leonard, for contributing to national security and protecting liberty and freedom by supporting employees participating in America's National Guard and Reserve Force.
TidalHealth helps inspire the next generation of healthcare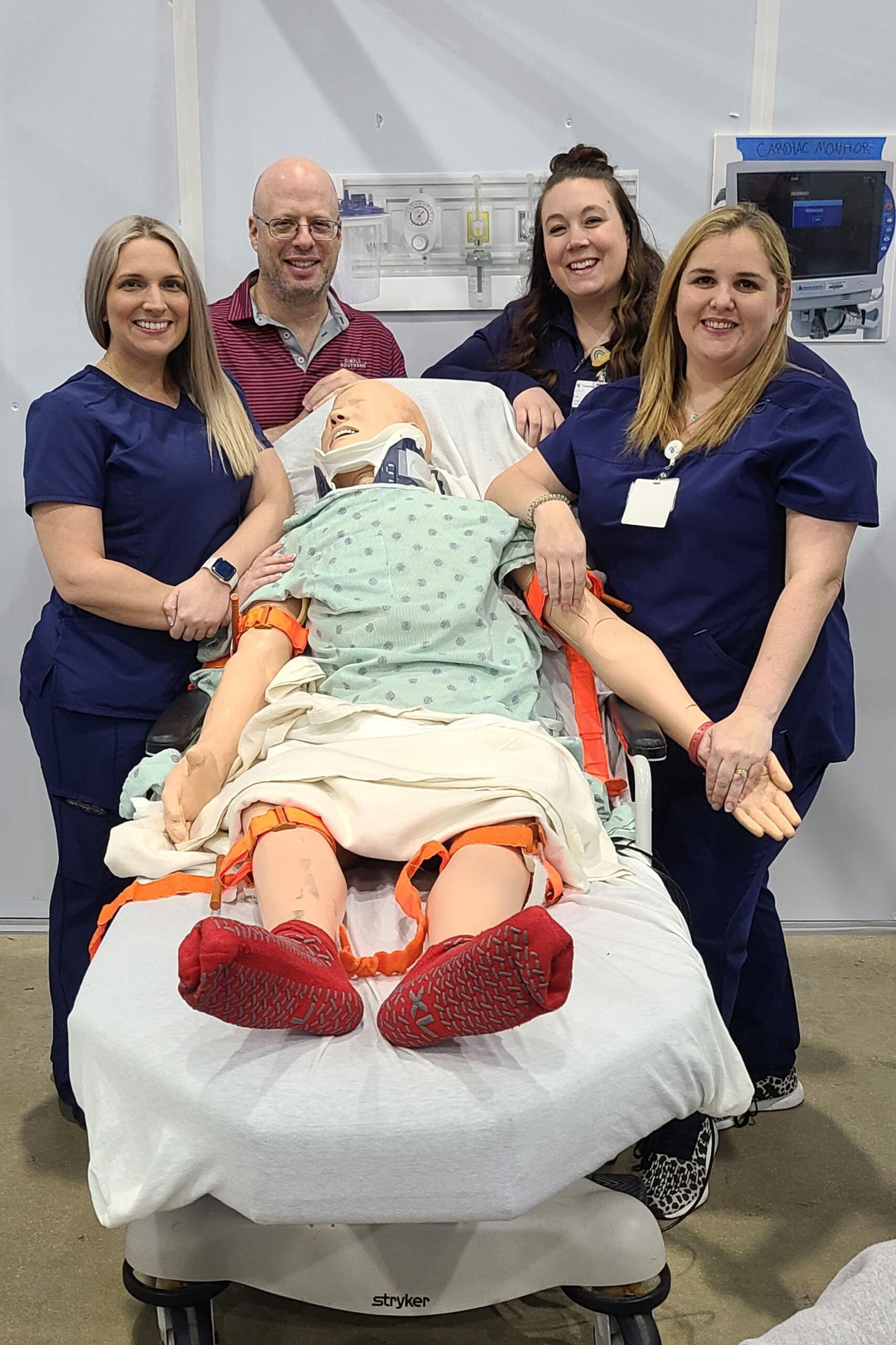 Thank you to all of our team members who participated in Junior Achievement of the Eastern Shore's JA Inspire event in March at the Wicomico Youth & Civic Center in Salisbury. JA Inspire is an annual event for all regional 8th grade students to give them an opportunity to learn about career options and opportunities and to speak directly with the people in those careers now.
Jean Bulkeley turns 80 OTJ!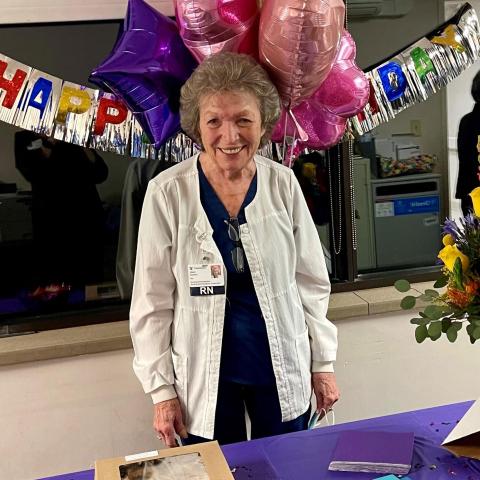 Jean Bulkeley is the second longest tenured team member in the history of TidalHealth, and celebrating her 58th year of service in 2023.
So, it comes as no surprise that Jean, who turned 80 on March 19, reached that milestone "on the job" at TidalHealth Peninsula Regional in Salisbury.
Jean has held quite a variety of positions throughout her remarkable 58-year career at TidalHealth after graduating from the PGH School of Nursing.
Happy 80th Jean! You are an amazing inspiration for us all!
First Babies of 2023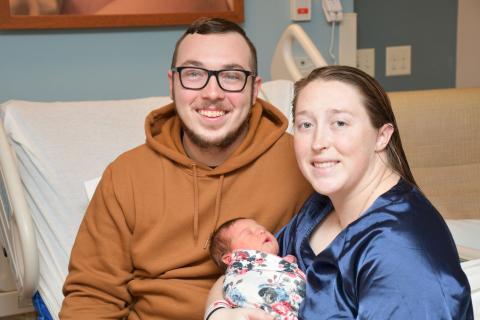 Charlie Nicole Bosley was TidalHealth Peninsula Regional's First Baby of 2023, born New Year's Day at 3:23 pm to Shelbi and Brandon Bosley.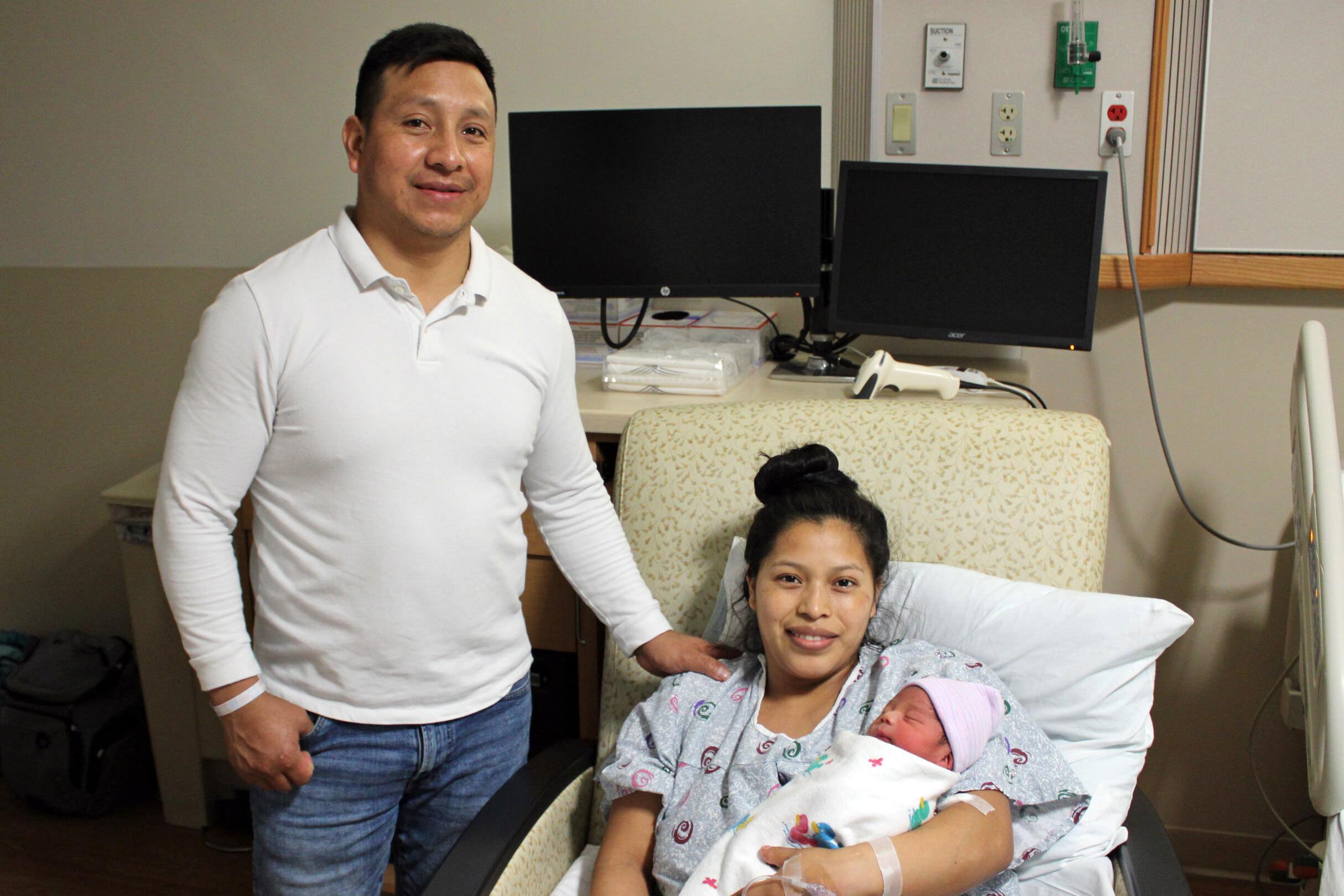 At TidalHealth Nanticoke, it took a bit longer, but well worth the wait. Thiago Sebastian-Ramirez was born on January 3 at 2:04 am to Rosalinda Ramirez-Ramirez and Marvin Sebastian-Lopez.
Both sets of parents were presented with the traditional basket of goodies from the Junior Auxiliary Board.
Who let the dogs "in"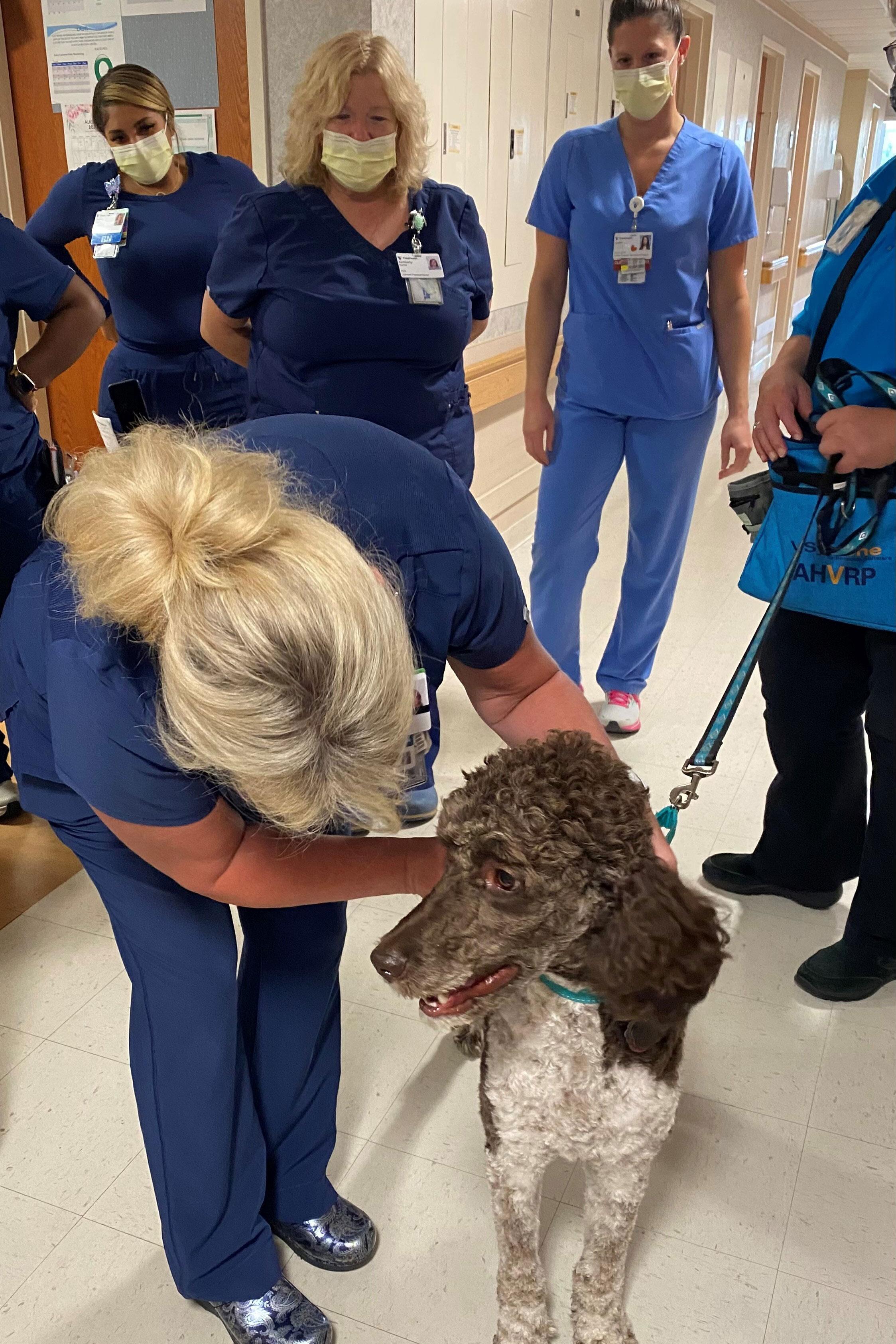 They're cute, they're fluffy, they're TidalHealth's therapy dog teams and they're back in action!
The health system's therapy dog program originated at TidalHealth Nanticoke in July 2018 when we partnered with National Capital Therapy Dogs of Delmarva (NCTD) to build certified therapy dog teams for the Seaford hospital.
The program has now expanded to include teams at TidalHealth Peninsula Regional in Salisbury, Md. and at TidalHealth McCready Pavilion in Crisfield.
If you are interested in learning what it takes to become a certified therapy dog team at TidalHealth, contact [email protected].
Trunk Or Treat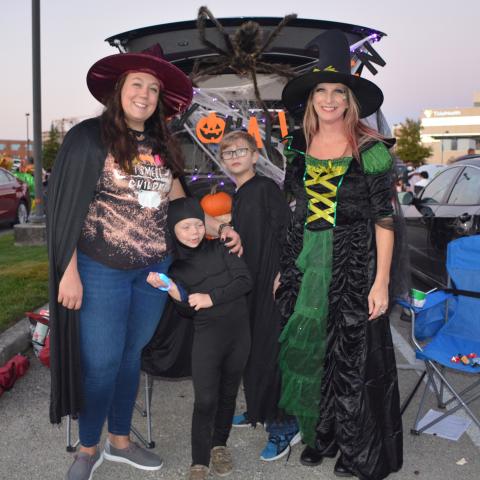 Kudos to our Behavioral Health team for their unique idea to host our inaugural "Trunk or Treat" night for community kids on October 27 of last year.
Close to 30 TidalHealth services participated in the pervious parking lot at the Salisbury hospital with open trunks full of candy from which hundreds of kids stuffed their bags for an early and safe trick or treating experience.
VolunTEENS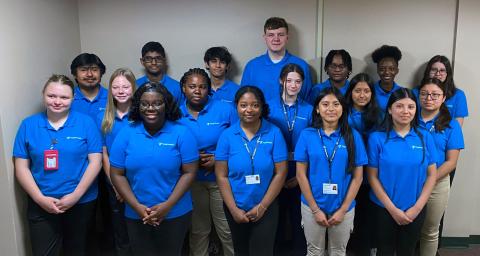 A tidal wave of VolunTEENs flowed throughout the entire health system to learn, grow and serve this past summer.
TidalHealth's VolunTEEN program is comprised of local teens who commit to volunteering for a minimum of 50 hours during the summer at our campuses to support their community.
This year, 74 teens participated in Salisbury, Seaford and Crisfield, donating 4,775 hours or an average of 64.5 hours per teen. We even had two join our workforce as team members following their volunteer commitment!
When weight loss is difficult, we can help.
Losing weight and keeping it off isn't a result of fad diets and fast-paced exercise plans — it's about good decisions and lifestyle changes.
At TidalHealth, we provide education and individualized plans to help you succeed on your weight-loss journey.
Whether you're a candidate for bariatric surgery, or just need help maintaining a healthy weight, we are here for you.
Leadership
Steve Leonard, Ph.D., MBA, FACHE, President/CEO
Ryan McLaughlin, Chairperson, TidalHealth Board of Directors
Christopher C. Hall, V.P. Strategy/CBO
Roger A. Follebout, Jr., Director of Strategic Communications/ Contributing Writer/Editor
Contributing Writers
Simona Eng, DO, FACOI, SFHM
Laren MacMillan, Director of Brand Marketing
Jessica Perry, Coordinator of Strategic Communications
Katherine Rodgers, Director of Community Wellness
Graphic design
Darren Wood, Graphic Designer
Submit your story ideas
We want to know what you want to read about.
---
HealthFocus is produced four times a year by the Strategic Communications Department for the friends and employees of TidalHealth.
Copyright 2023 HealthFocus TidalHealth, Salisbury, Md. All rights reserved. The materials in this issue may not be reproduced in whole or in part without the permission of the editor.